Black Christians in an 'Adulterous' Relationship With Obama, Says Evangelical Pastor
An influential African-American evangelical pastor says that many black Christians are in an "adulterous" relationship with President Obama over the issue of same-sex marriage and that if the issue is not addressed soon, it will negatively impact the president's desire for a second term in November.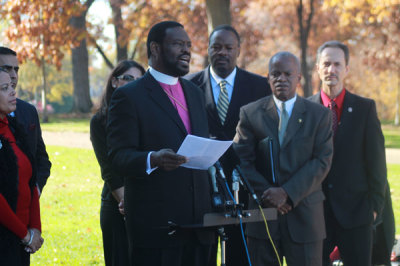 In an interview with The Christian Post, Bishop Harry Jackson, Jr., who is the senior pastor of Hope Christian Church in Baltimore, Md., and one of the nation's most outspoken black pastors, maintains that Obama has drawn a hard line on major theological issues such as same-sex marriage and expects black Christians to compromise their beliefs.
"Obama laid down the gauntlet on black leaders," Jackson said. "The question we are being forced to address is 'are you going to be black or be godly.'"
And Jackson is not alone in his sentiments.
On Thursday, a group of black ministers calling themselves the Coalition of African-American Pastors, many of whom represent the nation's fifth largest denomination, the Church of God in Christ (COGIC), are holding a press conference in Memphis, Tenn., to call on Obama to denounce his position on same-sex marriage.
The Rev. Bill Owens is a veteran of the civil rights movement and marched with Dr. Martin Luther King and other noted civil rights leaders during the peak of the movement in the 1960s. He believes Obama's evolution on the issues will have far-reaching effects on society and specifically in the black community.
"We will be spending the next weeks and months visiting black churches, asking for support from pastors and their flocks to speak up against the media-generated view that gay marriage is a civil right," Owens told CP.
"We ask President Obama to stand with the black church, on the word of God and evolve again back to the common sense biblical view that marriage is the union of husband and wife."
When asked if Obama's "evolution" on the issue of same-sex marriage was surprising, Owens said "no."
"The reason it didn't surprise me was because President Obama is 'political.' But as pastors and members of the body of Christ, we're disappointed – very disappointed."
Bishop Jackson also said Obama's announcement that he now supports same-sex marriage was nothing new.
"I realized Obama was for same-sex marriage from the very beginning of his political career," said Jackson. "Jeremiah Wright (Obama's former pastor) has been performing same-sex 'commitment services' for years. Obama has been exposed to this belief for years and has demonstrated time and time again that he does not believe that homosexuality is a sin. Actions speak much louder than words."
Yet the issue of exactly where black Christians stand on the subject of same-sex marriage is what Democratic pundits and Obama campaign advisers want to know. In other words, will Obama's stance on same-sex marriage impact voter turnout in the African-American community and ultimately, the November elections?
Both Jackson and Owens say the answer to that question is "yes." Jackson outlined the issue by putting black Christians into three general categories.
1) Black Christians who are in a state of denial. This group thinks President Obama was forced to cave to political pressure from homosexual activists in order to win a second term. Jackson describes this group as "nominal Christians."
2) Black Christians who feel betrayed in the faith by the relation and will either not vote for Obama or protest by not going to the polls at all. This group could cause the Obama campaign to lose in some key battleground states such as Ohio and North Carolina.
3) Black Christians who are so angry with President Obama that they are planning to vote for the Republican nominee, which will most likely be former Massachusetts Gov. Mitt Romney.
"The black community is in an adulterous relationship with President Obama," Jackson said. "He is asking us to stray from the most basic tenets of Scripture – that marriage is an institution made by God for man and woman to become one and procreate. He's telling us it's fine to hold onto our beliefs but that it's also okay to accept his stance on a position that goes against that core belief."
"This is no different than a married person having a relationship with someone other than their spouse," said Jackson.
Jackson, like Owens, recognizes that the core issue for black Christians – like all Americans – is jobs. "Blacks want to be recognized and not taken advantage of," Jackson said. "They want politicians to realize there are significant issues of race that still need to be addressed and that jobs and economic opportunity are more important that homosexual marriage."
When Owens was asked about Jackson's comments, he said they were "right on." But the elder civil rights leader said he also takes issue with the homosexual community comparing their desire to change the definition of marriage with the civil rights movement.
"I take great exception to the comparison and it is an insult to me and many others who worked tirelessly to advance social justice for black Americans," said Owens. "I, along with many others, marched for civil rights. I did not march for homosexual marriage."
Still, with the all of the controversy surrounding the issue, the question remains if the issue will cause Obama to lose in November.
"I don't know if it will be a 'make-or-break' issue or not," said Owens. "But this is not good for President Obama."
A recent Public Policy Polling poll shows that approximately 60 percent of black voters in North Carolina are opposed to same-sex marriage.
READ: PRESIDENT BARACK OBAMA'S "EVOLUTION" - CULTURE WAR OR AMBUSH?
Bishop Harry R. Jackson Jr. - State Of the Black Union Address (VIDEO)