Newsweek's Obama 'First Gay President' Cover Stirs Controversy
Newsweek's Obama 'First Gay President' Cover Stirs Controversy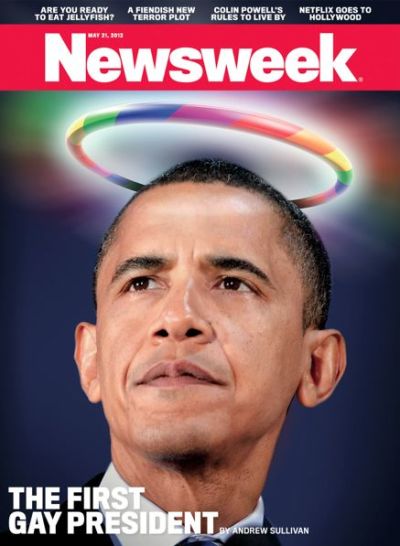 The newest issue of Newsweek is the most recent magazine cover to create controversy over the depiction of socially sensitive issues by calling President Obama "The First Gay President."
The magazine's cover features Obama stoically looking far off as he is crowned with a rainbow halo. The issue was available on newsstands Monday and comes less than a week after the President gave an exclusive interview with ABC where he stated that his views on same-sex marriage had "evolved" and that he was currently in favor of such unions.
The cover was in response to the article by gay community leader and Newsweek political writer Andrew Sullivan. In his article, Sullivan made the claim that given Obama's track record it should have come as no surprise that he came out in favor of gay marriage.
Sullivan has long been a champion of gay rights and was one of the first public figures to advocate for gay marriage. Sullivan had previously written about gay marriage in 1989 when he wrote the cover story for the New Republic, "The Case for Gay Marriage."
But Sullivan explained in the article that when he heard the news of Obama statements he was taken back.
"And I was utterly unprepared for how psychologically transformative the moment would be," he said.
The cover quickly became the topic of discussion for many morning news programs and was even discussed at the White House press briefing.
When asked what Obama had said in regards to the magazine cover White House Press Secretary Jay Carney, said "I don't know if he's seen it and I haven't spoken to him about it."
Obama drew the ire of conservatives who thought the President was using this social issue for his own political gain given that he made his announcement a day after North Carolina passed an amendment the banned same sex marriage.
Rev. David Pinckney, pastor of River of Grace Church New Hampshire said, "it's not a civil rights issue, it's a religious issue."
"Marriage is a religious institution, period. For politicians to define it is reprehensible. It's like them telling me how I should serve communion on Sunday," he added.