Law Professor: Same-Sex Marriage Wins in Court May Lead to Public 'Backlash'
A law professor warns that should same-sex marriage proponents be victorious in their legal efforts, it could lead to a major "backlash" against gay rights.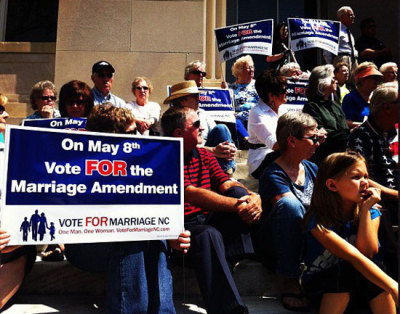 Professor Eric J. Segall of Georgia State University wrote an opinion editorial in the Los Angeles Times this week arguing that the better route would be for same-sex marriage proponents to lobby Congress.
"…[I]f the Supreme Court forces that change on the American people (through litigation over California's Proposition 8 or other cases), the probable backlash would be substantial and might well do more damage than good to the future of gay rights," wrote Segall.
"As hard as it is for some people to accept, millions of Americans do not believe in marriage equality. A Supreme Court decision forcing them to accept it would only have the opposite effect and cause more intractability."
Mathew Staver, founder and chairman of Liberty Counsel, told The Christian Post that backlash already occurred after past legal victories by same-sex marriage proponents.
"It certainly did in Iowa where three justices were voted out of office. It did in California where Prop 8 was passed. And it did when all this began in Hawaii when the court first ruled in the mid-1990s," said Staver.
As examples for his argument that same-sex marriage proponents should go through Congress instead of the Supreme Court, Segall cited two famous Supreme Court cases, Roe v. Wade (1973) and Brown v. Board of Education (1954).
The professor argued in his column that although many people think the two cases were crucial to the success of racial integration and abortion access, neither case was the end of the story. With Brown v. Board of Education, few Southern schools integrated until years later with the adoption of the Civil Rights Act of 1964 by Congress.
"Although this decision was undoubtedly correct, nine years later, in 12 Southern states there were still virtually no desegregated schools. These states simply wouldn't comply, and the Supreme Court didn't have the will or the power to make them," wrote Segall.
Regarding Roe v. Wade, the pro-choice author argued that the case helped mobilize pro-life forces and did little to actually expand abortion access.
"A direct fallout of Roe was the withdrawal of almost all public money for abortions at the state and federal levels," wrote Segall.
"There are virtually no abortion clinics in some states and many rural areas. And we are potentially only one vote away (Justice Anthony M. Kennedy) from the explicit reversal of Roe."
Dale Schowengerdt, legal counsel for the Alliance Defense Fund, told CP that backlashes occur "on every issue that the court has taken out of the public debate and constitutionalized unnecessarily."
"The prime example is abortion," said Schowengerdt, who agreed that after the 1973 decision "the nation has been reeling ever since."
The Times column came the week after North Carolina became the 30th state to approve by voter referendum a state constitutional amendment banning same-sex marriage.
Tracking Obama's 'Evolving' Gay Marriage Position