1.5 Million Filipino Catholics Join Black Nazarene Procession Praying for Miracles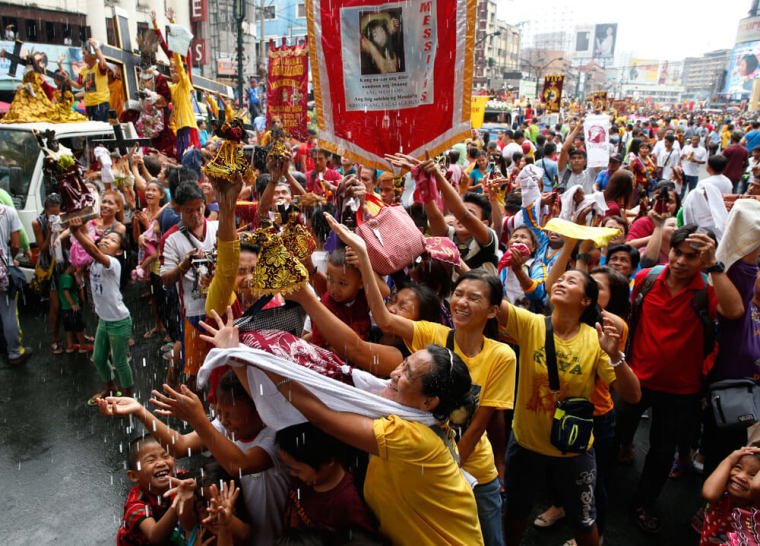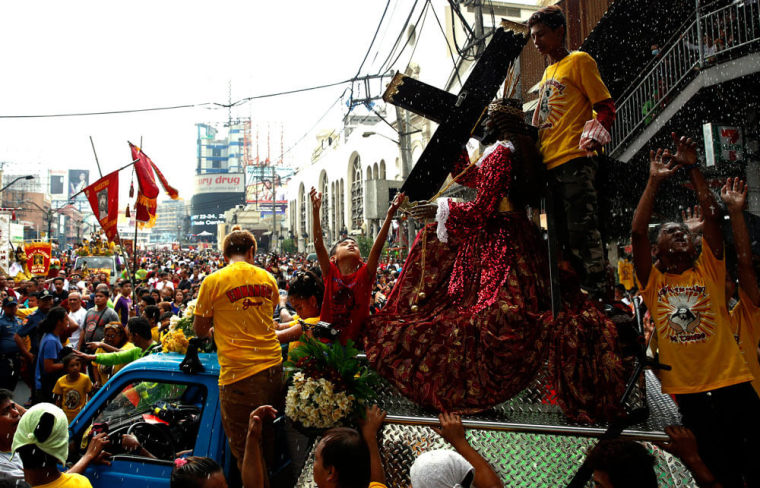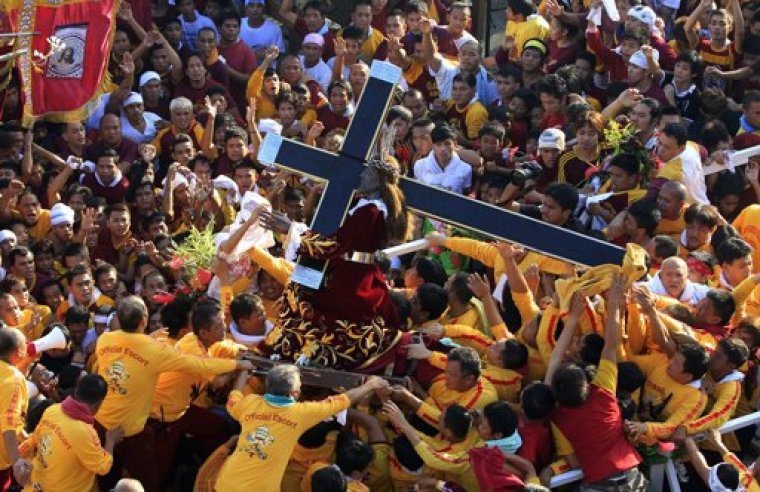 View Photos
About 1.5 million Filipino Roman Catholics marched the streets of Manila for the annual Black Nazarene procession, carrying a centuries-old life-sized statue of Jesus and praying for miracles, from Saturday morning through early Sunday.
Shoeless men and women carried the statue, called the Black Nazarene, through the capital city's narrow streets, covering a distance of about 4.5 miles to reach the downtown Quiapo church, also known as the Minor Basilica of the Black Nazarene, at about 2 a.m. Sunday, according to AFP.
Filipino Catholics believe the statue of Jesus has mystical powers capable of miracles in their lives if they wipe a white towel with it.
"If family members get sick we would give them sponge baths with it [the towel or handkerchief]. That way we wouldn't spend money on doctors," a devotee, Dang Villacorta, was quoted as saying.
The Red Cross said at least one man died and 220 others were treated for wounds, dizziness and symptoms associated with low blood sugar, mainly due to exhaustion and as people in the crowd strived to get closer to the wooden statue of Jesus.
"The people reach out to it because they have a personal relationship with God," Monsignor Hernando Coronel, the parish priest of Quiapo, was quoted as saying earlier. "They come to me and say the Lord has performed miracles for them. To the devotees he is for real."
About 5,000 police officers and soldiers were deployed to secure the 20-hour procession, according to The Associated Press. Security personnel randomly checked bags for weapons, firecrackers and pointed objects, including umbrellas, which were banned.
The tight security was partly due to potential threats after the recent Paris attacks by the Islamic State terror group, also known as ISIS or ISIL.
About 80 percent of the population of the Philippines, which is one of the poorest nation of Southeast Asia, is Catholic.
The majority-Catholic nation has a high crime rate and the country's southern parts are ridden with Muslim extremism.
It is believed that the statue, which is crowned with thorns and bears a cross, was brought from Mexico to Manila by Spanish missionaries on a galleon in 1606. The ship carrying the statue at the time caught fire, but the charred statue survived.
The statue depicts Jesus bearing the cross en route to His crucifixion. Many devotees of the Black Nazarene believe their poverty and daily struggles are connected to the Passion of Christ as represented by the statue.