Steve Harvey Says God Brought Him to Miss Universe Pageant; Celebs React to Blunder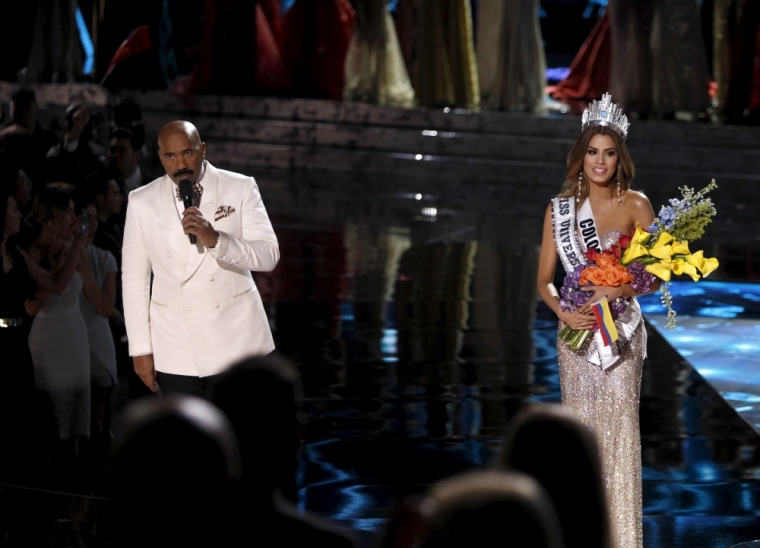 While the world continues to criticize Miss Universe host Steve Harvey for mistakenly crowning the wrong winner, the Christian comedian insists God brought him to the beauty pageant for a reason.
"Look at where God brought me! #MissUniverse2015," Harvey tweeted before the event started.
Harvey, the 58-year-old TV talk show and radio host, suffered a mishap in front of a live audience when he announced Miss Colombia, Ariadna Gutiérrez Arévalo, as Miss Universe when she was supposed to be the runner up. After Miss Colombia was crowned, Harvey realized his mistake and told the world that Miss Philippines, Pia Alonzo Wurtzbach was actually the winner.
The host apologized for the flub immediately after realizing his mistake and even took to social media to fess up amid scrutiny and mockery.
"I want to apologize emphatically to Miss (Philippines) and (Miss Colombia). This was a terribly honest human mistake and I am so regretful," Harvey tweeted. "Secondly, I'd like to apologize to the viewers that I disappointed as well. Again it was an honest mistake."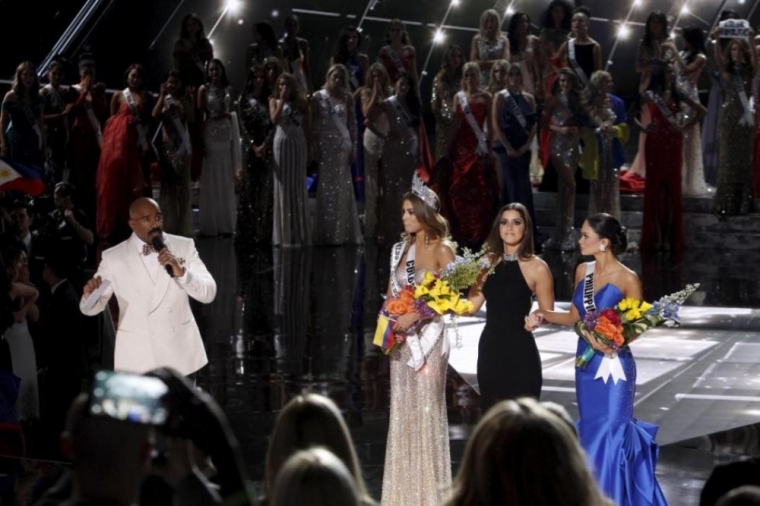 Some, however, were not so forgiving, including Republican presidential candidate Donald Trump who previously owned the pageant before selling it this year.
"Very sad what happened last night at the Miss Universe Pageant. I sold it six months ago for a record price," Trump tweeted. "This would never have happened!"
Aside from dealing with criticism, Harvey became the subject of numerous memes. One was re-posted by Justin Bieber, and showed the comedian's head superimposed onto the singer's body with his lyrics, "is it too late to say sorry?"
"It's so sad but this is too funny had to post no disrespect," the "Sorry" singer wrote.
However, a number of people proved they were in Harvey's corner, including his fellow comedian Cedric the Entertainer, who took notice of the memes going around.
"Honest mistake, he handled like a pro. The meme game is crazy funny stuff. Y'all ease up," he wrote.
In 2012, Olivia Culpo was crowned Miss Universe and took to Twitter to support Harvey.
"Poor Steve Harvey!!! But at least he did the right thing and rectified the situation," she wrote.
In spite of all the media scrutiny, actress Holly Robinson Peete was inspired by Harvey's blunder.
"Steve, you did a great job all night. We are human. Imperfect," she tweeted. "I am humbled by your humility. Love you!"
Gospel singer Michelle Williams also made sure to admonish those who spoke ill of Harvey from a faithful perspective.
"Saddened by all of the hateful remarks towards @IAmSteveHarvey! Sow hate, you'll reap hate. Sow love, reap love. It could be you one day," she wrote.