Black Radio Host Compares Defenders of Controversial Alabama Church Sign to KKK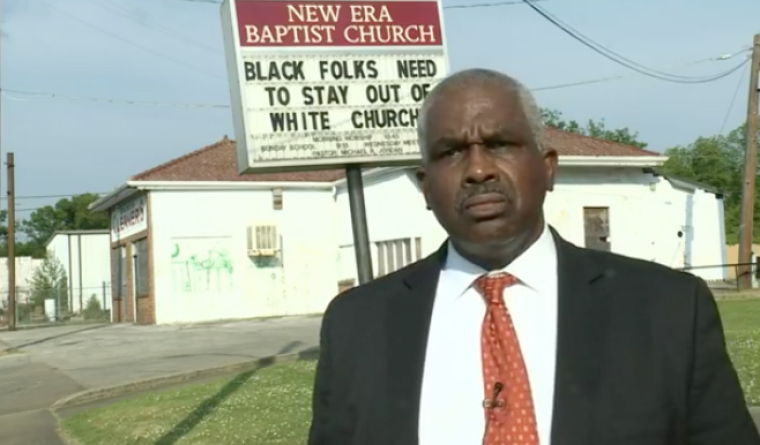 A black radio host in Alabama has spoken out against a controversial sign in front of a black church in Birmingham by saying that those who support the sign are no better than the white supremacists who justified the actions of the Klu Klux Klan.
Radio host Joe Lockett, who hosts a three-hour Saturday evening talk show on Birmingham's WYDE-FM 101.1, has condemned the sign put up in front of New Era Baptist church by Pastor Michael R. Jordan that states: "BLACK FOLKS NEED TO STAY OUT OF WHITE CHURCHES."
As previously reported, Jordan erected the sign in response to plans by the Church of the Highlands, one of the largest churches in the country, to launch a church plant in one of the city's most violent neighborhoods. However, Jordan accused the church of having racist motivations and even called the megachurch a "slavemaster church."
In a video posted to YouTube on Wednesday by Yellowhammer News, Lockett condemned Jordan and stated that if a white pastor had put up such a sign in front of his church, he and his congregation would have been chased out of the town and "rightfully so."
"But, someway, somehow, when this pastor puts this racist garbage on his church, I hear people saying there's some truth to what he's saying. Let me say this to everybody: A broke clock is right twice a day. That doesn't make it right," Lockett stated. "The same garbage that I hear being spewed — that there's some truth in what he's saying — is the same thing the Ku Klux Klan said when they tried to justify what they were doing. Racism is racism, whether it's black or white — it's wrong on any front — and I'm sick and tired of sitting here waiting, listening to people trying to give an excuse for it."
Chief among Jordan's claims is the argument that the Church of the Highlands only wants to launch a new church plant in the violent Birmingham neighborhood because too many black people are coming to their campus in the suburbs. Jordan claims they want the church plant so that black folks will stay out of their other campuses. However, the Church of the Highlands has said that the goal of the new church plant is to help fight crime in the neighborhood.
As for those who say there is some truth to Jordan's claims, Lockett contended that there seems to be a double standard.
"We demonize the white man when he shows racism or we think there's racism, but when it comes to the black community, if somebody spews racism, we say, 'Oh, they can't be racist,'" he said. "Yes, they can."
Lockett continued by arguing: "For everybody that thinks that every white person is out to get the black community, it's not true."
"Are there racist people in the world? Yes. Are there racist black people in this world? Yes. And at the end of the day, will racism ever go away? No, it won't. But there are white people who truly want to do something to help.
"Now, I don't know Pastor [Chris] Hodges personally, but everything I've seen these people do from Highlands, and from everything I've researched, I haven't heard anything bad," he added.
Lockett said that he hasn't heard anything about the Church of the Highlands trying to get black people to leave or that the Church of the Highlands is "trying to take over the community."
"Last I checked from everybody I know, they're diversified to the hilt and it's not 50/50, but there's a lot of blacks that have been going to the Church of the Highlands for a long time," he explained. "It's time for people to wake up and stop buying into this racism crap."
Other prominent African-Americans in Birmingham have voiced their concerns with the church sign and Jordan's views.
Quoting Martin Luther King, Jr., Mayor Randall Woodfin tweeted:
"There is a spirit of racism and division that is over this city. It must be brought down. We have to change the conversation to what we need it to evolve into. 'Darkness can not drive out darkness. Only light can do that. Hate can not drive out hate; only love can do that.'"
Steven Hoyt, an African-American city councilman and a pastor at Mount Carmel Christian Methodist Episcopal Church in Adamsville, told WVMT 13 that "it doesn't help us when we have churches who put up this kind of language."
"If this was a white church, we would have some problems," he said.
Rachel Blackmon Bryars, the managing editor of the Alabama conservative news commentary website, argued in an op-ed that while the Church of the Highlands may not have racist intentions, Jordan seems to come off as having "sincere concerns."
"We don't have to agree with him to try and understand where he's coming from," she wrote. "If someone is willing to voice such controversial statements, chances are there are other people who feel the same way but aren't willing to say it out loud."
In his video, Lockett argued that while Jordan's concerns may be sincere, he should have taken the step to reach out to Hodges or leadership at Church of the Highlands to address his concerns privately before posting in front of the church for the world to see.
"Do black people want an answer to their problems or, if it's white, it can't be right?" Lockett asked. "Think about that because here's a man, a pastor in a congregation, saying, 'Hey, we want to help.' Now, do we know it's going to help? We don't know, but one thing I know for sure, what we're doing right now is not working."
Lockett argued that the African-American community is asking for help and asking, "What is the white man going to do? When are they going to lend a hand?"
"But now they're trying and we're saying that we don't want it — some people are — even if it's coming from the church," he pointed out. "In our community, when are we going to realize that there are some times that we have to open our hearts? Yes, we've been hurt. Yes, white people have screwed us over. Yes, but we did not get our civil rights by ourselves."