Blake Shelton Gets Snarky With Westboro Baptist Over Plans to Protest His Concert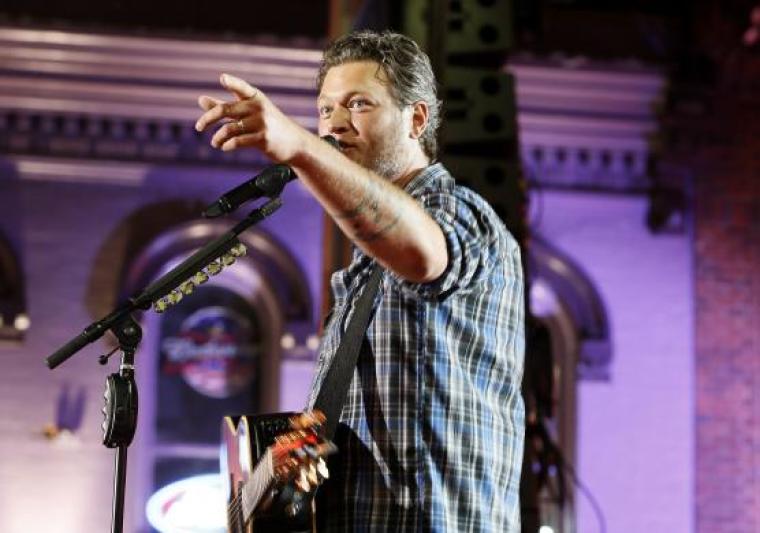 Country music star Blake Shelton has offered an aggressive response to Westboro Baptist Church (not related to any mainstream Baptist denominations) after the controversial group threatened to protest one of his concerts.
When the extremist group, notorious for their "God Hates Fags" signs, tweeted its plans to protest Shelton's upcoming concert at the Sprint Center in Kansas City, Missouri, Shelton responded with a tweet of his own, "Great!!!! Lots of my crew guys will be happy to see your wives [...] Again."
This isn't the first time the country music star has engaged in social media exchanges with Westboro, which has been criticized in the past for its controversial protest methods that include picketing the funerals of American soldiers.
In 2013, Shelton hurled a string of insults at the hate group after they announced their plans to picket his concert in Kansas City.
"Y'all may want to keep an eye on ur women at my show.. I've got a few band and crew guys that'll be smacking that holy [explitive]," Shelton tweeted at the time. He added, "Hey @WBCSays.. This isn't about God. It's about me using this opportunity to make y'all look like the absolute complete dipsh**s you are."
Westboro Baptist has protested several big name music stars in recent years, with some of the protests caught on camera.
Country music singer Vince Gill confronted the group head-on when they protested his 2013 concert at the Kauffman Center for the Performing Arts in Missouri.
A video from the confrontation shows one protester asking "Don't you know that divorce plus remarriage equals adultery? Jesus Christ said that."
"Did he?" Gill responds. "You know what else he said? He said a lot of stuff about forgiveness, about grace. You guys don't have any of that."
The group has also protested the concerts of the Foo Fighters, Lady Gaga, Lorde, Miranda Lambert, and Taylor Swift, among several others.
When picketers showed up at the Foo Fighters concert in Kansas City last August, members of the band rode past the protesters in a pick-up truck while dancing to the song "Never Gonna Give You Up" by Rick Astley and holding signs that read "Keep It Clean."
Country music star Brad Paisley also left his concert hall in Bonnor Spring, Kansas, to take a funny-faced "selfie" with Westboro Baptist protesters in June 2014.
"Westboro Baptist Selfie!! Or west-Burro(ass) selfie. Hopefully they can hear the show out here. We'll play loud," Paisley captioned the photo as protesters behind him held signs about drinking and sin.
Although the extremist Westboro group describes itself as "Baptist," Russell Moore, president of the Ethics & Religious Liberty Commission for the Southern Baptist Convention, has clarified by describing them as "kind of a performance art of vitriolic hatred rather than any kind of religious organization."