Bloods, Crips, and Black Guerrilla Family Members Unite for Justice: 'We're Black Men United,' One Member Says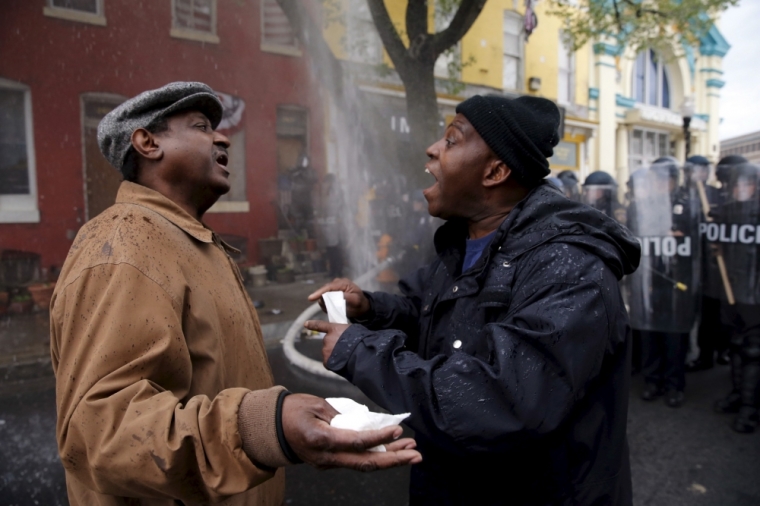 Members from the Bloods, Crips, and Black Guerrilla Family all came together to refute claims made by the Baltimore Police Department on Monday stating that they had united to cause harm and instead said that they meant to help their community and those affected by the rioting in the wake of Freddie Gray's death.
"I think it's very important that we talk about the positives that came all week with regard to organizing. You know, people are talking about gang activity, CNN contributor Marc Lamont Hill said on Monday night.
He continued: "Well, for the last three days I've been in contact with Baltimore gang members who say we're putting together truces, we're no longer going to be fighting each other, we're going to organize and protest. I'm not talking about these allegations of violence. I'm talking about organized, peaceful resistance from gang members, Bloods, Crips, other people who put their guns down and say we're going to organize for justice."
The Baltimore Police Department issued a warning via press release on April 27 stating that there was a credible threat to officers coming from the unification of three gangs. However, leaders from those gangs have come together to defend themselves and say that they joined forces to keep black-led businesses and youth safe during a time of chaos sparked by the death of Freddie Gray who died on April 19, one week after suffering injuries while in police custody.
His funeral, held on Monday, set off protests that turned violent and led to over 200 arrests and left 20 officers injured.
Leaders from the three gangs came together at New Shiloh Baptist Church to meet with religious leaders and fellow rioters. One member of the Crips told The New York Times how he and members of the Bloods had gathered to protect black-owned businesses, black youths, and reporters.
"I rolled over here on a truck and I was the only Crip, and everybody else was Bloods, and they didn't do anything to me. We're together in this," the young man who called himself Charles, told the Times. "There is only so far that you can push people into a corner. We're frustrated and that's why we're out there in the streets."
A group of the young men managed to get air time with a local reporter and address the allegation of threats the police had made. The men wore different colors: red, blue, and black, signifying their allegiance to their respective gang. But they were unified in a quiet, respectful manner to tell the people of Baltimore that they came together in a truce not to harm anyone.
"We're trying to stop the violence … we want justice for Freddy Gray. It makes us look bad, the speaker said of the violence and looting. I understand why people are mad, but we've got to handle things in a different way," one Bloods member, who went unnamed, told WBAL-TV. "Stop believing everything you're hearing in the media."
"We stand here as black men united," a member of the Crips, who also went unnamed, added.
The men explained that they felt they were being painted unfairly, especially when they were trying to help their community.
The Christian Post contacted the Baltimore Police Department and Baltimore Mayor's Office, but reps were unavailable for comment.