Boko Haram Has Killed at Least 2,053 Civilians in First Half of 2014, Watchdog Group Says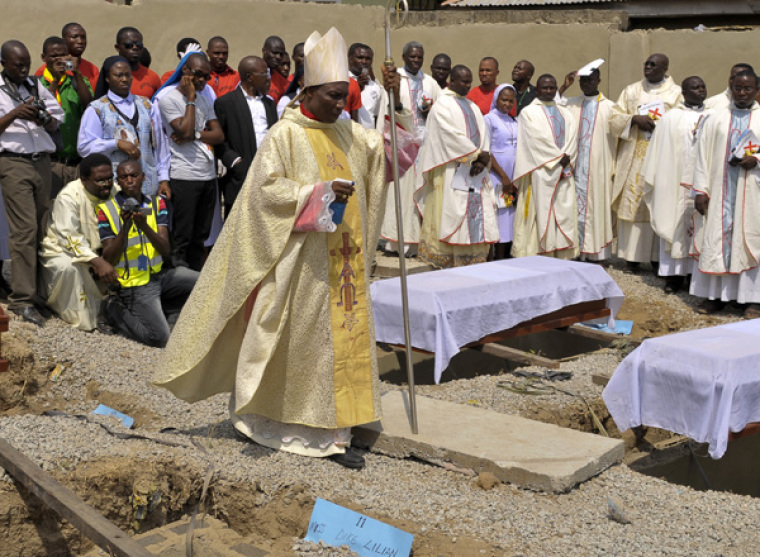 Islamist militant group Boko Haram has killed at least 2,053 civilians in over 95 attacks during the first half of 2014, an analysis by Human Rights Watch reported on Tuesday. The militants, who also kidnapped over 200 schoolgirls in April, have waged a war on the Nigerian government and the country's Christians for close to five years.
"Boko Haram is effectively waging war on the people of northeastern Nigeria at a staggering human cost," said Corinne Dufka, West Africa director at Human Rights Watch. "Atrocities committed as part of a widespread attack on civilians are crimes against humanity, for which those responsible need to be held to account."
The watchdog group detailed a number of the attacks that have occurred in Nigeria since January, and noted that its figures are based on analysis of media reports as well as field investigations. Many of the most deadly attacks took place in Borno State, the birthplace of Boko Haram, where 1,446 people were killed.
The terrorist group has made it its mission to impose Sharia (Islamic) law on Nigeria, and despite efforts by the government of President Goodluck Jonathan and the Nigerian army, it continues carrying out deadly attacks on government buildings, churches, schools, and entire villages.
Boko Haram burned down four churches and killed dozens of worshipers in a major attack on Christians at the end of June in Kwada and Kautikari villages.
"The latest attack by Boko Haram on four churches and those innocently attending Sunday services inside once again affirms the religious motivation of this group's heinous crimes against the Nigerian people. For years, the Christian population of north Nigeria has faced a devastating offensive by Islamic militants that has yet to be effectively countered," Cameron Thomas, International Christian Concern Regional Manager for Africa, said at the time.
The militant group has demanded an exchange of prisoners in order to release the 276 schoolgirls it kidnapped from Chibok in April, but the government has not agreed to the demands, and the majority of the girls remain captured by the terrorists.
HRW added that widespread poverty, corruption, security force abuses, and longstanding impunity for a range of crimes have given militants groups like Boko Haram the opportunity to continue carrying out attacks.
The watchdog group argued that the killings and other abuses by Boko Haram rise to the level of crimes against humanity.
It noted that the Rome Statute of the International Criminal Court, to which Nigeria is a party, defines crimes against humanity as various criminal offenses, including murder, torture and rape that are "committed as part of a widespread or systematic attack directed against any civilian population, with knowledge of the attack."
Nigeria's security forces have also been accused of committing crimes, it noted, and have reportedly rounded up hundreds of men and boys suspected of supporting Boko Haram, detained them in inhuman conditions and physically abused or killed them.
"No matter how egregious the violence, Nigerian security forces engaged in operations against Boko Haram may not operate outside the law," Dufka said. "The Nigerian government should recognize that it needs to protect its population both from Boko Haram and from abusive members of its own military and police."
The continuous attacks by Boko Haram on Christians also led persecution watchdog group Open Doors to place Nigeria at the very top of the list of the 10 countries where followers of Christ face the most violent attacks for their faith.