Boko Haram Kidnaps Over 170 Woman, Children in Nigeria; Cameroon Army Delivers Major Blow Killing 116 Militants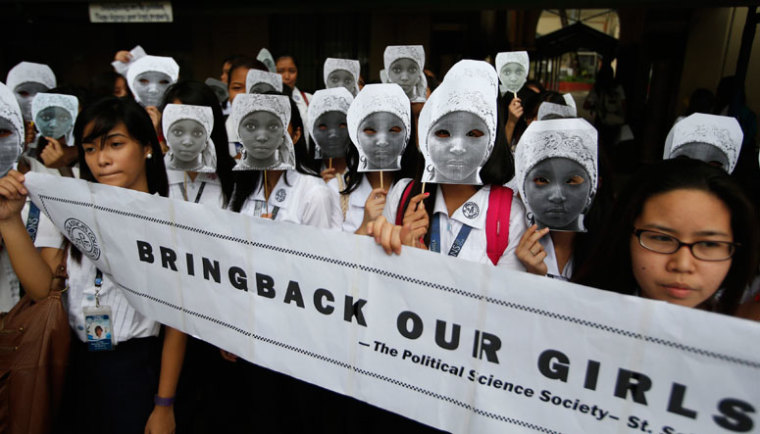 Boko Haram militants are believed to have kidnapped around 172 women and children and killed 35 other people during a raid earlier this week in the northeast Nigerian village of Gamsuri. Boko Haram's advancements in Cameroon have been dealt a heavy defeat, however, after 116 militants were killed on Wednesday in an attack on a northern base.
Residents of Gumsuri reported the kidnappings on Thursday, according to Reuters, in the latest attack by the Islamic militants on villages and cities across Nigeria. The terror group, which has killed thousands in the country since 2009 in a mission to establish Islamic rule, gained international notoriety for kidnapping over 200 schoolgirls from a secondary school in Chibok, only 15 miles from Gumsuri.
Abba Musa, a villager who survived the attack, revealed that the gunmen shouted "God is Great" as they attacked the village and killed at least 35 people.
"My sister and her seven children were among those taken away," Musa said. "We ran into the bush and were lucky. There were not many others who were lucky."
Vigilantes in Gumsuri had reportedly fought off militants in previous occasions, but this time they were overpowered.
The Nigerian government has faced difficulties in defeating the terror group, which is well established in the country's northern region.
"The government is outraged and deeply saddened by this deplorable act," government spokesman Mike Omeri said in a statement. "Boko Haram continues to choose, ever cowardly, to target civilian populations to spread their brand of terror."
Boko Haram's attacks on the neighboring country of Cameroon have been less successful, however, as defense ministry spokesman Lieutenant Colonel Didier Badjeck reported that 116 militants were killed after they ambushed army vehicles in the region of Amchide.
"The response of our forces was swift and appropriate. The attack was repulsed and the attackers neutralized," Badjeck said on Thursday, adding that one soldier was killed on the Cameroonian side.
The precise numbers under Boko Haram's command are unknown. The militants announced earlier this year their allegiance to terror group ISIS, which is waging its own war and capturing cities in Iraq and Syria.
Boko Haram, which has often targeted Christians and gunned down entire church congregations, has increased its number of abductions this year.
Despite international pressure and Nigerian government attempts to free the Chibok girls, Boko Haram has refused to cooperate. Leader Abubakar Shekau rejected negotiations for the girls in November, and revealed that they had been "married off" to other jihadists.
BBC News' Will Ross stated that the latest abduction is "one of the worst since the Chibok girls were seized in April."
"It might seem surprising that it has taken four days for news of the killings and abductions to break. That points to just how dangerous that area of north-east Nigeria still is despite promises of a massive military deployment there," he added.
"Gumsuri is about 70km (43 miles) from Maiduguri, the state capital, but survivors had to travel hundreds of kilometres via a circuitous route to avoid areas overrun with jihadists in order to reach the city and alert people to the horrors they had witnessed."