Bono, One Direction, Sinead O'Connor Among Stars Collaborating on Ebola-Charity Single 'Do They Know It's Christmas?'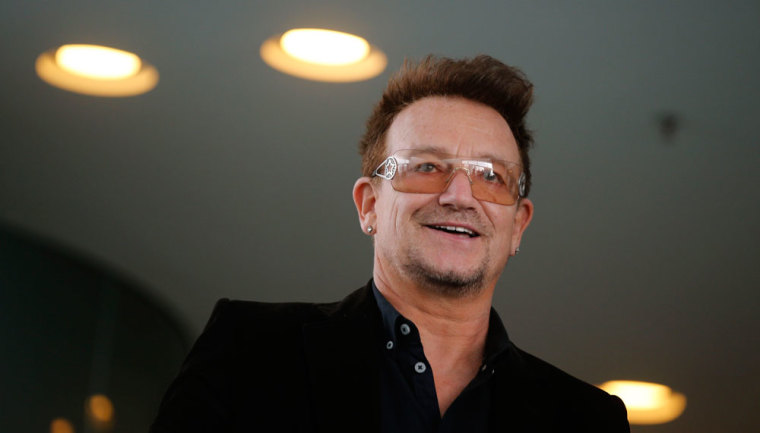 U2's Bono, One Direction, and Sinead O'Connor are among some of the top musicians who are collaborating on a charity single that will help in the fight against the Ebola outbreak.
The Hollywood Reporter revealed that the stars, also including Ed Sheeran, Ellie Goulding, Sam Smith, Underworld, Bastille and Elbow, will collaborate on a new version of the song "Do They Know It's Christmas."
Singer-songwriter Bob Geldof announced the plans for the song at a press conference on Monday.
"We called up some of the giants of the past and our own contemporaries, equally giant, and they said they'd come again to the party," Geldof said.
The Ebola outbreak, the largest in recorded history, has killed close to 5,000 people in the West African countries of Liberia, Guinea and Sierra Leone. While a slowdown of new cases has been reported in recent weeks in Liberia, the rate of infection continues increasing in Sierra Leone, with the World Health Organization urging the international community to continue to help.
The U.S. has been one of the leading aid partners in the global fight against Ebola. President Barack Obama has sent nearly 3,000 U.S. soldiers to build treatment tents in Liberia, while last week he asked Congress for $6.18 billion in emergency funding to advance anti-Ebola efforts both abroad and at home.
Dozens of other nations have also contributed funds to tackle the virus, and the planned charity single is aimed to strengthening global efforts to put an end to the outbreak.
"For 30 years, we've been boring people to death about the great inequalities of the world, whereby 50 percent still live on two dollars a day. That's disgraceful. It's ridiculous, and it's unnecessary," Geldof said.
"And what they were dying of in 1984 was of course hunger, but they died essentially because they were poor. We know we can contain Ebola; we have the doctors, the nurses, medicines and state systems. We have money. They're dying again because they are extremely poor. That is radically unacceptable."
The original 1984 version of the song, featuring artists such as Phil Collins, George Michael and Sting, was created to combat hunger in Africa, and remains the second biggest single of all time in the U.K.
AFP added that the vocals for the song are to be recorded on Saturday at the Sarm Studios in west London, which was the sight of the recording for the original song as well. The song will be made available for purchase online for $1.60, or as a physical record for $6.35.
"Do They Know It's Christmas?" was also re-recorded with new artists in 1989 and again in 2004.