Obama Asks Congress for Emergency $6.18 Billion to Fight Ebola; UN Says It 'Lacks Resources' to Stop Outbreak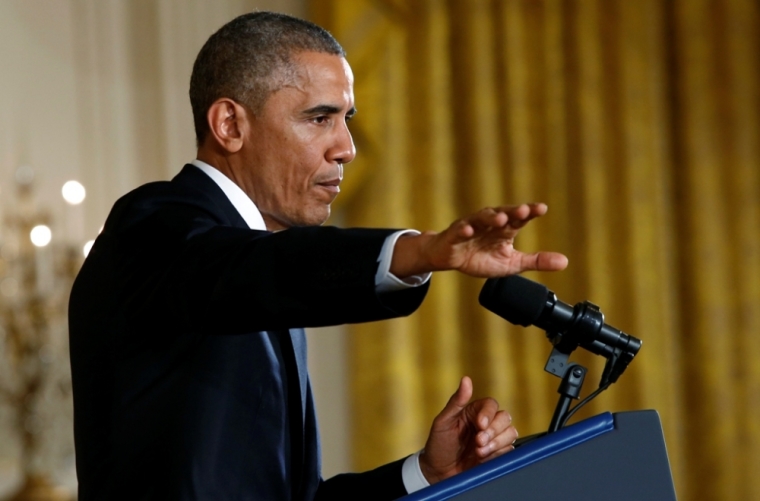 President Barack Obama has asked Congress for $6.18 billion in emergency funding to advance the U.S.'s efforts in tackling the largest Ebola outbreak in history both abroad and at home. At the same time, the U.N. has said that it lacks the resources to stop the deadly virus.
The White House provided a detailed explanation to several key questions regarding why the money is necessary and how it will be used.
"The funding is needed immediately to strengthen and sustain our whole-of-government response to strengthen preparedness in the U.S. and to help end the Ebola epidemic at its source in West Africa, and to prevent disease outbreaks, detect them early, and swiftly respond before they become epidemics that threaten the American people," the Obama administration explained on why the funds are considered an "emergency."
"It's in situations like this one, when activities surpass the current level of funding, that the request is deemed an emergency."
The World Health Organization reported a lowered death toll estimate in West Africa on Wednesday as it sought to improve the quality of data on its previous reports. Still, it noted that at least 4,818 people have died from the outbreak out of 13,042 cases, mainly in the countries of Sierra Leone, Guinea and Liberia.
There have been isolated cases reported in several other countries, and seven Americans have contracted the disease, but thanks to early treatment none of them have died.
In a separate report on Thursday, the head of the U.N. mission charged with fighting Ebola in West Africa revealed that the resources needed to stop the disease are lacking.
Tony Banbury told BBC News that it's difficult to say whether the spread of the disease is slowing, describing the situation as a "very mixed picture."
"It's not here yet," Banbury said about the needed resources. "There are still people, villages, towns [and] areas that [are] not getting any type of help right now and we definitely don't have the response capability on the ground now from the international community."
He noted that countries like the U.S., the U.K., China and Cuba have all made significant contributions, but insisted that more resources are required.
In a letter to Congress and House Speaker John Boehner, R-Ohio, Obama said: "My foremost priority is to protect the health and safety of Americans, and this request supports all necessary steps to fortify our domestic health system and prevent any outbreaks at home."
Boehner's office has indicated that appropriators would review the request, The Associated Press revealed.
The White House explained in its article that several nations are helping out in the fight against Ebola, and provided a list of those that have sent significant financial and in-kind support as well. It noted that the U.S. has a unique opportunity to help, however.
"Because of our skill, our determination, and our passion, Americans are uniquely suited to lead this international response. The emergency funding will ensure that we can fulfill our leadership role and also ensure that we are taking important steps to strengthen preparedness here in the U.S.," the Obama administration said.
It added that of the requested emergency money, the Department of Health and Human Services will receive $2.43 billion to support the Centers for Disease Control and Prevention, the National Institutes of Health and the Food and Drug Administration. Another $1.98 billion are set to go for the U.S. Agency for International Development to scale up foreign assistance and address humanitarian crises.
Additional funding will also go to the Departments of State and Defense, which are providing medical air support in overseas posts; as well as to projects working on cutting-edge vaccine technologies, which are needed since a cure for Ebola is yet to be developed.
Obama has also sent close to 3,000 U.S. soliders to West Africa to build treatment tents and educate the locals on Ebola prevention measures.