Boston Bombing Suspect Caught: Dzhokhar Tsarnaev Arrested, Alive and In Custody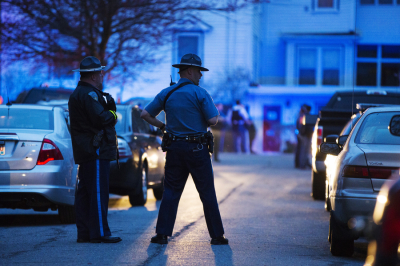 Boston Marathon bombing suspect, Dzhokhar A. Tsarnaev has been caught and taken into custody at about 8.40 p.m. ET following a near two hour stand-off with police at a residence in Franklin Street, Watertown.
Tsarnaev was taken alive without incident, but did have unspecified medical needs, according to authorities.
The dramatic development took place after gunshots were heard in Boston shortly after 7 p.m. ET, and soon after reports emerged that the Boston bombing suspect, Dzhokhar A. Tsarnaev, had been cornered, hiding in a large boat in the garden of a residence in Watertown.
A sudden rush of police presence was then seen moving into Franklin Street as authorities boxed the suspect in.
Despite the suspect being found, authorities were said to have stayed back using extra precaution to ensure no further loss of life, and a tense stand-off took place.
Earlier, just minutes before the gunshots were heard, police had held a conference lifting an order for local Bostonians to stay in their homes. However, dramatic developments then seemed to occur with as many as 30 to 40 gunshots heard ringing out of a street in Watertown. No officers were reported injured in the exchange, but it was unsure whether the suspect had been shot or not, although he was alive.
The burst of gunfire then went silent and over the next hour and a half no further gunfire was heard.
Earlier in the day it had been reported that one of the two suspects in the Boston Marathon bombings was killed in the early hours of Friday morning, following a frantic police chase and the fatal shooting of an MIT campus police officer by the suspects.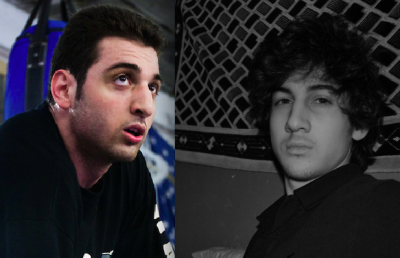 The second suspect was the subject of a massive manhunt throughout Friday, which locked down most of Boston.
The two suspects were confirmed as Dzhokhar A. Tsarnaev, 19, of Cambridge, Mass., and his brother, Tamerlan Tsarnaev, 26.
Tamerlan was the person labeled Suspect No. 1 on Thursday by the FBI, wearing the black baseball cap in images publicly released by authorities. He is also the brother who was killed during the police confrontations early on Friday morning.
Dzhokhar is the other suspect seen in a white baseball cap in the images released of the day of the Boston bombings. He reportedly escaped during the confrontation in which his brother was killed, and is currently being hunted.
The brothers were confirmed as ethnic Chechans, according to their uncle who addressed reporters just before lunchtime. The uncle also described them as Muslim but urged "this has nothing to do with Islam." He suggested that they were "losers" who were angry at others who had managed to settle in the United States successfully, where as they themselves had struggled to do so.
Various postings made by the two brothers on social media sites has also indicated that they held an Islamic worldview, and there is nothing to suggest at this time that their religious views were motivations in the attacks on Monday.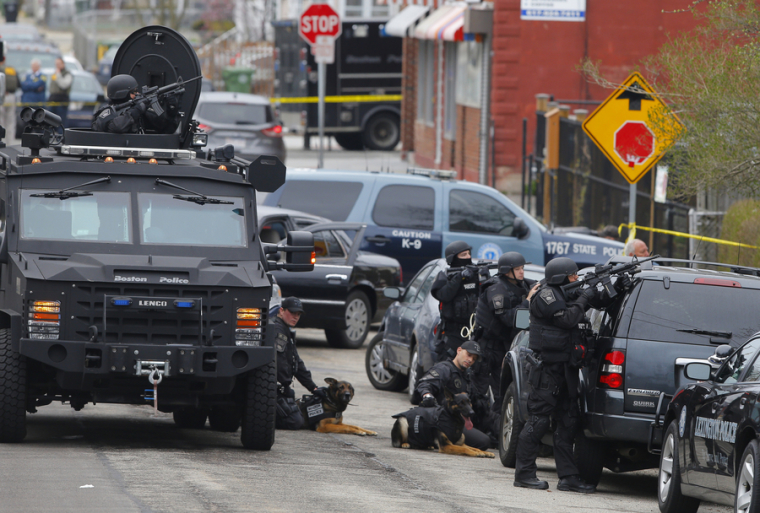 Dzhokhar is said to have been in the United States for as long as 8 years, and a friend, speaking on the condition of anonymity to CNN, has described him "as American as you or me."
Authorities have indicated that the dead suspect, Tamerlan, had a homemade bomb device strapped to his body when he was killed. He reportedly had bullet wounds and had been run over in the chaotic confrontation with police. Early reports have claimed that it was Tamerlan's younger brother that may have inadvertently run him over as he attempted to escape.
The manhunt for the younger brother has put the entire Boston region on edge, and on Friday morning Gov. Deval Patrick of Massachusetts ordered residents of Boston and its neighboring communities to "stay indoors, with their doors locked."
Hundreds of police officers were seen in the area, with houses in some streets being searched door to door, and bomb squad vans were seen traveling to one sealed off street. All public transport services were also suspended in the city to try and keep the streets clear and aid authorities with their search.