Boston pastor falls on head in trampoline stunt to demonstrate Gospel; video seen by millions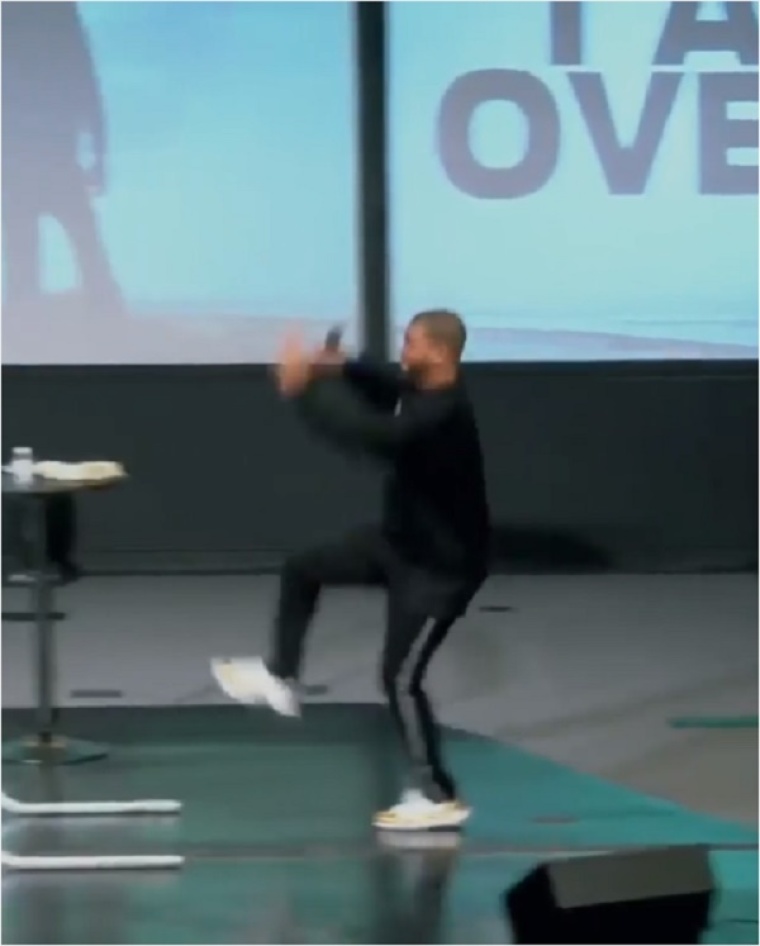 A Boston pastor is finding the good in a bit of comedy that resulted from him falling on his head when attempting to jump on a trampoline. The video has gone viral.
"It's funny," Pastor Matthew K. Thompson of Jubilee Church told Fox News.
"I remember thinking to myself, O. M. G. and I land like right on my head … maybe like 800 people there. They just gasp and I'm just laying on the floor. So I just roll over and I say a righteous man falls and gets back up … so I got back and continued to preach."
The clip in question is from Thompson's last Sunday sermon of 2018, which he uploaded on Instagram.
In the sermon, the pastor uses the trampoline as an analogy for people needing God's help to get over the hurdles in life.
"I brought up a trampoline to demonstrate that you need the Power of God to help you get OVER IT!!!" the pastor wrote online.
"WELL... AS YOU CAN SEE THE VIDEO HAS GONE VIRAL.... Just to let you know I got back up again and finished Preaching!!! 2019 is the year YOU WILL GET BACK UP AGAIN... AND GET OVER IT!!!"
WCVB pointed out that the video has been viewed over three million times across social media platforms.
"I go to jump on the trampoline, and the trampoline slipped and I was in the air," Thompson said when describing his slip.
"I'm like in my head, I'm like oh ... I land, boom!" he added.
He said that despite getting a little hurt by the fall, he found the incident and the video to be hilarious.
"I was a little groggy, a little tired, a little hurt. Thank God I have a hard head. When I saw the video, although it was hurtful because I hurt myself, I thought it was hilarious," the pastor added.
Sharing what his 18-year-old son told him, he added: "He said Dad, you know this may go viral and people may actually go on your Instagram page, or go to the church or go to your Facebook page, and see that the message you are preaching can really help them just because of this fall. If that happens man, praise God."
Thompson told Fox News that he has used a number of other stunts in his ministry, and has preached on treadmills and other trampolines.
"I use all types of methods to communicate the message of the Gospel of Jesus Christ," he explained, pointing out that Jesus Christ walked on water and used other physical illustrations to communicate the Gospel.
He concluded that he is glad that people find the clip funny, but shared his hopes that "they could stop laughing long enough to hear the message that no matter what they've gone through or no matter how many times they've fallen, they can get back up again and trust God that He can help them get over it."