Boulder churches react to Colorado shooting: 'Sickness in this world'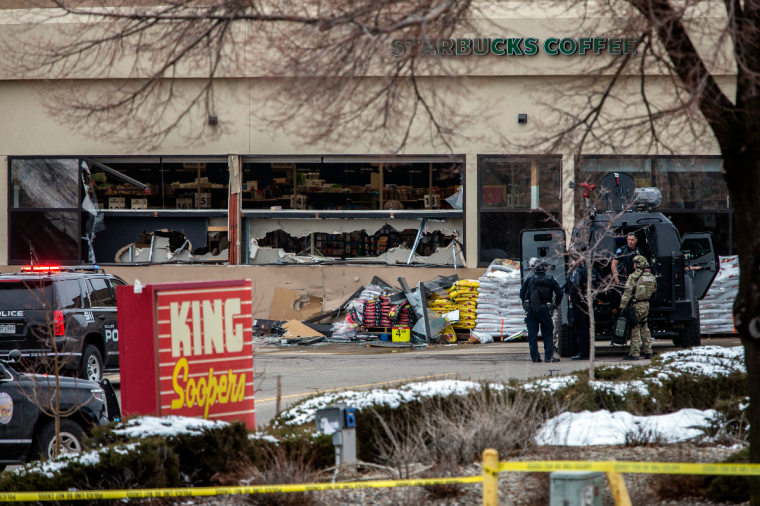 Boulder churches offered resources and encouragement, while gun control activists called for action after a mass shooting at a Colorado grocery store on Monday left 10 people dead.
Geoff Patterson, the senior pastor at Boulder Seventh-Day Adventist Church, posted the church's prayer line on Facebook after the shooting and said the prayer team was "standing by" and pastors were available to speak.
"Lord, there is sickness in this world, and this time it has struck in our town," the pastor wrote. "Grant us strength in this difficult hour."
East Boulder Baptist Church posted on its Facebook page the words of John 16:33, the New Testament verse in which Jesus tells his followers to "take heart" for He had overcome the world.
"Because we live in a broken world, events like the shooting in Boulder today are all too familiar," the church wrote. "… True hope is in Jesus, and we pray for his peace to be a constant presence and guide in the days ahead as our community searches for answers and healing."
City Church Boulder encouraged its Facebook followers to "Reach out if you're struggling. Reach out if it's hard. Reach out if you're not ok. You're not alone."
Pastor Nicole Garcia of Boulder's Westview Church said in a statement to church members that her "heart is breaking over the senseless and horrific incident that occurred today."
She said the act occurred "within a block of where we used to gather as a congregation for so many years."
"I am grieving over the loss of ten lives, including a Boulder police officer," she wrote in a statement. "It will take a lot of time to process what happened in a store so many of us frequented over the years."
Evangelical leader Franklin Graham, who heads the Billy Graham Evangelistic Association, also posted his condolences on social media and urged his followers to join him in praying for the victims' loved ones. 
On Tuesday morning, police identified the 10 victims who lost their lives as Denny Strong, Neven Stanisic, Rikki Olds, Tralona Bartkowiak, Suzanne Fountain, Teri Leiker, Eric Talley, Kevin Mahoney, Lynn Murray and Jody Waters.
The 10 slain individuals ranged from age 20 to 65. 
One of the shooting victims was Talley, a 51-year-old police officer and father of seven. He was one of the first to respond to the crime scene at King Soopers, according to TheDenverChannel.com.
The shooter was identified Tuesday morning as 21-year-old Ahmad Al Aliwi Alissa of Arvada, who is in police custody receiving medical treatment. 
He faces 10 counts of first-degree murder and will go to the Boulder County Jail once released from the hospital. Investigations are underway, and the killer's motive remains unknown.
"I promise ... we will secure justice and do everything we must do to get justice in this case," Boulder County District Attorney Michael Dougherty said, according to a local news outlet. 
Shortly after the fatal event, Colorado Gov. Jared Polis released a statement expressing his heartbreak at the "unspeakable event" and gratitude toward those who responded to the "senseless tragedy."
"This is very much an active situation and we continue to monitor very closely. …," Polis said. "Right now, the biggest priority is to let local law enforcement and the City of Boulder do their work to ensure the safety of those involved."
U.S. Rep. Lauren Boebert, R-Colo., a Second Amendment advocate, tweeted: "My prayers are with the shoppers, employees, first responders & others affected by the shooting in Boulder. May God be with them."
"While we are still awaiting important information and details in this case, random public shootings & senseless acts of violence are never ok," Boebert wrote. 
The hashtag #GunReformNow began trending on Twitter after the tragic event as many called for legislative action.
Evangelical leader, gun control advocate and Dietrich Bonhoeffer Institute President Rev. Rob Schenck released a statement to offer condolences and call for action. 
"Mass shootings at grocery stores can't be normalized in America," Schenck said. "Picking up a dozen eggs can't become a high-risk activity. Our hearts and prayers are with victims, their loved ones, and a traumatized community, but our actions must be aimed at preventing these heinous events from ever happening."
Michael W. Austin, the author of God and Guns in America and member of Everytown for Gun Safety's Interfaith Advisory Council, said people should not have to worry about being shot while shopping for groceries.
"We need more than thoughts and prayers. We need to act," Austin said in a statement. 
The U.S. Senate Judiciary Committee held a pre-planned hearing on "Constitutional and Common Sense Steps to Reduce Gun Violence" on Tuesday, the day after the shooting.
President Joe Biden has a history of pushing for stricter gun control legislation and is being pressured to deliver gun control reform in the wake of the Boulder shooting and the Atlanta spa shootings last week.
The White House released a proclamation on Tuesday to declare all United States flags on public grounds be flown half-staff until sundown on March 27 out of respect for the victims.