'Boys Have Penises, Girls Have Vulvas' Bus Ad Banned in Madrid for Offending Transsexuals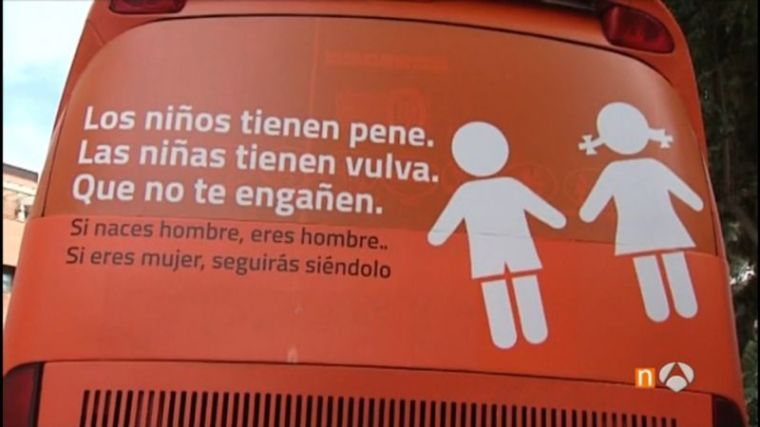 The Madrid City Council has banned a Catholic group's full-length bus ad that says "boys have penises, girls have vulvas" over concerns that it might offend "transsexual children."
The Catholic group Hazte Oir originally planned to take the.message "Boys have penises, girls have vulvas. Do not be fooled," nationwide in Spain, according to BBC News.
"If you are born a man, you are a man. If you are a woman, you will continue to be one," another message read.
Madrid City Council Socialists spokeswoman Purificacion Causapie called the bus ad "contrary to the dignity and rights of transsexual children," and demanded that the Spanish capital remain "a city free of discrimination, violence and attacks on minors."
Equality spokeswoman Angeles Alvarez for the Spanish Socialist Workers' Party also described the message as "a hate campaign based on intolerance."
Hazte Oir said in a statement that it's simply stating the truth, however.
"Our objective is to denounce laws of sexual indoctrination that various regions have passed to promote sexual diversity among minors, threatening freedom of education, and the right of parents to educate their children [as they see fit]," the group explained, according to The Local.
Hazte Oir, which translates to "Make yourself heard," also argued that it has a right to freedom of speech, and noted that the bus ads reflect "a fact of biology that is studied in schools."
The bus campaign was also reportedly intended to  counter posters produced by LGBT group Chrysallis, which argues that "there are girls with penises and boys with vulvas."
The Catholic group has also published pamphlets aimed at tackling the rising level of indoctrination in society. One such pamphlet titled, "Did You Know What They Want to Teach Your Child at School?" shows children raising their arms in a Nazi salute before a rainbow flag to expose the gender diversity law.
Debate over transgenderism has been a major topic in the United States as well, with President Donald Trump recently reversing former President Barack Obama's guidelines for schools to allow boys who identify as female to go into girls' bathrooms and showers, and vice versa.
A new Rasmussen Reports poll of 1,000 American adult found that while 38 percent of respondents agreed with allowing transgender students to use the bathrooms of the opposite sex, 49 percent remained opposed.
Prominent evangelicals such as Russell Moore, president of the Ethics & Religious Liberty Commission of the Southern Baptist Convention, hailed Trump's decision.
"I'm very glad to see the Trump administration revoke these guidelines. Children are not pawns of the state to be used to advance the latest fashionable 'right side of history' cause," Moore told The Christian Post.
"Christians must continue to insist that the worldview of the sexual revolution harms men and women and advocate for the inherent dignity of all," he added.