Brendan Fraser uses Critics Choice Awards speech to encourage those struggling to find 'light in a dark place'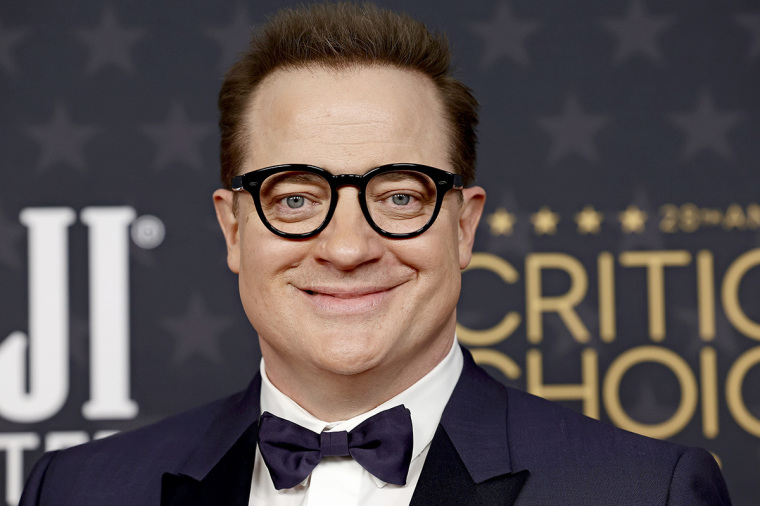 Actor Brendan Fraser, who recently made a comeback with his stellar performance in "The Whale," used his acceptance speech at the Critics Choice Awards to encourage anyone struggling to find "the light in a dark place."
At the 28th annual Critics Choice Awards on Sunday night, Fraser won the Best Actor award for his role in "The Whale," a drama film directed by Darren Aronofsky. Fraser stars as Charlie, a 600-pound man nearing the end of his life who tries to build a relationship with his estranged daughter, Ellie (Sadie Sink).
"This movie, 'The Whale,' is about love. It's about redemption. It's about finding the light in a dark place, and I'm so lucky to have worked with an ensemble that's incredible," Fraser said after accepting his award.
"If you, like a guy like Charlie, who I played in this movie, in any way, struggle with obesity, or you just feel like you're in a dark sea, I want you to know that you, too, can have the strength to just get to your feet and go to the light, good things will happen," he added.
The 54-year-old Canadian actor beat out Austin Butler ('Elvis"), Tom Cruise ("Top Gun: Maverick"), Colin Farrell ("The Banshees of Inisherin"), Paul Mescal ("Aftersun") and Bill Nighy ("Living") for the Best Actor award.
Fraser was once one of the most recognizable faces in Hollywood throughout the '90s and 2000s, known for blockbuster hits including "The Mummy," "School Ties" and "Encino Man." However, he hadn't been seen on the big screen for several years until his 2022 performance in "The Whale."
In his speech, Fraser thanked director Darren Aronofsky for giving him a chance to make a comeback after his lengthy hiatus from Hollywood.
"I was in the wilderness and I probably should have left a trail of breadcrumbs, but you found me, and like all the best directors, you merely just showed me where to go to get me where I needed to be," Fraser said, his voice cracking. 
The Critics Choice Awards aired on The CW on Sunday and was hosted by Chelsea Handler. 
Other big winners of the night used their platform to honor God, including Angela Bassett, who won Best Supporting Actress for her role in "Black Panther: Wakanda Forever."
After once again thanking God for the win, she shared her prayer for the film: "We showed the world that we could create and lead a billion-dollar box-office success. And my prayer is that that door remains open and the sky is the limit for other black creators and storytellers around the world to join us," she said.
Actress Sheryl Lee Ralph also said that God brought her to her role. The actress took home the award for Best Supporting Actress in a Comedy Series for her role in "Abbott Elementary."
"Every mistake, every back break, every 'No,' every rejection in an industry that when I was 19 years old was quick to tell me there was no place for me," Ralph said. "Sidney Poitier looked at me and said, 'You're a … good actress.'
"That God could lead me to a moment when a young woman by the name of Quinta Brunson would look at me and say, 'Ms. Ralph, I'm not sleeping on your talent,'" the actress said.
The Critics Choice Association is the largest critics organization in the United States and Canada, representing more than 600 media critics and entertainment journalists. The Critics Choice Awards are held annually to honor the finest in cinematic and television achievement. 
Other notable winners of the night included "Everything Everywhere All At Once" with Best Picture, Cate Blanchett for Best Actress for her role in "Tár" and Daniel Kwan, Daniel Scheinert for Best Director for "Everything Everywhere All at Once," and Guillermo del Toro's "Pinocchio" for Best Animated Feature.