'Bringing Up Bates' Ladies Have Girl Talk at Beach Bachelorette Party for 100th Episode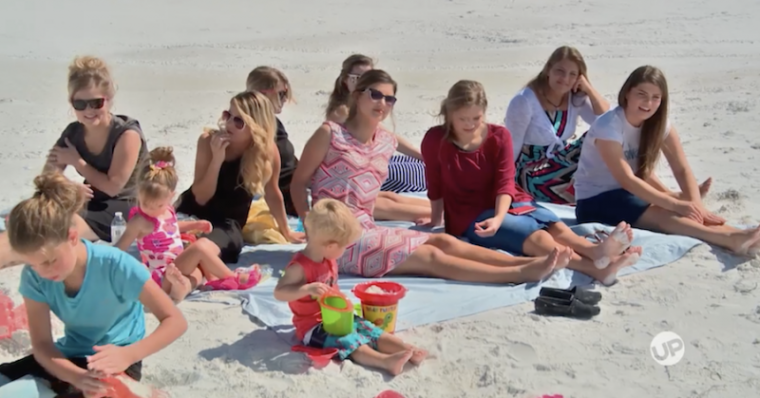 The 100th episode of "Bringing Up Bates" aired Thursday on UP TV with an hour special which centered on Tori Bates' beach bachelorette party where the Bates women have an honest girl talk to help the young bride to be.
Mama Bates, Kelly Jo, coordinated the sentimental trip to Anna Maria Island on the coast of Florida to celebrate her daughter Tori's upcoming wedding. Most of the Bates women were in attendance and sported knee-high skirts and shirts as they all sat on the sand and talked about the approaching wedding.
Kelly Jo asked the married Bates girls to give their Tori advice.
One sister said, "It's survival of the fittest, there is no advice!"
Erin chimed in and said, "I think you will be shocked [with marriage]. You've been living with your sisters for 20 years, it's [been] great, like college years all of your life but then you move in with your husband and it's so quit."
During a roll in testimonial clip, Erin also shared that she destroyed so many home cooked meals when she first got married. Kelly Jo recalled being a cleaning addict.
When they went back to their intimate beach time, the loving mother told Tori it'll be fun to be a "little housewife, mom."
"She's not a mom yet, but will be soon," one sister teased.
Tori then told the ladies that she and her fiancé, Bobby, found a 900-square-foot apartment.
Kelly Jo joked that she will throw a party at Tori's place once they return from the honeymoon.
The rest of the episode featured exclusive behind the scenes footage of the TV crew as well as Bobby moving into the apartment before the wedding.
In the "Bringing Up Bates" episode before the 100th anniversary, two of the reality stars welcomed daughters into the world within two days of each other.
Bates sisters Alyssa and Erin delivered their girls Zoey Joy at 4:22 a.m. March 28, and Everly Hope at 4:12 a.m. March 30, according to a news release.
In total, the family includes Gil and Kelly Jo Bates, their 19 children, five sons-and daughters-in-law and eight grandchildren. Their Christian conservative lives are documented on their reality show.
"Bringing Up Bates" airs at 9 p.m. Thursdays on the Up Network.
Follow Jeannie Law on Twitter:
@jlawcp