Rush Limbaugh's brother shares how radio host grew closer to Christ in final year of life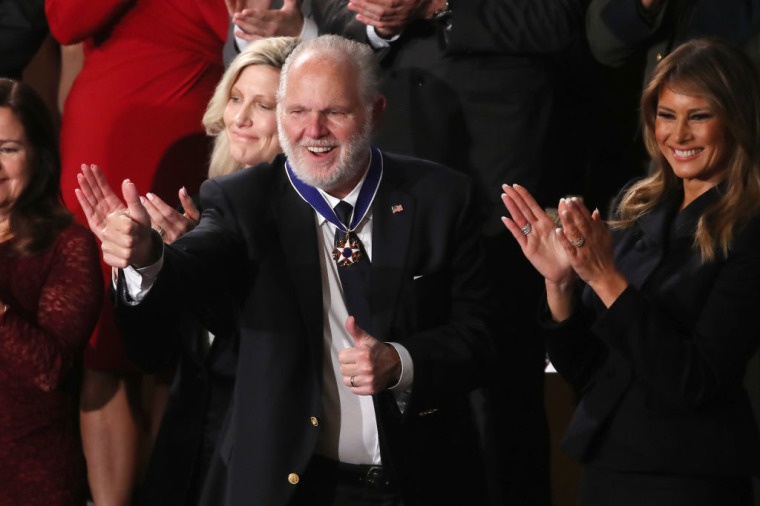 The younger brother of the late conservative talk radio host Rush Limbaugh described in an interview last week how his brother's faith deepened in the final year of his life and eliminated doubts about whether he truly surrendered to Christ. 
In a Friday interview with Evangelical author Joel C. Rosenberg, the editor-in-chief of All Israel News, apologist David Limbaugh opened up about the first time he learned his brother had been diagnosed with Stage 4 lung cancer from the talk show host's wife.
The author believes this event likely happened in January 2020, 13 months before his brother died at 70 on Feb. 17, 2021. 
David Limbaugh said they were raised in a Christian home, attended church, and their parents taught them "great values." 
The younger brother acknowledged that he had "intellectual doubts" about faith. While he always believed that God existed, David Limbaugh said he had merely been going through the "motions." 
In college, the attorney and author began considering serious philosophical questions about faith, including suffering and why a supposedly all-loving God condemns people to Hell.
After studying more, Limbaugh concluded there is "overwhelming evidence in favor of Christianity's truth claims." He came into a full relationship with Christ in his mid-30s. 
"People think that Christianity is based on blind faith," David Limbaugh said. "No, no, it's based on evidence. But faith is critical. Without faith, meaning putting your trust in Christ for your personal salvation, you're not going to get there, no matter how much you believe intellectually." 
Once he fully accepted Christ, he wondered if his brother was a Christian. 
"I mean, he thought he was in my view, and he embraced it intellectually," David Limbaugh said. "But did he think enough about it? And did it really affect his life in the way you would think if you were truly a faithful Christian?"
He started witnessing to his older sibling, even asking him straightforwardly whether he truly believed. Rush Limbaugh answered, "yes." David Limbaugh asked why his brother didn't discuss his faith more. Rush Limbaugh allegedly replied that he didn't talk about it much because he didn't think he knew enough about it. He didn't want to make something he wasn't an expert in the focus of his talk show.
"It makes you wonder why you didn't study it more and all that," David Limbaugh said. 
Rosenberg pointed out that it was interesting because Limbaugh was known to be a "student" of everything he was excited about to become an expert in those areas. David Limbaugh agreed. 
"Even though he was not being intellectually dishonest about it, he didn't quite yet get it in my view," David Limbaugh said. 
At one point, Rush Limbaugh assured his brother that he never had doubts about his faith or Christ, which David Limbaugh found "heartening." But he still wasn't sure whether his older brother accepted Christ. 
Limbaugh said the "silver lining" of his brother's cancer diagnosis was "God's grace" because God often allows suffering to enable people to "embrace Him." 
"We grow from our suffering, and that is totally biblical throughout. So many things come in God's time," he said. 
"With Rush, he was experiencing this hardship, and he was taken down to the lowest point, and he turned," David Limbaugh added. "He had to turn; he had nowhere else to turn. Even if he hadn't had faith in Christ before, he had such sincere, heartfelt faith." 
He said his brother began talking to God daily and reading the Bible, even texting his brother for insight on certain passages, something David Limbaugh had never seen him do before.
"It really doesn't matter if Rush embraced Christ 10 years before or one day before he died," he said. "What matters is, and I can say emphatically that he did embrace Him. I would say for sure in the early part of that last year. I think he did before, but I don't know. All I can say is he had an exclamation point on it during that time. He got his faith through Christ, and he leaned on Him." 
As The Christian Post reported, Rush Limbaugh spoke publicly about his faith in October 2020, revealing to his audience that he was relying on Christ as his cancer progressed. 
"I have a personal relationship with Jesus Christ," Rush Limbaugh said. "It is of immense value, strength, confidence. That's why I'm able to remain fully committed to the idea that what is supposed to happen will happen when it's meant to."
Limbaugh thanked his listeners for their prayers, calling their support a "series of blessings." 
"There is some comfort in knowing that some things are not in our hands, there's a lot of fear associated with that, too, but there's some comfort. It's helpful to be able to trust and believe in a higher plan," he said.