Luke Bryan praises Christian 'American Idol' hopeful's willingness to 'tell everybody your faith'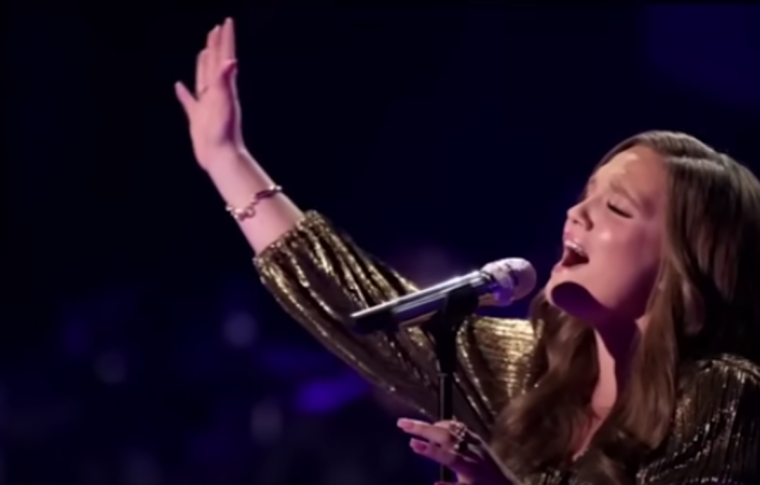 An "American Idol" judge is praising one of the show's contestants for never shying away from talking about her faith as she advances in the competition. 
During her most recent performance on the reality TV singing competition "American Idol" Monday, Megan Danielle sang "Go Rest High on That Mountain" by Vince Gill. The song acts as a tribute to the late country singer Keith Whitley and includes lyrics declaring, "Go rest high on that mountain/ 'cause Son your work on earth is done/ go to Heaven a shoutin' love for the Father and the Son." 
Following the performance, judge Luke Bryan acknowledged that he picked the song for her, as this particular episode involved contestants singing a piece chosen by one of the judges.
The identity of the judge remained unknown to the competitors until after the performance. After describing her cover of the song as "unbelievable," Bryan said to Danielle, "What I love about you is … you're never scared to tell everybody your faith."
"When I thought about that song, I … just felt in my heart that I couldn't pick a better one than that for you," he added, reiterating his praise for her performance as "perfect." 
The "American Idol" viewers seemed to agree with Bryan, as Danielle advanced into the top eight, while two of her competitors were eliminated. She expressed gratitude for the support she has received from fans in an Instagram post on Tuesday, proclaiming, "Thank you, God!"
Danielle described "Go Rest High on That Mountain" as "one of my most challenging performances," adding, "What a way to honor my papa," in reference to her late grandfather, whom she has consistently touted as a major influence in her life dating back to her audition. 
Host Ryan Seacrest and judges Lionel Richie and Katy Perry concluded that Danielle succeeded in her goal of honoring her grandfather as they reviewed her performance. 
"You definitely honored him," Seacrest proclaimed. 
Richie added, "Your papa is very, very happy."
Perry took it a step further, saying: "I don't think Luke chose that song. I think your Grandpa chose that song and I think he's trying to tell you that you are exactly what you're meant to be right now. You deserve this moment, Megan, and it's a wonderful confirmation. I don't believe in any coincidences and we couldn't have known any of that. So I just think that was Heaven sent." 

As Bryan indicated, Danielle has not hesitated to discuss the importance of her Christian faith throughout her run on "American Idol." At her audition in Las Vegas, Danielle explained that her music career began with her performing at different bars and venues. 
On one occasion, the young singer's late grandfather pulled Danielle aside and asked, "What are you doing baby?" He insisted that "this isn't what you're supposed to be doing" and encouraged her to "sing for God." Danielle's conversation with her grandfather prompted her to devote herself to performing Christian music.
As she has competed to become the next "American Idol," Danielle has done just that. She has performed Christian songs on multiple occasions, including, "Thank God I Do" by Christian artist and "American Idol" alum Lauren Daigle, another one of Danielle's biggest influences. 
Daigle surprised Danielle during her audition, and the two performed a duet of the Christian singer's single "You Say."
Danielle also performed "Holy Water" by the Christian group We The Kingdom in a subsequent episode of "American Idol." In addition to using her singing as a way to highlight her faith, Danielle puts her faith front and center on her Instagram page, where she identifies herself as "a Christian singer/songwriter who wants to share the love of Jesus." 
Danielle is not the only outspoken Christian to make it into the top eight this year.
Warren Peay, an appliance repairman, who also serves as a worship leader at Colson Branch Church in South Carolina, and received the moniker of the "Christian Chris Stapleton" from Perry during his audition, also remains in the running to become the next "American Idol." Perry nicknamed him that due to his physical resemblance to country singer Chris Stapleton. 
Like Danielle, Peay uses his Instagram account to promote his faith. His biography reads, "loving God and music." 
According to the Internet Movie Database, the next episode of "American Idol," scheduled to air on Sunday, will feature Danielle, Peay and the rest of the top eight striving to win the support of the American public. Two additional episodes will air the following week and season 21 of "American Idol" will conclude on May 21.