Budweiser releases new ad following backlash over Dylan Mulvaney Bud Light promo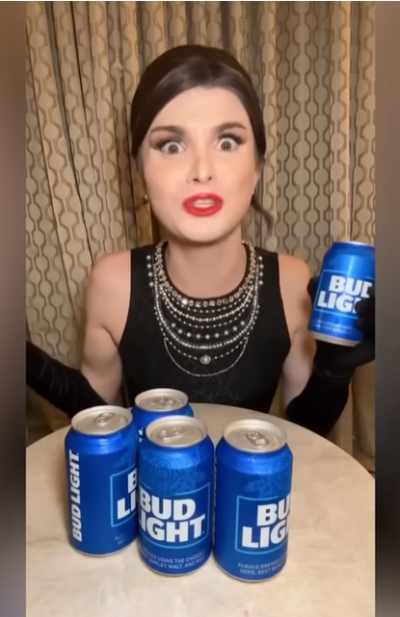 Anheuser-Busch released a new ad showing one of its iconic Clydesdale horses galloping past historic monuments and sites across the country days after it lost $5 billion in value as a result of paying TikTok trans influencer Dylan Mulvaney to promote Bud Light. 
"Let me tell you a story about a beer rooted in the heart of America," the narrator in the ad states. "Found in the community where a handshake is a sure contract. Brewed from those who found opportunity and challenge and hope in tomorrow."
"Raised by generations willing to sit, share, risk, remember," the ad continues. "This is a story bigger than beer. This is the story of the American spirit."
To gauge Americans' response to the new ad and the ensuing controversy, Fox News asked people on the streets of Nashville, Tennessee, for their opinions. Some said the controversy was much ado about nothing, while others said the company had "burnt their bridge" with customers. 
"Kind of too little, too late. I don't forget easily," a former customer named Mike told Fox. 
"Their simple act did a lot more damage than they're recognizing," a woman named Dawn added. "It's going to take a whole lot more time to understand the impact that they truly had."
April 14, 2023
On April 14, Anheuser-Busch CEO Brendan Whitworth released a statement in response to the massive public backlash over its partnership with Mulvaney to celebrate his 365 days of identifying as a girl. 
"We never intended to be part of a discussion that divides people. We are in the business of bringing people together over a beer," Whitworth said. "My time serving this country taught me the importance of accountability and the values upon which America was founded: freedom, hard work and respect for one another. As CEO of Anheuser-Busch, I am focused on building and protecting our remarkable history and heritage." 
Mulvaney, a 26-year-old man who first identified as nonbinary before choosing to identify as a girl, has 10.8 million followers on TikTok and promotes numerous brands, from MAC Cosmetics to bridal gowns and Native deodorant and shampoo. 
In an Instagram post on April Fool's Day, Mulvaney announced that Bud Light had sent him a specially designed beer can featuring his likeness. The trans activist said the can was "possibly the best gift ever." 
Anson Frericks, a former Anheuser-Busch executive, said in an op-ed piece published in The Wall Street Journal Thursday that the company's problems go beyond Mulvaney: "The brewer has fallen in line with other companies engaged in 'stakeholder capitalism,' which prioritizes broad social issues over shareholder value."
"Anheuser-Busch fell in line with the ESG fad, despite evidence showing it harms shareholder value," he added. 
"This corporate embrace of stakeholder capitalism is carried out by people like Alissa Heinerscheid, Bud Light's vice president of marketing. Shortly before the Mulvaney partnership, Ms. Heinerscheid claimed Bud Light needed to be more 'inclusive' and said its 'fratty image' was 'out of touch.'
And Whitworth's response, Frericks added, only "made matters worse." 
Following Bud Light's sponsorship with Mulvaney, singer Kid Rock and country music stars John Rich and Travis Tritt boycotted Bud Light. 
Following the news of boycotts, Anheuser-Busch said the Mulvaney beer can was a personal gift and is not being sold to consumers and his image is not on their products. 
"Anheuser-Busch works with hundreds of influencers across our brands as one of many ways to authentically connect with audiences across various demographics and passion points," a company spokesperson told Fox News. "From time to time, we produce unique commemorative cans for fans and for brand influencers, like Dylan Mulvaney. This commemorative can was a gift to celebrate a personal milestone and is not for sale to the general public."
Other brands that have partnered with the trans activist have also faced temporary backlash from customers.
After Mulvaney promoted Olay's skincare products in his TikTok clips, customers called for a boycott. 
Other brands faced similar responses from the public, such as Nike, which named Mulvaney its "Woman of the Year" and was hired by the athletic shoe and attire company to promote its women's Alate trans sports bras and Zenvy leggings. 
The partnership led Olympic athletes Caitlin (Bruce) Jenner and Sharron Davies to denounce Nike's decision to have Mulvaney promote the attire.
"The ad feels like a parody of what women are," said Davis, as quoted by More About Advertising. "In the past, it's always been seen as an insult to say 'run like a girl,' and here we've got someone behaving in a way that's very un-sporty and very unathletic and it's so frustrating when only 1 percent of the USA sponsorship dollar goes to females in sport."
Another company that has sponsored Mulvaney is Kate Spade New York fashion company, which featured the trans activist in a promotional video for its spring collection.