Dylan Mulvaney talks 'relationship with God,' says 'sex assigned at birth' was 'not what God had in mind'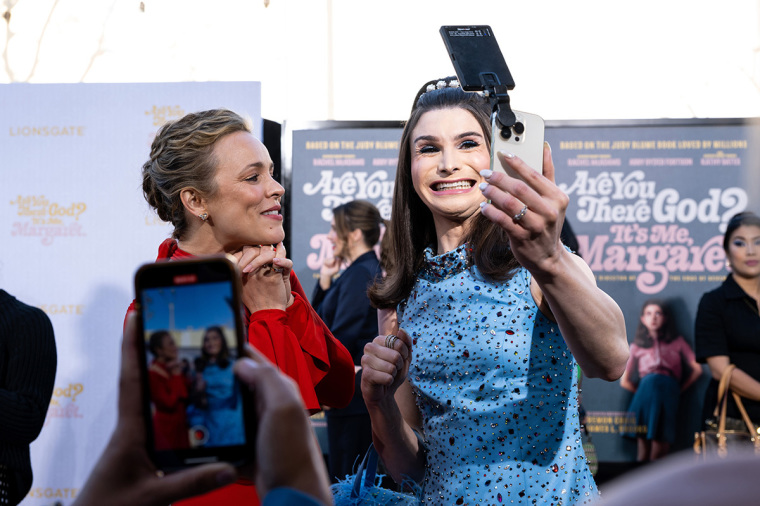 A flamboyant TikTok star who became famous for identifying as a female says he's "trying really hard to maintain a relationship with God" even as he promotes transgenderism as part of a number of corporate partnerships.
Dylan Mulvaney, a 26-year-old man identifying as female, made the comments in March during his "365 Days of Girlhood" variety show, where he broke away from a performance of Kate Bush's "Running Up That Hill" to share a bit about how he believes God sees him.
"I'm going to say something that might make people feel a little bit uncomfortable," Mulvaney told the crowd at Rockefeller Center in New York City. "I'm trying really hard to maintain a relationship with God.
Mulvaney continued: "I don't think He made a mistake with me, and that maybe one day, I will actually be grateful for being trans, that this isn't some curse, but it's just a different path to the same destination."
The show, which marked a full year since Mulvaney began to publicly identify as a trans and what the show called "girlhood," included Mulvaney performing songs like "(You Make Me Feel Like A) Natural Woman" by Carole King, and "Children Will Listen" from the 1987 Stephen Sondheim musical "Into the Woods."
All profits from the show went to the Trevor Project, an LGBT advocacy group that attempts to correlate religious beliefs with higher rates of suicide among LGBT-identified people, a claim that has frequently been disputed.
Known for documenting his new chosen identity in daily videos on TikTok, Mulvaney has amassed more than 10 million followers on the social media platform, with "Days of Girlhood" videos garnering over 1 billion views.
Mulvaney, a theater actor who most notably appeared in the Broadway musical "The Book of Mormon," has become a mainstream media star after he was granted an interview at the White House with President Joe Biden last fall.
Since then, Mulvaney has announced several paid partnerships with brands like Crest, Ulta, Native, Olay, Kate Spade and Bud Light which spawned a boycott from Kid Rock and country music stars John Rich and Travis Tritt.
Anheuser-Busch said the personalized cans with Mulvaney's face are not for sale. 
"Anheuser-Busch works with hundreds of influencers across our brands as one of many ways to authentically connect with audiences across various demographics and passion points," a company spokesperson told Fox News.
"From time to time, we produce unique commemorative cans for fans and for brand influencers, like Dylan Mulvaney. This commemorative can was a gift to celebrate a personal milestone and is not for sale to the general public."
In a viral video last month, Mulvaney stirred up more controversy after portraying Eloise, a 6-year-old girl from a popular 1950s book series.
Captioned "Childhood dream unlocked," the March 18 video features Mulvaney wearing an outfit including a pink bow and a short skirt and telling viewers, "I am Eloise. I am 6."
Conservative critics on social media, including CJ Pearson of PragerU, suggested the video of an adult male identifying as a young girl was a sign of "mental illness."
Dylan Mulvaney is a 26 year old man.

Pretending to be a woman wasn't enough so now he's pretending to be a little girl?

This isn't normal. This is mental illness. pic.twitter.com/1LA7IbLqyt

— CJ Pearson (@thecjpearson) March 19, 2023
Pearson wrote: "Pretending to be a woman wasn't enough so now he's pretending to be a little girl? This isn't normal. This is mental illness."
Since Mulvaney's rise to prominence in the media, a number of clips have emerged of a male-identified Mulvaney appearing on shows like "Ellen," where he and a partner danced on stage as part of a New Year's show, and "The Price Is Right," in which he danced around the stage after winning during one of the game show's segments. 
Last month, talk show host Drew Barrymore drew criticism after she knelt before Mulvaney during an on-air interview. 
The awkward moment came as Barrymore and Mulvaney were sharing various anecdotes about "hatred" they had experienced in the past, according to Fox News.
In the clip, Mulvaney tells Barrymore, "It's interesting because I look at someone like you and I can't imagine anybody disliking you." 
"Oh, please," Barrymore replied as she knelt down in front of Mulvaney. "Do you want to know, ironically, who dislikes me the most sometimes? Myself."
In an earlier TikTok video titled "Day 271 — the great tampon debacle," Mulvaney addressed women who aren't fans of the influencer's parody of women. 
During his monologue in which he said he cared for such women but also accused them of being transphobic, Mulvaney explained that science was his best subject in high school. However, he is convinced that his "sex assigned at birth" as a "biological male" was wrong.
"It's just not what God had in mind, so here I am," he added, insinuating that God had created him trans, not male. 
Like a pendulum swinging back and forth, Mulvaney both extended an olive branch to women who don't appreciate his exaggerated impersonations and accused them of acting like they were back in high school.
"It feels like you want me to experience the pain and trauma that you've had to endure as a girl. … And the fact that here I am, attempting to enjoy womanhood, is incomprehensible to you.
"Here's some more good news for you: I'm not enjoying my womanhood as much as I was, and my pain might be different than your pain, but it's very real. … But I'm still a woman and I'm tired. We don't have to be BFFs, and you don't have to follow me. Just please don't call the police on me if we bump into each other in the bathroom."
In an earlier video, titled "Day 156 - church," Mulvaney said he had been raised "super Catholic" but was "turned away" from the church after he "came out as gay as a teen." As he sang the lyrics to "Jesus Loves Me," Mulvaney said he "definitely believes in something bigger, whether it's a God or the universe or angels."
For his first church service after self-identifying as female, Mulvaney said he attended a progressive, LGBT-inclusive Unitarian church and included the caption: "Hello God, it's me, Dylan."