Bush, Clinton Attend Billy Graham's Public Viewing: He Was a 'Humble Shepherd of the Lord'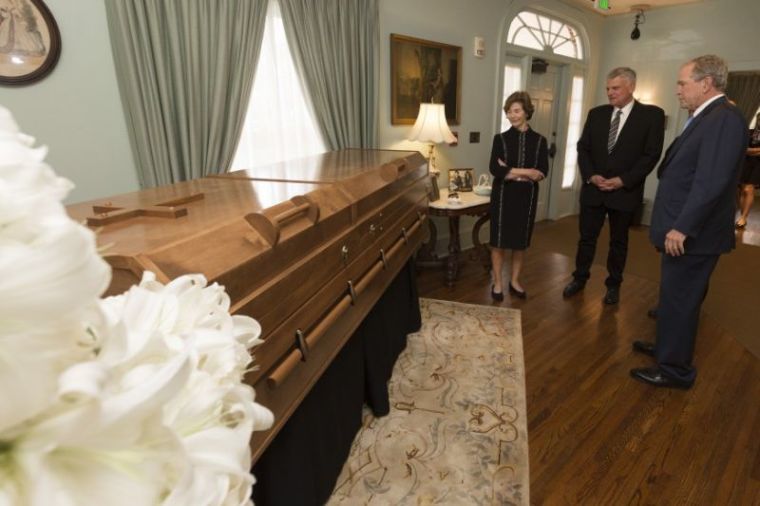 While all living American presidents have paid their respects to the Rev. Billy Graham, who passed away last week, George W. Bush and Bill Clinton personally attended the public viewing of the evangelist.
Bush and his wife, former first lady Laura, were greeted on Monday by Franklin Graham and his wife, Jane, at the Billy Graham Library in Charlotte, North Carolina.
"If there's such a thing as a humble shepherd of the Lord, Billy Graham is that person. I am unbelievably blessed to have met him. I also had the honor of bringing my Mother and Dad's greetings to Franklin and the family," Bush said.
"Billy Graham and Dad were great buddies, and I know he wished he could come, too. He's not moving around too much these days, but his spirit and heart are here. God bless Billy Graham," he added, referring to his father, former president George H. W. Bush.
Days earlier, Bush wrote an op-ed in The Wall Street Journal where he talked about how Graham changed his life, and shared some interesting theological discussions the two held on the issues of salvation.
Bush described in the article how he first met Graham in 1985 at his grandmother's porch in Maine, and how the preacher gifted him a copy of the Living Bible. The former president said that Graham's teachings shaped him throughout his political career, and also helped him with personal struggles, such as his decision to quit alcohol in 1986.
He also shared one account of how he and his mother, Barbara, were having dinner at the White House one night, when they started discussing different religions and who gets to go to Heaven.
"I made the point that the New Testament says clearly that to get to Heaven, one must believe in Christ. Mother asked about the devout who don't believe in Jesus but do God's work by serving others. She then took advantage of one of the benefits of being first lady. She picked up the phone and asked the White House operator to call Reverend Graham," Bush recalled.
"It wasn't long before his reassuring Southern voice was on the line. He told us, as I recall, 'Barbara and George, I believe what is written in the New Testament. But don't play God. He decides who goes to Heaven, not you.' Any doctrinal certitude gave way to a calm trust that God had this figured out better than I did," the former president shared.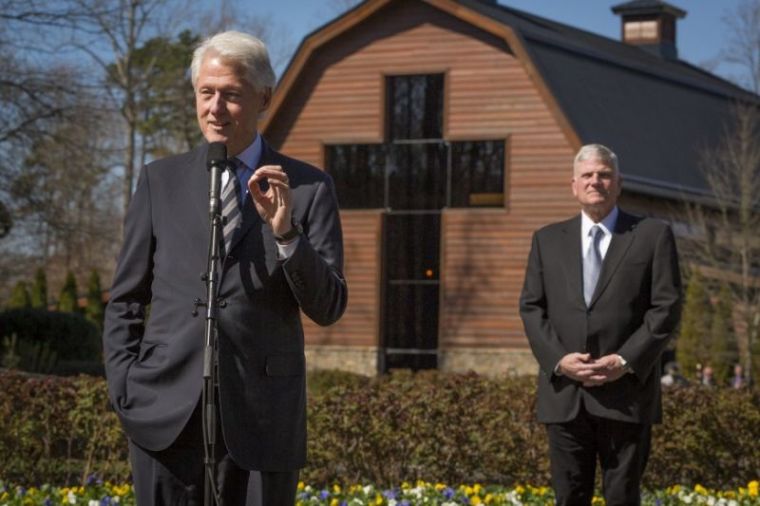 Clinton, the 42nd U.S. president, visited Graham's family a day later on Tuesday.
"I'm just one of millions, maybe hundreds of millions of people, who in their own way will find some way to say thank you and goodbye to Billy Graham," he said.
"I think he was a profoundly good man who conveyed simple beliefs — that we can claim kinship with God by asking. He showed his faith by his works and by his life."
Clinton, who attended one of Graham's crusades when he was 11 years old, told reporters gathered at the event that politicians need God.
"Those of us who are Christians believe in a God of second chances, and the politicians need those more than anybody else," he reflected.
The Billy Graham Evangelistic Association website noted that Clinton and Franklin Graham spoke for about 45 minutes, during which they also prayed over the closed coffin of the North Carolina preacher.