Calif. Philanthropy Donated Over $500,000 to Anti-Masterpiece Cakeshop Projects: Report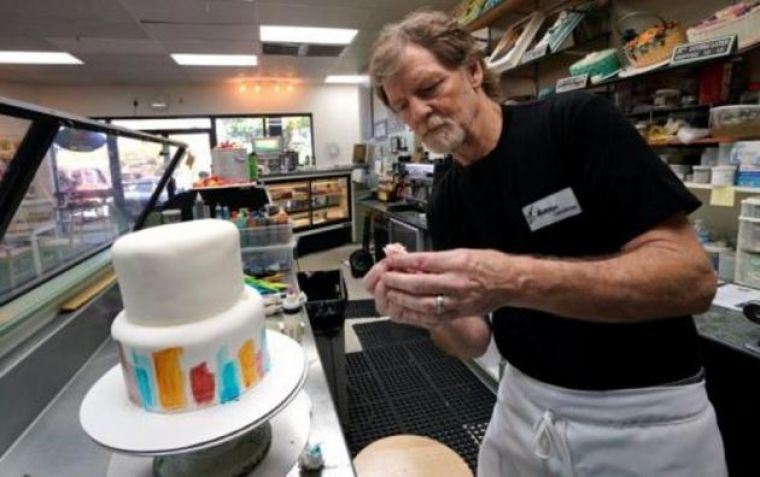 A California-based philanthropy founded in 1953 has donated more than a half million dollars in grants to projects meant to undermine the religious freedom arguments of Jack Phillips.
In June, the United States Supreme Court ruled 7-2 in Masterpiece Cakeshop v. Colorado Civil Rights Commission that a Christian baker named Jack Phillips was wrongly punished for refusing on religious grounds to make a wedding cake for a same-sex couple.
In 2017 and this year, the Evelyn and Walter Haas, Jr. Fund, a progressive entitty headquartered in San Francisco, has given more than $500,000 to grants for projects opposed to Phillips.
According to records on their website accessed Friday, in 2017 the Fund gave $200,000 to the National Center for Lesbian Rights to "execute a campaign to educate the LGBT community about the importance of the Masterpiece Supreme Court case."
In the same year, the Movement Advancement Project, Equality Federation Institute, and the American Civil Liberties Union Foundation each received $100,000 for Masterpiece-related campaigns.
For ACLU and the EFI, the grants were given for efforts to "to coordinate a public education campaign around the Masterpiece Cakeshop Supreme Court" and to "educate the LGBT community about the importance of the Masterpiece Supreme Court case."
In 2018, the Fund gave $34,500 to the Horizons Foundation in order to "help LGBT leaders and organizations prepare for a unified response to the Masterpiece Supreme Court decision."
Catholic News Agency broke the story about the grants on Thursday, describing the grants as coming from "opponents of broad religious freedom protections" and being part of a larger drive for funds.
"The spending is among at least $2.4 million in new anti-religious freedom grants since October 2017, according to CNA's analysis," reported CNA, noting that additional grants may be revealed in subsequent documents.
"Since 2014 at least $9.9 million in grants from multiple sources have been earmarked to oppose religious freedom protections. The grants generally come from backers of LGBT political causes, legal abortion and mandatory contraception coverage."
In its June decision, the Supreme Court ruled that Colorado violated the First Amendment when it punished Phillips for refusing to bake a custom cake for the wedding of Dave Mullins and Charlie Craig in 2012 when same-sex marriage was illegal in Colorado.
Justice Anthony Kennedy wrote the majority opinion, being joined by Justices Elena Kagan, Samuel Alito, Stephen Breyer, Clarence Thomas, Neil Gorsuch, and Chief Justice John Roberts. Justice Ruth Bader Ginsburg wrote a dissent, which Justice Sonia Sotomayor joined.
"When the Colorado Civil Rights Commission considered this case, it did not do so with the religious neutrality that the Constitution requires," wrote Kennedy.
"Given all these considerations, it is proper to hold that whatever the outcome of some future controversy involving facts similar to these, the Commission's actions here violated the Free Exercise Clause; and its order must be set aside."
However, soon after the decision was made, Phillips again found himself in legal trouble when a Colorado lawyer filed a complaint against him for refusing to make a gender transition-themed cake.
As with the Supreme Court case, Phillips is being represented by the Alliance Defending Freedom, which in August filed a lawsuit against members of the Colorado Civil Rights Commission, Colorado Attorney General Cynthia Coffman, and Governor John Hickenlooper on the baker's behalf.
"Phillips declined to create the cake with the blue and pink design because it would have celebrated messages contrary to his religious belief that sex — the status of being male or female — is given by God, is biologically determined, is not determined by perceptions or feelings, and cannot be chosen or changed," reads the lawsuit.
"The state's continuing efforts to target Phillips do not just violate the Constitution; they cross the line into bad faith. This Court should put a stop to Colorado's unconstitutional bullying."