California Photographer Looking to Bring 'Emoticon Bible' to the World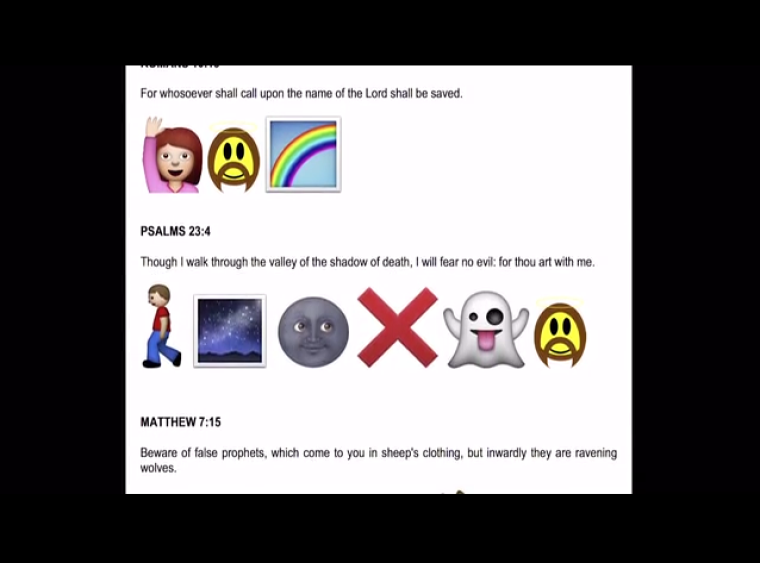 A photographer based in California has sought to translate the Holy Bible into quite possibly the newest language known to mankind: emoticons.
Kamran Kastle wants the Good Book, which has been translated into thousands of languages over the generations, to be available in emoticon form, also known as "Emojis."
"Kamran also volunteers his time at a charity that teaches filmmaking to underprivileged schoolchildren - Los Angeles Film Society (losangelesfilmsociety.org). After administering a Movie Screening of 'Ben-Hur' (1959) a good number of the inner city students sitting before him expressed never having read the Bible," reads a Kickstarter crowd-funding page that explains his reasoning for the emoticon Bible.
"Naturally, he asked 'How come'? One 16-year-old girl responded, 'If I can't read it on my IPhone, I don't read it.' Kamran asked, 'If I translated the Bible into Emoticons, would you read it?' With a curious smile upon her face, the teenager said, 'Yes!' Thus, the inspiration to translate the oldest book into the newest language - Emoticons - was immaculately conceived."
Andrew Hood, managing director of communication at
American Bible Society, told The Christian Post that he was "intrigued" by the idea of an Emojis Bible.
"While I haven¹t seen it, I can say that I¹m intrigued by what they are trying to do. Throughout history, Christians have always used their creativity to help people engage with God's Word," said Hood.
A resident of Los Angeles, Kastle is a photographer who founded A Hollywood Ending Studios. On the "About" section of the Studios' website, it explains that Kastle "sees the world in pictures."
"Kamran is renowned for creating images that tell a story, please the eye, illicit emotion and lift the human spirit," read the section.
"Kamran founded A Hollywood Ending Studios - A Marketing Agency that helps Clients realize their full potential with Photos, Videos, and Words. Clients seek Kamran's expertise to market: themselves, their products and/or their companies."
For his project, Kastle stated that he had to create a few thousand new emoticons for such specific topics like Jesus Christ and the Devil.
"Half of my Book will be the Bible translated into Emoticons and the other half will simply be standard Biblical text," said Kastle. "Every biblical verse will be followed by its Emoticon equivalent. Readers will be able to go back and forth between standard written text (the Bible) and images (Emoticons)."
The Bible is not the first work to be given an emoticon treatment. According to Spencer Madsen of Vice.com, at least one classic English language novel has been the subject of an Emojis translation.
"This isn't a totally revolutionary idea, of course. Moby Dick has already received a similar treatment in a project titled Emoji Dick," wrote Madsen. "But while editor Fred Benenson completed that massive undertaking by hiring Amazon Mechanical Turk workers to translate the text, Kastle plans to translate the Bible entirely by himself (although he says he might reach out to Mel Gibson and the Pope for a bit of help)."
Despite the ambitions of Kastle, the project has a long way to go in terms of financing. With only ten days left, the funding effort has only garnered a little more than $50 of the $25,000 goal.