Calvary Chapel Bible College Teacher Memorial Friday
Living in Christ, International Prison Ministries Leader Remembered for Major Influence
Memorial services for Pastor and Calvary Chapel Bible College teacher Bob Hoekstra, who died of poor health two weeks ago, are scheduled to take place at Calvary Chapel Costa Mesa Friday.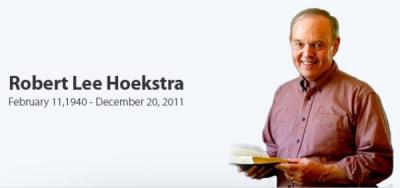 Hoekstra, 71, who had been suffering from poor health for more than two years, sent out a note through his website "letting his friends and family know that he felt like God was calling him home to heaven. And a few days later he was home," wrote Josh Turansky, a former student of his.
Two ministries that Hoekstra led, Living in Christ Ministries and International Prison Ministry, posted an announcement about his passing on Dec. 20.
The Hoekstra family stated that they "would like to thank all of you who stood with us in prayer these last two years during Pastor Bob's illness. It is with great sadness, but with great rejoicing that we announce that our beloved Pastor and friend has gone home to be with the Lord.
"Bob's unwavering faith, and ministering heart were used by the Lord to bear much fruit to the very end of his life here on earth. We rejoice that he is now continuing his ministry with the Lord in heaven, while we will continue his ministry here on earth through Living in Christ and International Prison Ministries."
They concluded, "To God be the glory – great things He has done!"
Hoekstra taught numerous classes at Calvary Chapel Bible College in Southern California (both at its former location in Twin Peaks and its current location in Murrieta Hot Springs), as well as at several extension campuses, Assist News Service reported.
Turansky, who serves as a volunteer at the Living in Christ office in Orange County also wrote in his blog post that Hoekstra's death prompted much discussion on the Internet.
"It was amazing to see how many of my Facebook friends mentioned his death and more importantly the impact his life had had on them," Turansky stated. "One testimony after another came rolling in. There was no question that Bob influenced thousands of Bible College students."
The Living in Christ ministry began in the early 1970s as a tape and radio outreach, when Hoekstra was a pastor in Dallas, according to the ministry's website. Later, Calvary Chapel of Irvine, Calif., adopted LICM as their outreach ministry during the 11 years that Hoekstra was pastor there.
In 1992, Hoekstra's 22 tape in-depth counseling "God's Way" series was aired over the KWVE radio station in Southern California. The series was also offered to Calvary Chapel pastors throughout the world. He began to conduct weekend seminars and soon thereafter, LICM became his full-time ministry.
Hoekstra's involvement with the Calvary Chapels began in 1971, when he and his wife Dini visited Calvary Chapel Costa Mesa on a Sunday evening. They were deeply touched by the life-giving teaching of the word of God, the simple worship "in Spirit and in truth," and the profound expressions of the love of the Lord among the saints, as stated in the "About" page of the ministry website.
Further details on the service on Friday at 2 p.m. were not available at press time. Calvary Chapel founder Chuck Smith announced on Sunday that he has lung cancer and will have surgery next week. No mention has been made as to who will lead the service.
The Christian Post Daily Report 01.03.12