Can the English Language Handle These 'Non-Binary' Pronouns?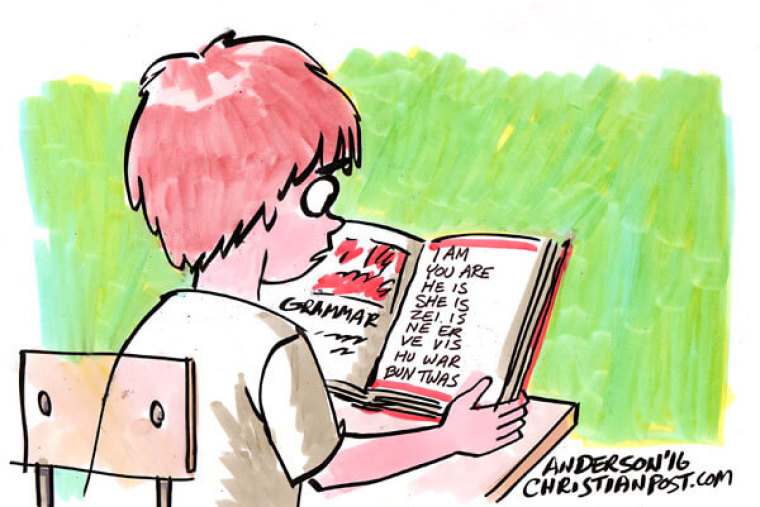 No amount of compassion for a young person struggling with gender identity issues can justify the radical transformation of the English language, yet that is exactly what is being called for by transgender activists.
For anyone following the progression of LGBT activism, this is nothing new. (See, for example, the chapter "Lavender Language, Gender Speak, and Queer Semantics: Towards an Omnisexual Society?" in my book A Queer Thing Happened to America.) But when this radical agenda comes to a school district where you live, it's important that we speak out again, loudly and clearly.
I'm talking specifically about the Charlotte-Mecklenburg Schools in North Carolina, which in June announced the implementation of new regulations "Supporting Transgender Students." Included in these regulations are rules for the proper use of pronouns so that, "Nonofficial records must refer to transgender student by preferred names and pronouns." (Due to a recent Supreme Court ruling, some of this agenda has been put on temporary hold.)
In an official instructional video, "The Importance of Pronouns," one student, who is identified as a "non-binary transgender youth" (meaning, a young person who chooses not to identify as specifically male or female) explains why he/she prefers to use the pronouns they, them, and theirs when referring to himself/herself.
Other students and faculty are expected to follow suit, and on this same video, a high school teacher says that it's important that a transgender student be able to communicate these things at the beginning of the school year so everyone can comply.
Read more at http://www.christianpost.com/news/compassion-for-transgender-people-shouldnt-change-our-language-167669/#Cpb7zxKT8oxmBHsg.99