'Canada's Pastor' David Mainse Dies at 81; Christian TV Pioneer Remembered for Passion for Evangelism
Ravi Zacharias Ministries, Other Tributes Pour in for Crossroads, 100 Huntley Street Founder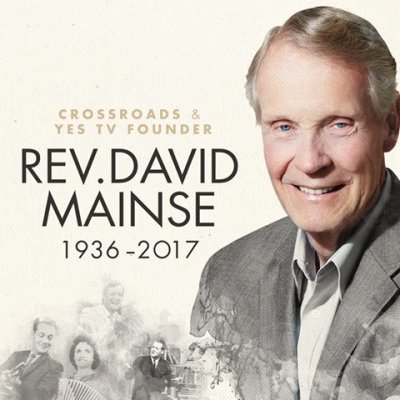 The founder of Crossroads Christian Communications, the Rev. David Mainse, has died at the age of 81 years old on Monday after a five-year battle with leukemia.
Mainse, an ordained pastor with the Pentecostal Assemblies of Canada, is known for pioneering Christian television in Canada by founding the non-profit Crossroads in 1962, which produces 100 Huntley Street, the longest running daily Christian television program in Canada.
"He will be dearly missed by the Crossroads family, and by the millions of Canadians whose lives have been touched by his public ministry," said Crossroads Chairman Gil Scott in a statement.
Gil recalled that despite Mainse stepping down officially as CEO and host of 100 Huntley Street in 2003, "he never really retired. He continued to visit with ministry supporters in person, his daily Bible reading blog and through occasional appearances on air."
Tributes started pouring in upon news of Mainse's death, including many personal stories of his impact on people's lives and faith.
Donalee Clarke from Toronto wrote on the 100 Huntley Street Facebook: "Dear 100 Huntley Street, I am so very sorry to hear of the passing of Rev. David Mainse. My heartfelt condolences and prayers go out to his Family. I am eternally grateful for David Mainse and his TV ministry of 100 Huntley Street because I was saved while watching the show back in 1986!!! Thank you Jesus for sharing your love through David Mainse."
Another person from Toronto, PeterBeth Wukasch, wrote: "David Mainse had such an excitement about what God Is (sic) doing and had such a heart for Canada, especially for indigenous people groups. The gentle, loving qualities of his character continue to be evident in the ministry of 100 Huntley Street. Our love and prayers are with Norma Jean and the whole Mainse family."
Kelli Eklund wrote: "One of my heroes, when I first got saved I rushed home to watch 100 Huntley street daily, David Mainse was truely (sic) a mentor to me, I was honoured to meet him during his cross Canada tour."
Likewise Jean Louna Bandak recalled the big impact Mainse had on her faith life, "When I moved to Canada, I used to watch David Mainse ministry every morning '100 Huntley Street' and it has so much impact on my spiritual life and my salvation. I will never forget that. Our deepest condolences to his family."
And Melissa Jennings humorously shared, "I remember him telling of the only time he has ever had a 100% conversion of his congregation. He had traveled to a place, there was a snow storm and only one person showed up. Awesome!!"
The Ravi Zacharias International Ministries Canada wrote on the 100 Huntley Street Facebook: "Our thoughts and prayers are with the Mainse family. We are thankful for the legacy David is leaving behind and the lives that have been impacted in our nation because of his obedience to, and love for Christ."
Mainse was born in Campbell's Bay, Quebec, and grew up in a rural area near Ottawa, Ontario. His passion for evangelism was heavily influenced by his father, Roy Lake Mainse, who was a missionary in Egypt. He had already decided to go into ministry as a teenager and graduated from Eastern Pentecostal Bible College (now named Master's College and Seminary) in Peterborough, Ontario.
Initially he pastored a church while beginning his media ministry, but in 1971 he resigned as pastor of Hamilton Bethel Gospel Tabernacle to put his full focus on his television ministry. Guests on 100 Huntley Street included Billy Graham, Charlton Heston, Justin Bieber's mom Pattie Mallette, TobyMac, among others.
Besides his own television ministry, Mainse is credited for opening the door to all religious broadcasters in Canada. He was the driving force for his team's argument before Canada's broadcast regulators in the 1980s that led to the Canadian Radio-television and Telecommunications (CRTC) – an independent public authority in charge of regulating and supervising Canadian broadcasting and telecommunications – to allow religious groups to own and operate broadcast stations.
He has served as a judge for The Templeton Prize for Progress in Religion, funded by billionaire Sir John Templeton; won several awards from the National Religious Broadcasters; received in 2005 the Christian Film & Television Commission, Movieguide Award in Hollywood, California for "Lifetime Faith & Values;" been awarded in 2008 (along with the Rev. Billy Graham) by The Canadian Council for Christian Charities (CCCC) for exemplifying the highest integrity both personally and organizationally while running a charity for more than 40 years; been presented the Queen Elizabeth II Diamond Jubilee Medal; and received the Lifetime Global Impact award from Empowered21 in 2015 for making "a significant impact on the world through the power of the Holy Spirit."
He has also been recognized by two of Canada's longest serving prime ministers:
"I congratulate the Reverend David Mainse for inviting all of us to think about the debt we owe to the faith of our Fathers and to the spiritual heritage which finds expression in countless ways in our daily lives, " said The Rt. Hon. Pierre Trudeau on 100 Huntley Street.
​"As one who served as Prime Minister of Canada for nine years, I can say that David Mainse contributed mightily to the well-being of this nation. His qualities of tolerance inspired our youth; his sense of decency warmed our national spirit; and his exemplary personal life and compassionate outlook contributed to the strength of our citizenship," said The Rt. Hon. Brian Mulroney.
Lorna Dueck, Crossroads CEO, explained, "He (David Mainse) was passionate about people, about Canadian unity, and about ecumenical dialogue. That passion led to innovation. David used the platform of daily television to model open, respectful conversation on faith among citizens across denominations and faith groups from coast-to-coast. And his cross-Canada tours made broadcast history."
What started off as a 15-minute, black-and-white weekly news broadcast in 1962 called "Crossroads" has grown to Canada's most-watched religious broadcaster YES-TV (formerly known as Crossroads Television System). CTS (now YES TV) was founded in 1998 as a broadcast corporation separate from the Crossroads ministry, and rebranded as YES-TV in 2014.
Mainse is survived by his wife of 59 years, Norma-Jean, and four children, 16 grandchildren and 13 great-grandchildren.
Crossroads will be honoring the life and legacy of Mainse by running special programming this week on 100 Huntley Street.  Crossroads Centre is welcoming guests to its facility for visitation on Wednesday, Sept. 27, 4-8 p.m.; Thursday, Sept. 28, 12-3 p.m. and 5-8 p.m., and Friday, Sept. 29, 12-3 p.m. and 5-8 p.m. His funeral will be held at the Church on the Queensway (1536 The Queensway Toronto, ON M8Z 1T5) with a public viewing on Saturday, Sept. 30 from 1 p.m. to 4 p.m., and a celebration service following the viewing at 4 p.m. Mainse has requested that a memorial fund, The David Mainse Memorial Fund, be established after his death to support Crossroads and three charities led by his children. The memorial fund will be administered by Crossroads Christian Communications, Inc.
"David's greatest hope was not rooted in this world, but in eternity," Crossroads Chairman Gil Scott stated. "His desire to see others come to develop a personal relationship with Jesus Christ was his highest calling. He will be dearly missed by the Crossroads family, and by the millions of Canadians whose lives have been touched by his public ministry."