Canadian pastor says attacks on church services bring back memories of communism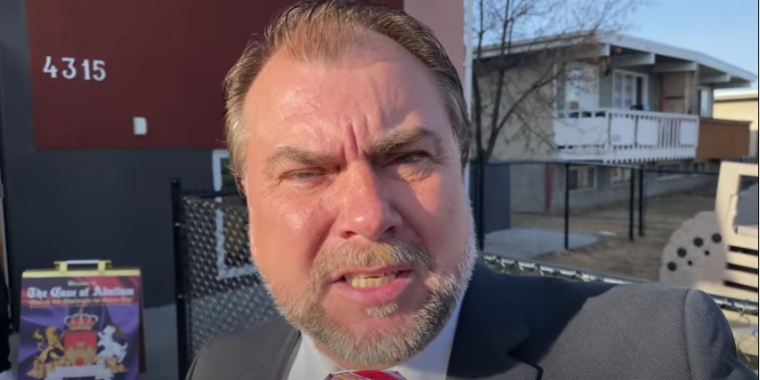 A Canadian pastor who kicked police out of his church after they tried to shut down a worship service during Holy Week said the actions of law enforcement bring back memories of communism under the Soviet Union.
Pastor Artur Pawlowski, who was born in Poland and lived under Soviet rule during part of his childhood, received plaudits from people worldwide for his actions in forcefully ordering law enforcement officers — including a police officer and public health officer — off the church's property after they interrupted a Passover mass at Street Church in Calgary, Alberta, Canada. A video documenting his encounter with the local law enforcement went viral, receiving more than 3 million views. 
Throughout the video, Pawlowski is seen telling law enforcement officials to "get out." He also commanded that they "don't come back without a warrant" and called them "Gestapo" and "Nazi psychopaths." About a minute after the video started, they began to depart from the property.
Calgary Police Service released a statement suggesting that their presence at the church was justified because of a concern that "people in attendance were not adhering to the government's COVID-19 public health orders, which are in place to ensure everyone's safety." 
Pawlowski, who grew up in Poland when the country was under a communist dictatorship, appeared on "Fox News Primetime" Tuesday night to discuss the exchange. Host Mark Steyn noted that Pawlowski "grew up behind the Iron Curtain," adding, "What happened to you over Easter is exactly, I take it, why you didn't want to stay behind the Iron Curtain." 
"I grew up under communist dictatorship behind the Iron Curtain, under the brute of the Soviets, and I'm telling you that's no fun at all. It was a disaster," Pawlowski recalled. "Police officers could break into your house, five in the morning, they could beat you up, torture you, they could arrest you for no matter what reason."
"It was like a … flashback when those police officers showed up at my church. Everything kind of came back to life from my childhood," he said. "And the only thing I could do is to fend off the wolves as a shepherd, and I used my voice to get rid of them. They were illegally encroaching on our rights during the most holy days during the Passover celebration."
"I was a little bit shaken. But I did what every shepherd, right now, on the planet Earth, should be doing: Fend off the wolves. We as lions should never bow before the hyenas, and that's what they are right now," Pawlowski added.
Steyn noted that "a lot of the things that have become accepted in the last year, for example, New York police kicking a woman to the ground because she's not wearing a mask (and) governors of American states and Canadian provinces telling you whether you're allowed to have your granny or your aunt over for Christmas or Thanksgiving" are examples of "the tight, 24/7 control that most communist countries lived under for half a century."
He asked Pawlowski: "Is it all beginning to look worryingly familiar to you, the way people accept it?"
Pawlowski answered in the affirmative: "I have been warning Canadians for the past 16 years that that's what's coming. I could smell it; I could see it at every corner. The implementation of what we are seeing now, it … started … about 20 years ago."
"Growing up under communist dictatorship, I mean, that's a disaster, that's hell on Earth, and I see it already in our western democracies," he continued. "The only way I know how to fight them is 1981 — that I witnessed millions of Poles taking to the streets and saying to them 'No more. Get out of our country. Get out, stop.'" 
"Millions of Poles took it to the streets during Solidarity, Lech Walesa, and they won their freedom." He suggested that a similar movement was needed in western democracies to ensure that politicians will give up the emergency powers they have enjoyed throughout the COVID-19 pandemic. 
"Those people will never give up their new gained powers," Pawlowski predicted. "You've got to demand those rights back; you have to fight for your rights. They'll never give it back to you freely."
Pawlowski urged the residents of Canada, the United States, and other western democracies to "get them out of your properties, out of your businesses, out of your churches." He then urged viewers to "open up, open the churches."
"Clergymen should unite and start pushing this darkness away. We should come and take to the streets and say, 'No more lockdowns, no more restrictions. We will not put up with this anymore. We are fighting back.'"