Canadian PM Justin Trudeau Becomes First World Leader to March in Gay Pride Parade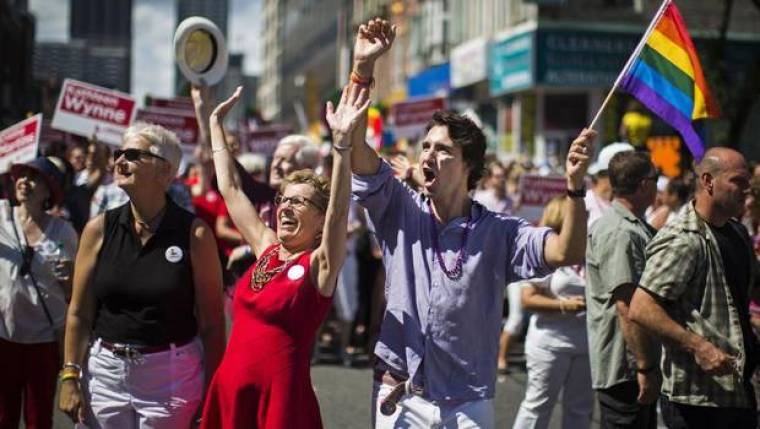 Canadian Prime Minister Justin Trudeau, a Roman Catholic, become the world's first national leader to march in a gay pride parade when he took part in Toronto's event on Sunday.
The Guardian reported that Trudeau marched beside a 29-year-old Syrian refugee who had come out to share his gratitude for the PM's outreach to refugees.
"I wanted to tell him thank you, that I'm Syrian, I arrived here a month ago," said the refugee, Bassel Mcleash.
"Just the idea of attending a pride parade was a dream. To march in it was like an extreme dream," he said. "But to march in the parade next to the prime minister — not in my wildest dreams would I ever have thought about having a day like this."
The Toronto gay pride march was attended by a number of other Canadian politicians as well, including Rona Ambrose, the interim leader of the federal Conservatives, and the Green Party's Elizabeth May.
Back in February, BBC News noted that Trudeau would become the world's first leader known to have taken part in a gay pride event. Although Trudeau has marched in previous gay pride parades, Toronto's July 3rd event was the first time he had done so as prime minister.
Trudeau has also supported Canada's embrace of same-sex marriage, which stands against the Catholic Church's definition of marriage between one man and one woman.
Calgary's Bishop Fred Henry has been one of the most outspoken Church voices against the redefinition of marriage, and in a pastoral letter back in 2006 wrote: "The homosexual lifestyle must now be treated as wholesome and legitimate, when in reality, it is unwholesome and immoral."
Henry also warned that "freedom of speech is threatened for those who oppose same-sex 'marriage' in public," noting government policy punishes those who don't support gay marriage.
Trudeau has also drawn controversy for his imprisonment proposals, threatening those found guilty of transgender discrimination with up to two years in prison.
Trudeau's Liberal Party introduced such a bill back in May, aimed at targeting "hate speech" and cracking down on public speech or communication that "promotes hatred" on the basis of "gender identity" or "gender expression."