Canadians Choose a Gay, Transgender or Atheist Leader Over an Evangelical: Survey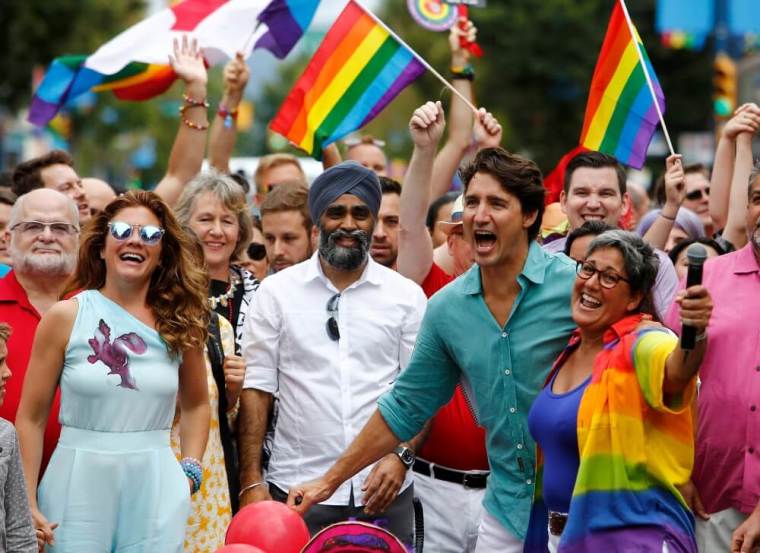 Canadians are more likely to vote for an atheist, gay or transgender person than an evangelical Christian to lead their country, according to a Canadian research institute.
The Angus Reid Institute survey, conducted in May with a sample size of 1,533 Canadian adults and a margin of error of plus or minus 2.5 percentage points, found that 85 percent said they would vote for a party that is led by a gay man; 84 percent would back a lesbian; 80 percent, an atheist; and 69 percent, a transgender. Meanwhile, 65 percent said they would support an evangelical Christian.
Evangelicals fared better in the United States, with 72 percent of Americans saying they would vote for an evangelical presidential candidate. 
Americans are less likely to vote for a gay man or lesbian, at 63 and 62 percent, respectively. And atheists and transgender individuals are near the bottom of the U.S. list, at 52 and 50 percent, respectively.
Though Canadians and Americans are similar in their willingness to vote for a candidate who is a woman or Jewish, "they disagree substantially on voting for candidates from the LGBTQ community and atheists," the survey noted.
Muslims found themselves at or near the bottom of choices on both lists, with only 47 percent of Americans willing to vote for a Muslim to lead their country, compared to 58 percent of Canadians.
The Canadian government under Prime Minister Justin Trudeau, who is a Roman Catholic, has been heavily pushing anti-hate speech laws this past year.
Earlier in June, the country's Senate passed a law against the use of wrong gender pronouns, threatening prison for those charged with anti-transgender speech.
"In Canada we celebrate inclusion and diversity, and all Canadians should feel safe to be themselves," Justice Minister Jody Wilson-Raybould said in a statement after Bill C-16 passed by a vote of 67–11.
"Trans and gender diverse persons must be granted equal status in Canadian society, and this bill makes that status explicit in Canadian law. ... The purpose of this legislation is to ensure that everyone can live according to their gender identity and express their gender as they choose. It will protect people from discrimination, hate propaganda and hate crimes," he added.
Canada's Campaign Life Coalition group criticized the move, however, arguing that "this tyrannical bill is nothing but social engineering to the nth degree, all in the name of political correctness."