Candace Cameron Bure 'Loves' Atheist Anti-Church Billboard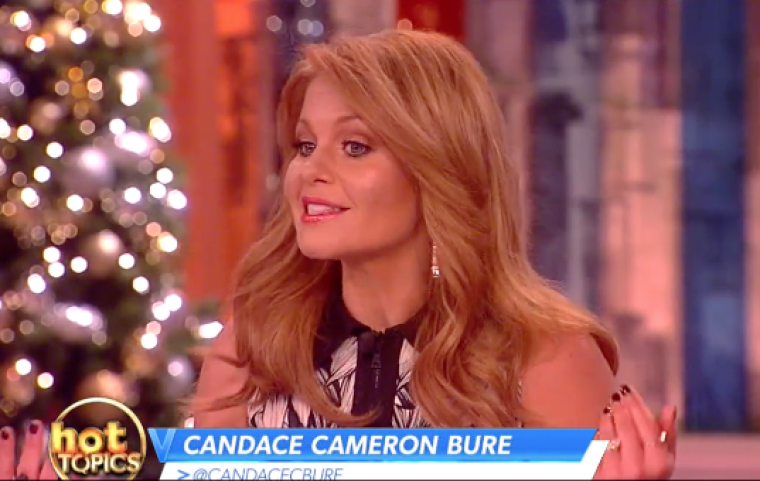 Candace Cameron Bure has often expressed her Christian views on the popular ABC television show "The View." A recent holiday Billboard funded by the American Atheists provided the actress an opportunity to debunk the good works ideology and promote salvation through grace by faith.
In a panel consisting of Bure, Raven-Symone, Paula Faris, Sunny Hostin and Veteran co-host Joy Behar, Behar introduced the controversial segment pointing out that American Atheists placed the billboard in a predominantly Christian town in North Carolina.

The Santa Claus plastered billboard reads, "Go ahead and skip church! Just be good for goodness sake."
Behar asked Bure, who she called a "good Christian woman," if that offended her or not.
"You couldn't feed me something better to say to have a conversation that would then lead into sharing the gospel message," Bure quickly responded.
"Them just even saying, 'Go be good!' I would then say, well, 'What is good and what is the standard of goodness to you? What is God's standard of goodness?' I love that they put this billboard up, because it gives me the ability ... to have that conversation," she continued.
Although the idea of good works is sometimes associated with the Christian faith, the Protestant principle of Sola fide (Latin: by faith alone) states that no one is capable of living a sin-free life, salvation comes through faith alone. That sometimes distinguishes most Protestant denominations from Catholicism, Orthodox Christianity, and some in the Restoration Movement.
Special guest co-host for the day Hostin, a devout Catholic, disagreed with Bure, stating that she "hates" the Billboard.
"When you are an atheist telling people not to go to church, it is the equivalent of me trying to push my faith", she said.
In a statement on their website, David Silverman, the president of American Atheists, defended the advertisement.
"We want people to know that going to church has absolutely nothing to do with being a good person. The things that are most important during the holiday season — spending time with loved ones, charity, and being merry — have nothing to do with religion", he wrote.
Symone, who according to hollowverse.com is a "new wave thinker," maintained that she was fine with the Billboard because that's what "all religions are about anyway, be a good person."
Bure and Faris immediately argued the opposite, stating that Christianity is not about acts of goodness but instead grace .
"What's the standard of goodness?" Bure asked. "In the Bible, God's standard is the Ten Commandments."
After some back and forth and a walk through some of the Ten Commandments, Bure brought her point to a close, "God says if you've disobeyed one commandment ... you've disobeyed all of them. So, if God's standard is different by which he judges the world, then that's where the argument of only 'being a good person' leads to the Gospel."
Atheists have made it a part of their outreach in recent years to post Billboards throughout the country discounting the validity of God, especially for those who believe in Christ. At the start of Christmas 2012, atheists and Evangelicals began a public scuffle in the heart of Times Square displaying where the two sides stood on the holiday.
The American Atheist group sign showed Santa Claus and a crucified Jesus Christ with the words, "Keep the Merry, Loose the Myth."
Evangelicals responded with their own giant billboard sign proclaiming, "To all of our atheist friends: Thank God, you're wrong."
The atheist's publicly displayed argument has since switched from God to church services. This year's Billboard is a continuation of one the atheist group displayed in 2014. It showed a child wearing a Santa hat with pen hand, writing a letter to Santa that read, "Dear Santa, all I want for Christmas is to skip church. I'm too old for fairy tales."
Despite the not so merry part of these Christmas signs, Bure maintained that she will use it to her advantage and share the message of Christianity.