Candace Cameron Bure Gets Whoopi Goldberg to Pray on 'The View' (Watch)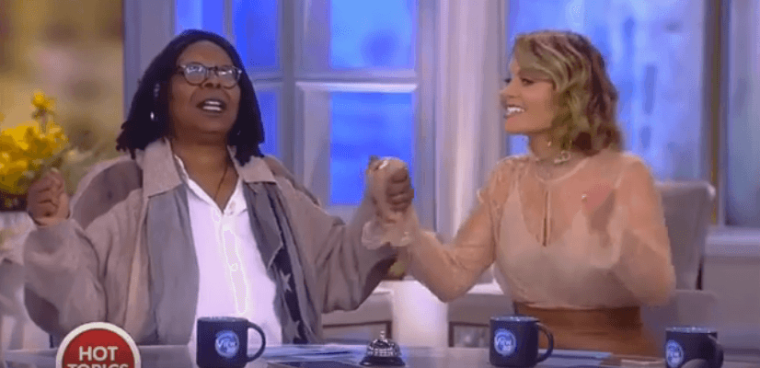 Candace Cameron Bure is celebrating the achievement of getting Whoopi Goldberg to pray to God during an episode of "The View" earlier this week.
During a segment on ABC's "The View" on Wednesday, co-hosts Bure, Goldberg, Joy Behar and Jedediah Bila talked about a debate between Fox News host Megyn Kelly and former Speaker of the House Newt Gingrich, who sparred over whether sexual assault allegations against former president Bill Clinton — in which he paid former Arkansas state employee Paula Jones $850,000 in a sexual harassment lawsuit case — were as import for the media to cover as allegations of sexual harassment against Donald Trump, who has said his accusers are all liars.
The conversation between the ladies on "The View" led to a discussion about the negative coverage Trump has received in the media until Bure changed the subject to the topic of singer Sheryl Crow, a Hillary Clinton supporter who was a guest on the show Oct. 3, and her petition on Change.org to shorten the presidential campaign season to six months, after what she says has been as an "extremely damaging" 2016 campaign.
The petition, which on Saturday had garnered over 53,800 signatures, says it has been over 600 days since Sen. Ted Cruz announced his presidential campaign in 2015 to kick off the presidential election, and urges the DNC and RNC to spare the country another "lengthy slugfest."
Goldberg immediately grabbed Bure's hand and began to recite a prayer.
"Yes I'm getting Whoopi to pray," Bure shouted as she agreed with Goldberg's prayer to shorten the election cycle.
"Lord Make this cycle shorter," Goldberg prayed.
Days before Goldberg and Bure prayed on the show, the "Fuller House" actress met one of her favorite authors, Ann Voskamp, who celebrated her courageous stance to share her faith on a mainstream platform.
Bure gushed on Facebook about meeting Voskamp for the first time and chatting with her about her new book.
"I asked her what The Broken Way was about at its core because I couldn't wait to read anything she pens, to which she replied, 'You don't have to read one single page of this book, because you're already living a broken life for Jesus, being used for Him in front of millions of people every day.' (Insert heart swell here.) Thank you Ann, not just for the kind and inspirational words, but for being healing balm to my soul and to so many others," Bure wrote.
The Los Angeles native does in fact use her platform on "The View" to share her conservative Christian views. In the past, Bure has said that she wants people to stop arguing about her Christianity. Since joining the daytime television show, she has endured criticism for her Christian views and also for not acting Christian enough.
Even when she first re-emerged in the entertainment scene, some fellow believers were delighted with her modest attire on "Dancing with the Stars" Season 18 and some were not. Bure's social media pages are constantly bombarded with comments about her faith. She is either praised for her beliefs or bashed. Both reactions usually lead to debates on her message boards.
In an article for MottoTimes the mother of three revealed that a lot of the pressure she has endured is from people in her own Christian community.
"When I was on 'Dancing With the Stars,' for example, I was constantly hearing from people who thought that my costumes weren't appropriate," she shared. "On 'Fuller House,' people were sad that my character made certain choices. Even with 'The View,' people say I'm not speaking up enough for conservative values and that I allow myself to get walked on. Everyone has an opinion!"
"I've found that people really do respect when you hold true to your convictions and what you value. So you just have to learn to let the comments go and not take them personally, even if they're well-intentioned. When I'm having issues or facing a big decision I'm unsure about, I talk with the people who are closest to me, whom I trust and who know my situation. That's where I seek guidance, along with prayer, not from the masses."
Follow Jeannie Law on Twitter:
@jlawcp