Candace Cameron Bure Leaving 'The View' to Spend More Time With Family (Watch)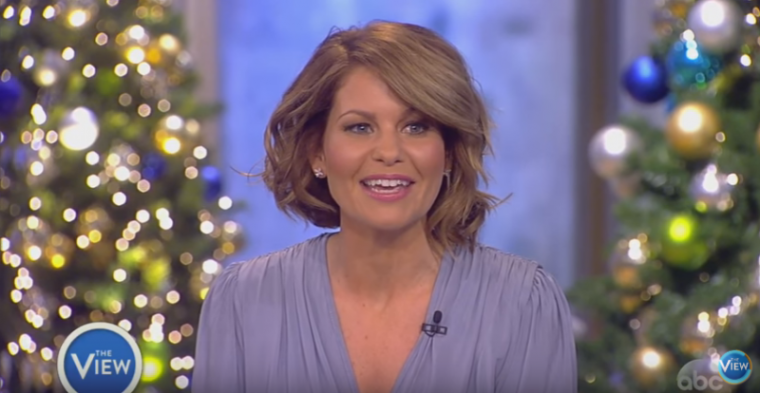 Candace Cameron Bure, co-host of ABC's daytime talk show "The View," announced Thursday that she's leaving the Emmy award-winning program to dedicate more time to her family and acting commitments.
At the top of the show, co-host Whoopi Goldberg put on her very best valley girl impersonation and handed the segment over to Bure.
"I'm very happy to be back," Bure said as she giggled her way through the announcement. "But it's very bittersweet for me because I'm announcing that I will be leaving 'The View.' It wasn't an easy decision, but before I started on 'The View' I already had my commitments to 'Fuller house' and my work with the Hallmark channel.
"And because of my success with those, my commitments have become even greater with those shows and the commute of going West Coast to East Coast every single week has been tough for me. [It's] hard for my family as well, and I want to make sure that I'm able to spend as much time with my children and invest in all the projects that I do to the fullest extent."
An emotional Bure went on to thank everyone on "The View," particularly her co-hosts, Goldberg and Joy Behar, for welcoming her. Behar was quick to point out that the 40-year-old mother of three was doing "too much."
"I tried to be superwoman but I'm going to not try anymore," Bure said.
In August 2015 it was announced that Bure was selected to join "The View" as a co-host. Even though she knew the job would take her away from her family and shooting "Fuller House" during the weekdays, the California native decided to take on the challenge.
While on the show, the Los Angeles native used the platform to share her conservative Christian views. She endured criticism for her values from those who do not share her beliefs, and received heat from some Christian viewers for not acting "Christian enough." Bure's often said on social media that she wanted people to stop arguing about her Christianity.
During an episode of the national talk show it was said that when Bure joined she asked that her co-hosts respect her values and be mindful not to use foul language around her. 
Even though Bure is leaving "The View," fans can watch her in the second season of "Fuller House" which hits Netflix on Friday, Dec. 9. For more information on Bure and her future endeavors stay connected with her on Facebook.