Candace Cameron Bure Takes Down Too Sexy Dress in 'Fuller House' Photo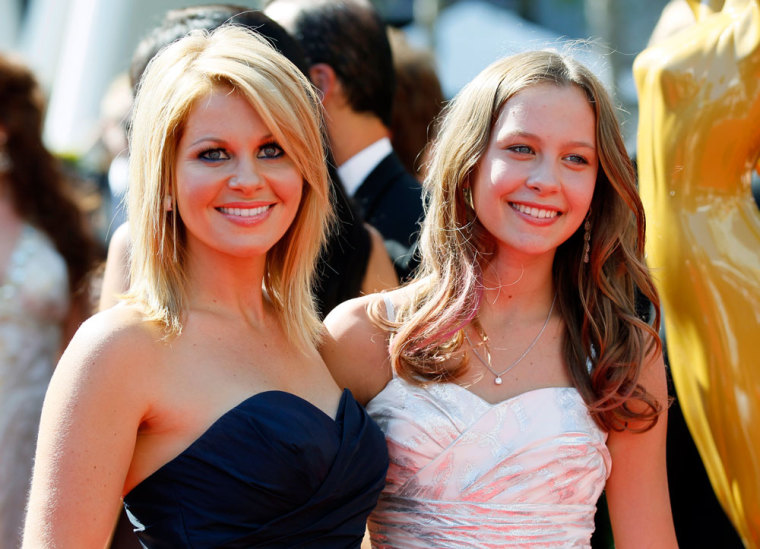 "Fuller House" actress Candace Cameron Bure was criticized harshly by fans this week for posting a promotional photo of herself wearing a short dress that critics blasted as being too sexy.
The Iinstagram post featured Bure with her co-stars, Andrea Barber and Jodie Sweetin, from an upcoming episode of the new series. In the message to her fans Bure wrote: "4 more sleeps until Kimmy, Stef and Deej are back in action!"
The image, which was quickly removed from Instagram Monday night, shows Bure wearing a low cut black mini dress.
A "Fuller House" trailer promoting the series (below) features Bure's character "DeeJ" talking about how uncomfortable she feels going out in the aforementioned dress.
"I don't know if I should be tugging this thing down, or pulling it up," she says in the trailer at the 1.45 minute mark.
Bure's followers on Instagram must have felt the same way about the dress and immediately shared their disapproval.
"I thought she stands for Christian values. It looks like lingerie!" one commenter posted.
One person noted that the dress looks like a camiknicker, which covers the torso and private parts all in one garment, also known as a teddy. "That's weird. She's wearing a teddy and the other two are wearing dresses. 'Modest.'"
Another critic chimed in, saying, "Seriously though! I am so sad! I thought @Candacecbure stands up for Christian values?!?! This makes me so sad. I can't let my kids watch this, is this how you dress?"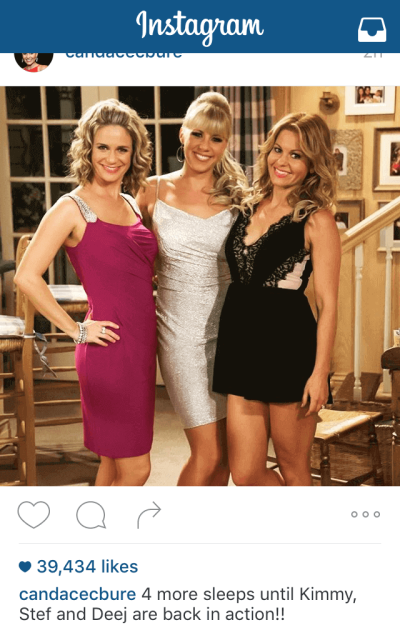 Bure's attempt to promote the upcoming series seems to have backfired, as some fans have said they are now discouraged from watching the "Full House" spin off.
The actress usually takes a stand against naysayers, but this time she chose to do otherwise and removed the photo two hours after it was posted.
In the past, Bure has addressed critics who've bashed her wardrobe choices.
"'I'm too religious, I'm not Godly enough, I'm too thin now, I'm not very humble, I've had too much plastic surgery, My brother Kirk is a better Christian than me, I'm too worldly, I'm too conservative, I'm not modest enough, I'm a show-off.' Those are just a few of the types of comments I get no matter what I share, what photo I post or what I say," Bure said in a blog posted in 2014.
The California native, however, delighted fans with her modest stance on "Dancing with the Stars" Season 18. From the beginning of the show Bure set the tone and received praise from her Christian fans.
 "I'm not gonna be your sexy girl, I'm a mom of three kids so I want to look good and feel beautiful, but I will probably stay on the more modest end of costuming," Bure told the audience about her wardrobe selection.