Candace Owens spars with 'demon possessed' sex worker who rejected her prayer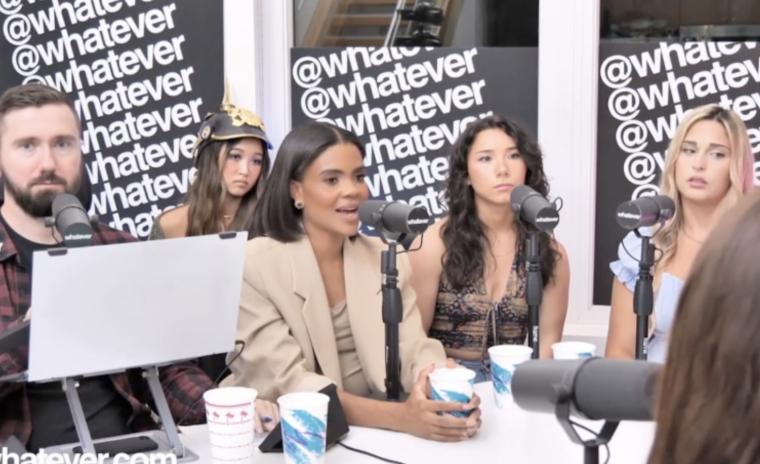 Candace Owens recently sparred with a sex worker she said seemed to be "possessed by a demon" and tried to trigger her by discussing her marriage. 
In a recent episode of her podcast, the 34-year-old author, who is also a wife and mother, discussed how she recently appeared on the "Whatever" podcast as part of her press tour for the Daily Wire series "Convicting a Murderer."
During the podcast, she debated with several sex workers about whether it's appropriate for women to prostitute themselves. Tensions escalated as Owens challenged one sex worker who suggested she actually "saves" marriages by fulfilling men's unconventional sexual desires. 
"I honestly felt like, and I never say this, that she was possessed by a demon," Owens said. "She really was. And she was growing frustrated in me remaining logical and explaining to her that obviously, her career was going to follow her for the rest of her life. And she tried to, I guess, trigger me as she was explaining how she 'saves marriages' and she tried to trigger me by creating a 'what if' scenario regarding my own husband."
The 22-year-old sex worker presented a hypothetical scenario in which Owen's husband approached her with unconventional sexual desires, questioning the implications for the relationship.
"If you are not going to be acceptant with your partner if he comes to you and is like, 'Hey, I really like getting p--ed. I want you to p-- me.' And you're like, 'Ew. that's so disgusting. Like, I would never do that. You want me to [expletive], I would never do that.' Well then, OK, what are you going to do, divorce him? Or what are you going to do? Realistically?" the sex worker asked.
Obviously disgusted, Owens said she believed such behaviors might indicate a divergence into a "perverse world," possibly influenced by external factors like pornography.
"It would probably indicate to me that my husband was involved in some perverse world, whether it was through pornography, that something else was happening on the side. These aren't normal things that people just think of when they wake up," the conservative author said. 
Reflecting on the interaction, Owens said, "What was weird about that is suddenly it seemed like she was suffering from a demonic possession. Like she was just a Chucky doll. And she was just trying to say the most perverse thing that she could possibly say to trigger me."
But instead of feeling triggered Owens said she felt "disturbed" that a 22-year-old was "even coming up with this concept." She pointed out that while the young woman sees her involvement in sex work as purely a choice and a source of income, it's actually a cry for help and a sign of deeper issues.
"I realized that her entire reality had been warped because she works in a brothel and she sees up to 10 clients per day," Owens said. "And you have to imagine that she thinks that this must represent what all men are like. It never occurred to her that actually, she is seeing the most debased, pathetic men that are in this society today. She is seeing men who have drug addiction. She is seeing men who have a sex addiction. She is seeing men who have gone so far into their perversions that they might actually be requesting this from her. It is not the average man that goes into a brothel."
Later in the podcast, the sex worker detailed her lucrative earnings from the industry, almost half a million dollars annually, she claimed. Owens lamented that society has become numb to sexual perversion and that sex workers can "justify" their behavior due to their earnings.
"This is why I spend so much time talking about perversity, talking about pornography, talking about the ills, not just of graphic pornography, which her mind is utterly polluted by because it's a form of her every single day, it's a facet of her every single day, but also the soft pornography that we have all become accustomed to, the pornography that we see when we scroll Instagram," Owens said. 
"And you have Instagram models with their butt cheeks and their chests out. This is the stuff that is desensitizing us, right? It is desensitizing all of us. We're all victims to it. I say this all the time when I see an ad, I don't even flinch … because we have become accustomed to seeing it everywhere. It's leading to women that are quite literally prostituting themselves in and out because they know that they can make a quick buck, and you can do that, it's true."
Owens revealed that at the end of the interview, she offered to pray for the possessed sex workers, but the young woman "rejected the prayer on the show."
"She said she didn't want me to pray for her. What kind of person rejects a prayer? You might not believe in prayers. You might not pray yourself, but if any person walked up to me, no matter what phase they were in, and they said that they were going to pray for me, I wouldn't reject it," she said. 
"I think that what the 'Whatever' podcast taught me is that we are definitely facing a possession in America. People are possessed by the concept of fame. We are possessed by perversions; we are possessed by sexuality. And all of these things are destroying people's souls, honestly, genuinely. And when I left that podcast, I still prayed for those young women because I think they need it."