'Dangerous' and 'evil': Christian leaders react to rapper Lil Nas X's 'Satan Shoes'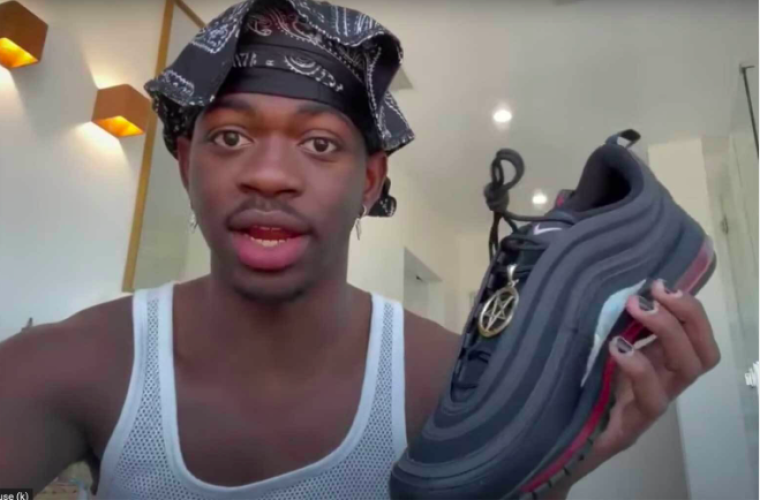 Christian and conservative leaders reacted with dismay after Lil Nas X, the artist behind "Old Town Road," announced he is collaborating with the streetwear company MSCHF on a pair of "Satan Shoes" that contain a drop of human blood in the sole.
The shoes, apparently modified Nike Air Max 97s — are decorated with a pentagram pendant and a reference to Luke 10:18: "And he said to them, 'I saw Satan fall like lightning from heaven.'"
The sneakers also contain a drop of human blood in the sole, drawn from members of the MSCHF team. A total of 666 pairs — a number widely recognized symbols for the devil — went up for sale Monday at the price of $1,018.
The release of the Satan Shoes coincides with Lil Nas X's latest single, "Montero (Call Me By Your Name)," and its accompanying music video. In the video, Lil Nas X descends down a stripper pole and gives Satan a lap dance.
The openly gay rapper, whose real name is Montero Lamar Hill, explained the song was about a guy he met last summer. 
Amid backlash, Nike clarified that it is not affiliated with the product, as the shoes are custom adaptations of existing products.
"We do not have a relationship with Little Nas X or MSCHF," Nike said in a statement, NBC News reports. "Nike did not design or release these shoes and we do not endorse them."
Both the release of the shoes and the music video, announced ahead of Palm Sunday weekend, drew criticism from conservative and Christian leaders. From Franklin Graham to South Dakota Gov. Kristi Noem, here's how six leading conservative figures reacted.