Capitol Police identify officer killed, knife-wielding suspect who rammed car into checkpoint
25-year-old suspect from Indiana recently lost job, identified as Nation of Islam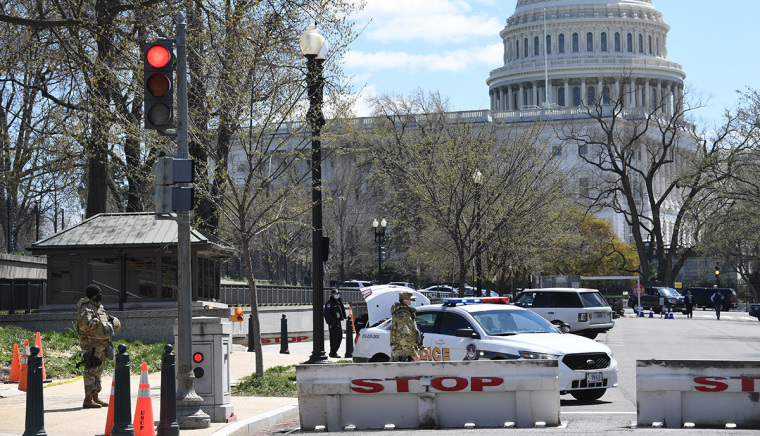 A Capitol Police officer is dead after a man plowed his car into two law enforcement officials and struck a barricade at the United States Capitol Friday.
The suspect, who remained unnamed for much of the afternoon, was identified by NBC News as 25-year-old black man Noah Green from Indiana. Green drove his vehicle into a Capitol security checkpoint on Constitution Avenue, the north side of the complex. He rammed his car into two Capitol Police officers, killing one and injuring the other. The slain Capitol Police officer was identified as William "Billy" Evans, an 18-year veteran of the force.
Green identified himself on Facebook as a "follower" of Louis Farrakhan and the Nation of Islam and had recently lost his job, according to multiplereports. 
Yogananda Pittman, the acting chief of the Capitol Police, provided a rundown of the day's events, which began shortly after 1 p.m. ET, at a mid-afternoon press conference: "The suspect rammed his car into two of our officers and then hit the north barricade barrier. At such time, the suspect exited the vehicle with a knife in hand. Our officers then engaged that suspect. He did not respond to verbal commands. The suspect did start lunging toward U.S. Capitol Police officers … at which time U.S. Capitol Police officers fired upon the suspect."
"The suspect has been pronounced deceased. Two Capitol Police officers were transported to two different hospitals and it is with a very, very heavy heart that I announce one of our officers has succumbed to his injuries," she continued.
At the time of the press conference, Pittman declined to give detailed information about the victim or the perpetrator because their families had not been notified. She concluded her press conference by asking the public to keep the Capitol Police and their families in their prayers, noting, "This has been an extremely difficult time for U.S. Capitol Police after the events of January 6 and now the events that have occurred here today."
According to The Washington Times, "Due to the incident, the Capitol was placed on a security lockdown, meaning no one could enter or leave the buildings." Additionally, the incident led to several road closures in the vicinity and forced a handful of public transportation routes to detour. While Congress was not in session and "there were fewer employees at the complex than normal on Friday," the Capitol has remained on high alert following the Jan. 6 riot.
The incident comes less than three months after a group of fringe supporters of former President Donald Trump stormed the Capitol as Congress was certifying the electoral votes of the 2020 presidential election. The storming of the Capitol led to heightened security measures, including the deployment of over 10,000 National Guard soldiers and the installation of tall fencing and razor wire around the Capitol complex.
Late last month, a fence on the outer perimeter of the complex was removed, but a fence around the inner perimeter remains in place. In a statement Friday expressing his "deepest condolences to the Capitol Police and to the family of the officer killed in today's tragic incident on Capitol Hill," U.S. Secretary of Defense Lloyd Austin thanked the National Guard troops for "supporting the Capitol Police."
In addition to offering his "thoughts and prayers" to "all those affected by this loss" and "best wishes for a speedy recovery of the injured officer," Austin stressed that "events like this remind us of the bravery and skill of law enforcement professionals and of our shared commitment to protecting and defending this great country and its institutions."
In the wake of the Capitol attack, Democrats have tried to portray Trump supporters and white supremacy as major national security threats. Examinations of Green's social media accounts reveal that he was a follower of Louis Farrakhan, who has made anti-Semitic remarks describing Jews as "Satanic" and likening them to termites. In a March 17 Facebook post, Green referred to himself as "Brother Noah X" and praised "the Honorable Minister Louis Farrakhan as the man who can carry us through the dark hour."