Cardinal Burke Defends Christian Marriage as 'Foundation of Human Culture;' Calls Out Secular Forces Pushing 'Unnatural Sexual Activity'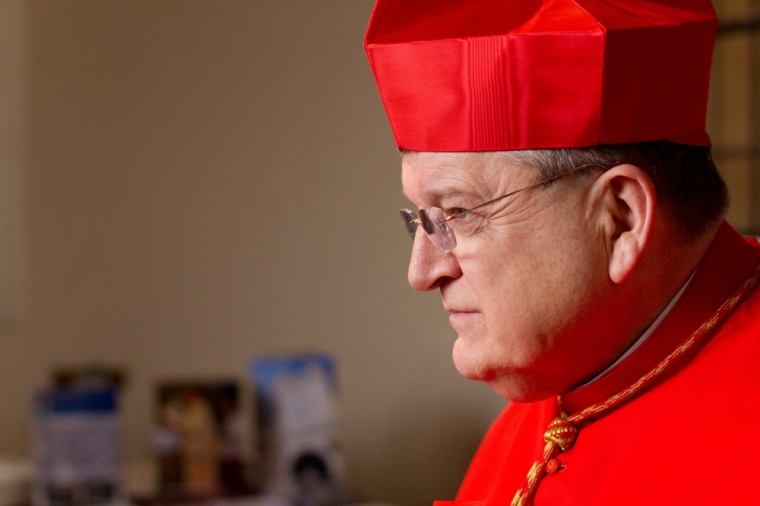 Roman Catholic Raymond Burke spoke in Ottawa, Canada, in defense of a Christian view of marriage, declaring there is no "true form of human sexuality other than that intended by God."
The Catholic Cardinal, who serves as the patron of the Sovereign Military Order of Malta, spoke to NET Canada, an evangelistic organization of young Catholics, last Thursday.
"The defense and promotion of human life and of marriage and the family is at the foundation of a Christian culture, and indeed, of any viable human culture," he said.
Burke, an American, called the current culture a "disordered moral state" and told the Catholic audience that a holy life in North America demands a martyrdom of "public witness to the faith." Burke pointed to a myriad of secular forces attacking marriage.
"One necessarily thinks of the ever advancing agenda of those who want to redefine marriage and family life to include the unnatural sexual activity of two persons of the same sex, which is justified as tolerance of so-called 'alternative forms' of human sexuality — as if there were a true form of human sexuality other than that intended by God, our Creator and Redeemer, as he has written it in our body and soul," Burke asserted.
In his remarks, Burke called the culture "thourougly secularized," and said those in power are ever advancing an "anti-life" and "anti-family" agenda.
Burke called the sexual act between a married man and woman "fundamental to Western culture" and added a caveat against misinformed "contraceptive thinking which fears life, which fears procreation."
Unlike Roman Catholicism, most Protestant denominations do not take an official moral position against certain forms of contraceptives.
Burke quoted Pope Benedict in denouncing selfish forms of sexual liberation and freedom calling it "signs of the tyranny which perverts mankind that result in a fatal misunderstanding of freedom which actually undermines freedom and destroys.
"The pride of man fails to recognize that all he is and has comes from the end of God who has created and redeemed us after the sin of our first barons," he added.
Much of Burke's remarks turned back to martyrdom, which he said is faithful to the teaching of Christ. He called the culture "hostile and more pervasively," one of "indifference" toward Christian beliefs on human sexuality and that "tempts us toward discouragement."
"Given the breakdown in family life and the wholesale attack on innocent and defenseless human lives, and the violation of the integrity of the union of marriage in our society, the call to the martyrdom of witness is even more urgent," stressed Burke.
Burke is viewed by many Catholics as a voice of cultural and theological conservatism within the Roman Catholic Church. He denounced the recent vote for same-sex marriage in Ireland with strong language, declaring even pagans "never dared to say this was marriage." He has publicly stated that the Catholic Church can never talk enough about abortion and "the integrity of marriage as between one man and one woman."
Burke concluded his remarks by saying, no doctrine "can make man truly happy, only the Cross and the glory of the risen Christ" can grant peace to the "conscience of believers" and "salvation to his life."