Carl Lentz and wife Laura to spill 'Secrets of Hillsong' in new FX docuseries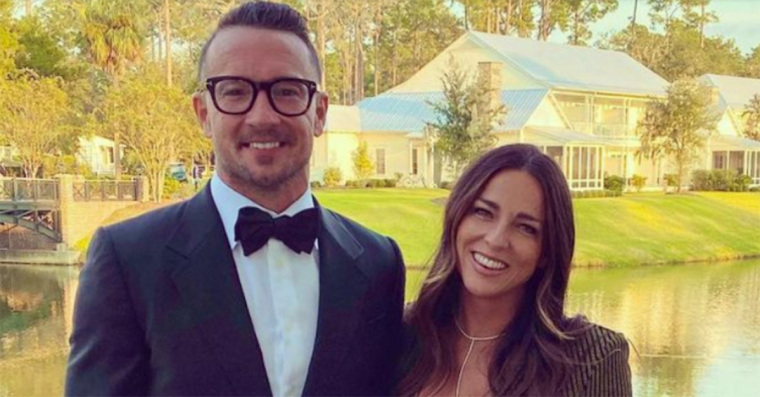 Months after vowing to tell their story in the aftermath of a sex and leadership scandal that led to his firing from Hillsong Church NYC more than two years ago, Carl Lentz and his wife, Laura, are set to give their first public interview in a new docuseries set to premiere on FX in May called "The Secrets of Hillsong."
Scout Productions, an Emmy and Academy Award-winning multimedia company known for creating content such as "Queer Eye" for Netflix and a documentary called "Equal," about "early LGBTQ heroes" according to their website, first revealed in October 2021 that it was "currently producing a documentary on the Hillsong Church" but did not reveal any further details.
The name of the project was recently revealed in a Variety report which notes that it is being created in partnership with Vanity Fair Studios and will be based on Vanity Fair's reporting on Hillsong.
In 2021, Vanity Fair published a report featuring interviews with a number of Hillsong volunteers and former congregants. That report included a revelation by Anna Crenshaw, who is the daughter of Victory Church Senior Pastor Ed Crenshaw, that in 2018 Jason Mays, a Hillsong staff administrator, volunteer singer and the son of the church's head of human resources, sexually assaulted her at a social gathering while she attended Hillsong College in Australia. It took a serious fight by Anna and her father to hold Mays, who is still listed as creative director and head of sync at Hillsong Music, accountable.
"Along with unprecedented access to Carl and Laura Lentz, 'The Secrets of Hillsong' offers new insights into how decades of scandal and corruption went unchecked within the church, and more importantly, … what it meant for the community left in their rubble," Joel Chiodi, an executive producer of the docuseries told Variety.
"Uncovering stories that contend with power and the people who hold it is core to Vanity Fair's mission," Agnes Chu, president of Condé Nast Entertainment told the publication.
"The Secrets of Hillsong" which is set to premiere on FX on May 19 at 10 p.m. ET with two episodes, followed by two more episodes on May 26, comes after another docuseries that features reporting by The Christian Post billed as "Hillsong: A Megachurch Exposed" which premiered on Discovery+ on March 24, 2022, just a day after the megachurch's founder Brian Houston resigned over allegations of misconduct.
Lentz was among the most highly paid staffers at Hillsong Church, according to a trove of financial documents first made public on March 9 by Andrew Wilkie, an Independent member of the Australian Parliament.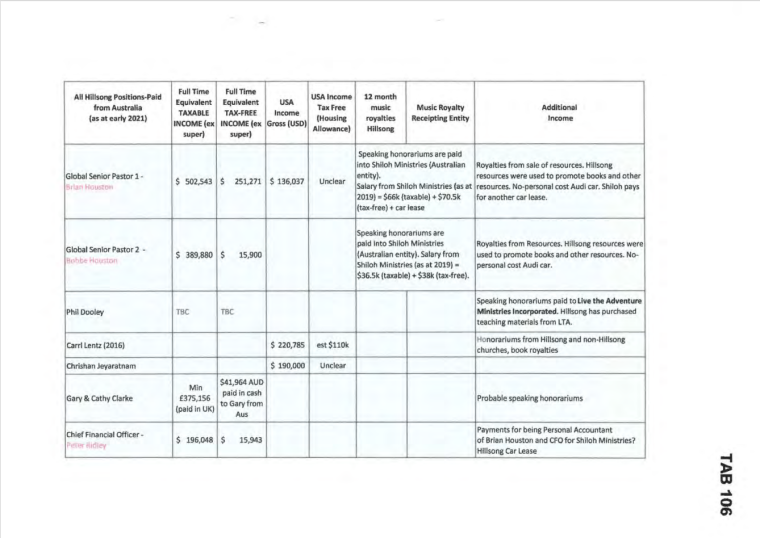 In 2016, alone according to the records, Lentz was collecting pay and benefits in excess of $330,000 annually including $110,000 in housing allowance. He also earned untold sums in speaking honorariums at Hillsong and non-Hillsong churches and book royalties.
Lentz, who recently joined Transformation Church led by Pastor Michael Todd in Tulsa, Oklahoma, as a "strategist," was fired from his post at Hillsong NYC in November 2020 over "leadership issues" and moral failures, including being unfaithful to his wife.
Details from an internal investigation shared with The Christian Post in 2022 that was conducted on behalf of Hillsong Church by the New York City law firm Zukerman Gore Brandeis & Crossman, LLP, would later report the extent of Lentz's failures.
As he wooed celebrities to the Manhattan church he started in 2010 to help elevate the global Hillsong Church brand, some former staff and volunteers alleged that he manipulated them and caused them to suffer mental illness.
Zukerman Gore Brandeis & Crossman, LLP, added in the report: "Due to the limited amount of documentary evidence, the extensive assertion of failure of memory by certain witnesses, and the necessity to rely upon oral testimony and demeanor, the conclusions in this report, although they may be phrased in a 'factual' style for readability, should be understood as the contentions of a witness, or statements of opinion by the investigating attorneys."
The details in the 51-page report allege, among other things, multiple incidents of consensual or non-consensual sexual interaction between church leaders and congregants, staff, volunteers, or non-churchgoers. It presents an unflattering view of Lentz as a lying adulterer who presided over a congregation in which he did as he pleased in a hierarchy where he seemingly answered to no one.
In September 2022, after spending nearly two years out of the limelight, Laura Lentz said her husband had "humbled" himself, taken responsibility and was getting ready to tell his story.
"Yep, it has been challenging and hell yeah it's taken a LOT of work the past 22 months (but who's counting) to make our marriage what it has become, & we will never stop working on ourselves, for this marriage and for our kids! I know there are many that don't or would never do what I chose to do, and that's ok, it's not for everyone!!," she wrote on Instagram.
"I look forward to sharing our story, how I came to that conclusion and I think it's going to help a lot of people," she added. "I am so proud of my husband & for the responsibility he's taken! Mostly I'm grateful for a man who humbled himself & didn't try to defend himself, he has kept quiet publically and he has remained focused on the one thing that matters most — our family!"
It had been rumored for months now that the Lentzes were intent on getting paid for their story and had been shopping an exclusive interview.
It was unclear Thursday if Scout Productions, Vanity Fair Studios or FX, paid for the Lentzes interview in the docuseries.
Scout Productions did not immediately respond to questions on whether the couple were paid to share their story when contacted by CP.