Carl Lentz Talks Celebrities, Preaching Style & Starbucks Cup on Hip-Hop Radio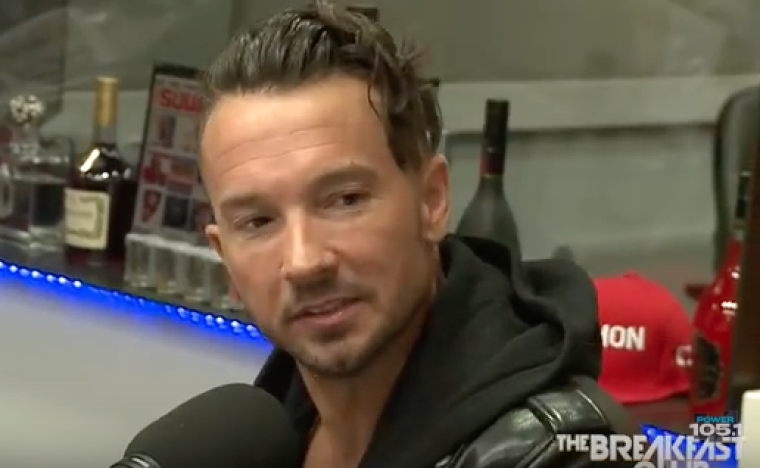 "The Breakfast Club," a morning show created for the hip hop listening audience in New York, has become quite the go-to spot for preachers and christian artists lately. In a recent interview with Hillsong NYC's leader, Carl Lentz, co-hosts DJ Envy, Angela Yee, and Charlamagne Tha God, questioned the pastor about his modern day approach to christianity and what causes him to be linked to A-list celebrities.
Lentz was invited to the popular Power 105.1 studio after Kirk Franklin mentioned his name while visiting previously. The team was intriqued by how much Franklin respected the pastor and decided to invite him to be a guest on their show.
During Lentz's appearance, a normally vulgar Charlamagne asked him questions about his unique appearance as a pastor, his ministry and his thoughts on fornication. They inquired about his brand of preaching, and his relationship with global music star Justin Bieber.
Lentz made sure to talk about true repentance and the tendency of New Yorkers to try to have "their life and a little bit of Jesus too." He shared his coming to Jesus moment and the importance of the Bible being looked at as good news – a love story and not a rule book.
"The Gospel literally means good news, so there bad news before good news. The bad news is we can't do this on our own, the good news is that because of God's grace somehow in his power He can regenerate a new life in us and even when we sin we have the power to change," he said.
He talked about his relationship with Bieber, explaining that his good friend – fellow pastor Judah Smith of The City Church in Washington – introduced the two and they now have a good friendship as well. Yee asked Lentz if people only attend his church now because of Bieber, to which he responded, "They find out pretty quick that our church is not going to be about that. You might come for Bieber but you're not going to stay for Bieber."
The Virginia-born pastor last year took the pop star in and allowed him to live with his family for a month when Bieber wanted to "deepen his faith." He vouched that it's hard for Bieber to live under a microscope but also said he told the singer, "Don't complain about what you prayed for."
The hosts grilled him about his church style and how long his service run, but when they asked about his brand of preaching the gospel, he said he models after what Jesus did.
"Jesus spoke to every single area of life and I think it's our job as pastors and leaders to make sure that we do our best to help people with their practical everyday life…. When he talked about a mustard seed it's because he was talking about farmers, about fishing talking to fisherman."
He explained that sometimes in church, sermons go way beyond practical things and that makes it hard to grasp.
"You talk about Jeezy church in the streets? Jesus was doing that way before any Hip Hop artists was. He was literally going to people, meeting them right where they're at."
Lentz said his goal is to do the same but humbly admitted that he's not sure if he is doing a good enough job at it. He explained that the whole point of Christianity is that God is with you, He is not a distant figure in the sky, "You can walk with Jesus, you can know God. This isn't a religion. This is a relationship."
When asked why he thinks Jesus is no longer the headline of Christmas, Lentz took the opportunity to address the Starbucks holiday red cup controversy.
"I think it's weird when Christians freak out about stuff like that. I don't know why we get so shaky when the world is the world. The whole thing about Starbucks. I'm like, why are we getting mad at Starbucks for being Starbucks? When did they take a vow to make Starbucks be about Christianity and our view about Christmas?" he questioned back.
He went on to say, "In my house, Christmas is about when we celebrate who we believe God to be and people can do what they want. I think that if you're secure in your faith, you have room to allow people to be people and not make a fight about everything."
Lentz went on to talk about the false perception of being associated to famous people. He admitted that when the celebrity is doing well then he gets credit and when they are not he gets pegged a bad leader.
"99% of Hillsong church is not famous and that's who we are," he stated.
During the intimate sit down, Lentz talked about Charlie Sheen, religion versus relationship, homosexuailty and more. Watch the full interview below.