Carly Fiorina Says Kentucky Clerk Should Issue Gay Marriage Licenses or Resign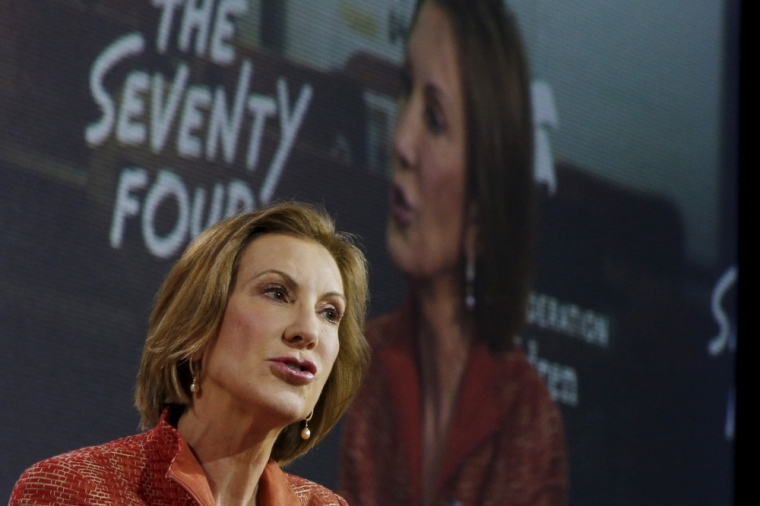 Republican presidential candidate Carly Fiorina offered her take on the growing controversy of the Kentucky county clerk who is refusing to issue same-sex marriage licenses because it violates her religious conscience.
Fiorina spoke on Hugh Hewitt's radio show Thursday saying that religious liberty is clearly under attack but that rights of religious conscience is less clear when an individual is an "arm of the government."
"First, I think that we must protect religious liberties with great passion and be willing to expend a lot of political capital to do so now because it's clear religious liberty is under assault in many, many ways," Fiorina declared.
"Having said that, when you are a government employee, I think you take on a different role," she added. "When you are a government employee as opposed to say, an employee of another kind of organization, then in essence, you are agreeing to act as an arm of the government."
Fiorina, who has risen in the polls after a strong debate performance, is expected to be in CNN's Sept. 16 debate featuring top tier candidates, which is determined by polling.
The former CEO of Hewlett Packard who lost a Senate race to Barbara Boxer in California has consistently opposed same-sex marriage, saying it violates her faith. She previously supported civil unions for same-sex partners as a business leader and Senate candidate.
Fiorina continued to offer her opinion and advice to Rowan County Kentucky clerk Kim Davis on her stance against issuing licenses for same-sex marriages:
"And, while I disagree with this court's decision, their actions are clear. And so I think in this particular case, this woman now needs to make a decision that's conscious — is she prepared to continue to work for the government, be paid for by the government, in which case she needs to execute the government's will, or does she feel so strongly about this that she wants to sever her employment with the government and go seek employment elsewhere where her religious liberties would be paramount over her duties as a government employee," Fiorina declared.
Hewitt asked Fiorina if Davis should continue her campaign of civil disobedience.
"Given the role that she's playing. Given the fact that the government is paying her salary, I think that is not appropriate," she declared. "Now that's my personal opinion. Others may disagree with that, but I think it's a very different situation for her than someone in a hospital who's asked to perform an abortion or someone at a florist who's asked to serve a gay wedding. I think when you're a government employee, you are put into a different position honestly."
Campaigning in the Northeast, Kentucky Senator Rand Paul offered a different take. When asked if he supported Davis's appeal to religious conscience and acts of civil disobedience he said her protest is "part of the American way."
"I think one way to get around the whole idea of what the Supreme Court is forcing on the states is for states just to get out of the business of giving out licenses," declared Paul. "Alabama has already voted to do this, they're just no longer going to give out licenses. And anybody can make a contract. And then if you want a marriage contract you go to a church. And so I've often said we could have gotten around all of this also in the sense that I do believe everybody has a right to a contract."
"I think people who do stand up and are making a stand to say that they believe in something is an important part of the American way," added Paul.
Republican presidential candidate and South Carolina Senator Lindsey Graham has urged Davis to either "comply with the law or resign."
In 2004, 75 percent of Kentucky voters affirmed marriage as a union between a man and a woman. That vote was ultimately overturned by the federal courts ten years later.
Davis, 49, has received plenty of media scorn for her controversial stance, and has refused multiple orders by federal courts to issue same-sex licenses. David admits to have made "major mistakes" in her life before she was born again and has received death threats for her stance in opposing the issuing of same-sex marriage licenses.