Carrie Underwood Celebrates Birthday With 'Chubby Dude' Baby Isaiah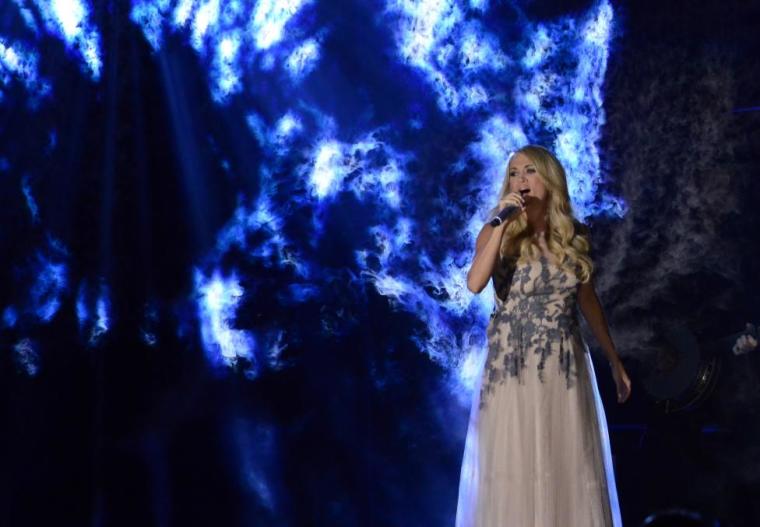 Carrie Underwood is ringing in her 32nd birthday this week alongside her newborn son, Isaiah, whom she referred to as the "best gift ever."
Isaiah's Feb. 27 birth was announced by Underwood via Twitter, where the "Something in the Water" singer thanked God for his arrival. Now, Underwood is celebrating her own birthday with help from her first child.
"HAPPY BIRTHDAY TO ME," Underwood posted on Twitter on Tuesday before joking: "My 1st present = late night date with a tiny semi-bald chubby dude who likes to grunt & cry & pass gas! #bestgiftever"
Underwood also pointed out that she shares a March 10th birthday with a major movie star ... Chuck Norris.
"Yeah, I share a birthday with Chuck Norris," Underwood informed her over four million followers. "Jealous?"
Later on while celebrating her birthday, the "Little Toy Guns" singer thanked her legions of "awesome" fans for their well wishes on her fan club site and also retweeted a message from her husband, Nashville Predators player Mike Fisher.
"Happy Birthday to the early favorite for mom of the year @carrieunderwood," the hockey player's post read.
Meanwhile, Isaiah's Biblical name reflects Underwood's Christian faith, and the singer counts the child as God's blessing to herself and Fisher. Announcing the baby's arrival along with the first photo of him, Underwood posted: "Tiny hands and tiny feet… God has blessed us with an amazing gift! Isaiah Michael Fisher – born February 27."
In the past, Underwood has spoken openly about her faith as well as its impact on her career in country music. The 2005 "American Idol" winner initially soared to the top of song charts with her first single "Jesus, Take the Wheel," and her Christian beliefs continue to influence her music today, such as on the song "Something in the Water." With themes such as conversion and baptism, lyrics to "Something in the Water" include: "I followed that preacher down to the river and now I am changed, and now I'm stronger, there must have been something in the water."
Watch the video for "Something in the Water" here.