Carrie Underwood Says 'Something in the Water' Is 'Special;' Faith-Filled Song Still Topping Charts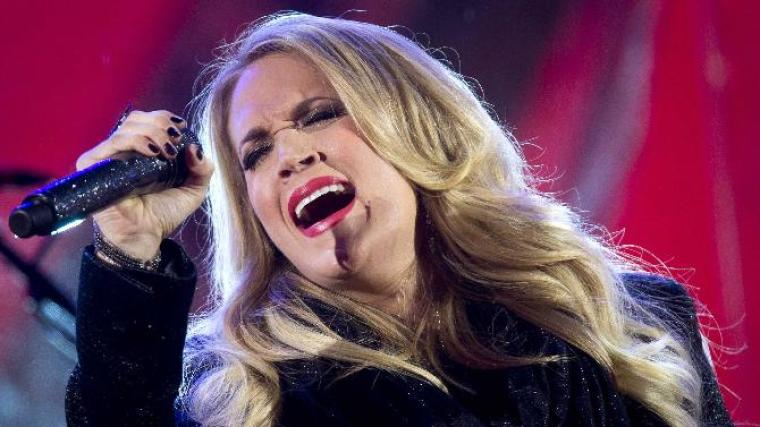 Carrie Underwood recently admitted to knowing that her latest single "Something in the Water" would be a hit before it was even recorded last year.
The country music singer released the faith-filled song about conversion, baptism and keeping the faith in late Sept. Ever since, the track has been aired on country music charts, including Billboard's Hot Country Songs where it remains perched at number-one today. Earlier this month, Underwood revealed that she understood the song's significance early on, predicting that it would become a hit.
"I knew while we were writing 'Something in the Water' that we really had something special," the Grammy Award-winning singer explained to ABC Radio. "This was one that, as it was happening, I was recording stuff on my phone. Like, 'Oh my gosh.' Like, 'Let's do it again. I can make that better. We can do this better.'"
When the final version of "Something in the Water" was ready, Underwood said the writer's room felt "electric."
"We knew it was special, for sure," the singer added.
The new song, which is off of Underwood's latest album "Greatest Hits #1," showcases Underwood's Christian beliefs. Lyrics to "Something in the Water" include: "I followed that preacher down to the river and now I am changed, and now I'm stronger, there must have been something in the water."
No stranger to singing about her faith, Underwood said in a past interview that she has come under criticism for working on songs such as "Something in the Water" as well as her first single, "Jesus Take the Wheel." The "American Idol" winner explained the longstanding relationship between faith and the country music industry and offered a message to non-believers.
"Country music is different," she told Glamour magazine. "You have that Bible Belt-ness about it. I'm not the first person to sing about God, Jesus or faith [or] any of that, and I won't be the last. And it won't be the last for me, either. If you don't like it, change the channel."
Watch the music video for "Something in the Water" here.