Carrie Underwood Shares First Photo of Baby Isaiah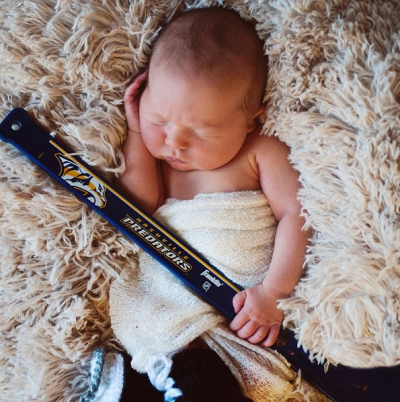 One month after welcoming her first son Isaiah, Carrie Underwood finally shared a full snapshot of the baby on social media over the weekend.
The "Little Toy Guns" singer and her husband, Nashville Predators player Mike Fisher, became parents on Feb. 27, and ahead of Fisher's hockey game on Sunday, Underwood shared a special photo of their son.
"The Predators are in the playoffs," Underwood wrote on Instagram along with a photo of the sleeping baby who was nestled with a miniature Predators hockey stick. "Just waiting to get called up! #PutMeInCoach"
Although Underwood previously shared a partial photo of her infant son shortly after his birth, the newest shot reveals the child's entire face. At one-month-old, Isaiah rests peacefully on a plush blanket while swaddled around the middle with cloth and clutching the hockey stick. The photo, taken ahead of the Nashville Predator's final against the Calgary Flames, has accumulated over 260K "likes" in less than 24 hours. Despite Isaiah's support of his father's team, the Predators suffered a 5-2 loss at the Bridgestone Arena.
It was not the first time Underwood shared a humorous update on Isaiah. The singer, who celebrated her 32nd birthday earlier this month, recently posted about her "chubby" son on Twitter.
"HAPPY BIRTHDAY TO ME," Underwood posted on Twitter on March 10. "My 1st present = late night date with a tiny semi-bald chubby dude who likes to grunt & cry & pass gas! #bestgiftever"
Meanwhile, Isaiah's biblical name reflects Underwood's Christian faith, and the "Something in the Water" singer first announced the child's birth with a thanks to God.
"Tiny hands and tiny feet… God has blessed us with an amazing gift," Underwood wrote on social media shortly after her son's arrival. "Isaiah Michael Fisher – born February 27."