Carrie Underwood Takes Time Off, Cancels Tour Dates After Suffering Injury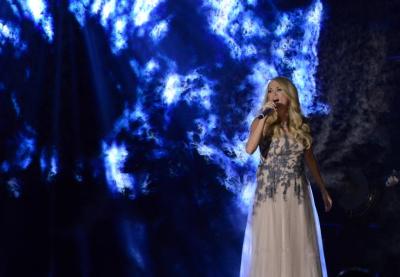 Just days after Carrie Underwood performed a touching rendition of "Softly and Tenderly Jesus Is Calling" at the CMA awards, the country singer is now canceling tour dates because she took a fall outside her home in Nashville.
According to The Tennessean, Underwood fell down some steps outside of her home on Friday and her injuries forced her to skip the Country Rising Concert Sunday night.
Underwood's spokesperson shared in a statement that the "Jesus Take the Wheel" singer was treated and released from a hospital for a "broken wrist, cuts and abrasions."
"Thanks so much for all the well wishes everybody...I'll be alright...might just take some time...glad I've got the best hubby in the world to take care of me," Underwood tweeted after being released from the hospital.
Underwood is married to retired professional ice hockey center Mike Fisher, who reportedly went to Nashville to be by her side after the fall.
The injury came just after the 34-year-old co-hosted the the 51st Annual Country Music Awards alongside Brad Paisley in Nashville on Wednesday night. The professing Christian and "American Idol" winner became emotional as she sang the hymn "Softly and Tenderly."
During her performance, a video montage showcased the country music stars who died over the past year, including Glen Campbell, Troy Gentry and Don Williams. The song concluded with the faces of the 58 people who died at the Route 91 Festival shooting in Las Vegas.
"Softly and tenderly Jesus is calling, Calling for you and for me," Underwood sang as she became visibly emotional.