Catholic Bishop Arrested in India After Nun Accuses Him of Raping Her 13 Times; Church Defends Him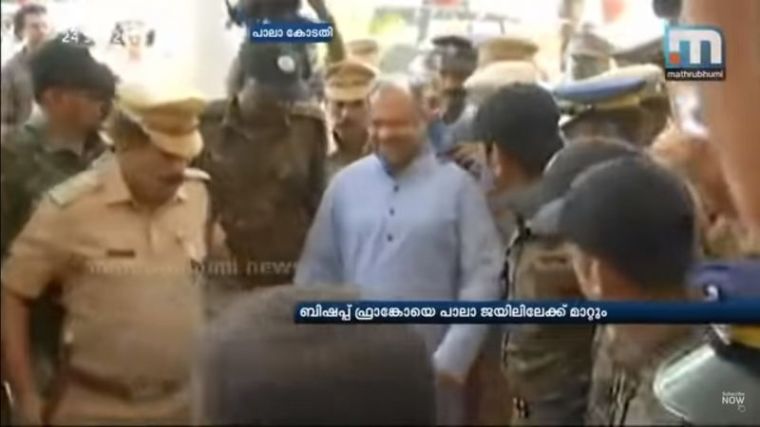 A Roman Catholic bishop was arrested on Friday in Kerala, India, following accusations that he repeatedly raped a nun for over two years.
Bishop Franco Mulakkal had been summoned by police on September 19, and after three days of interrogation over the accusations, he was officially arrested.
The Kerala diocese has denied the accusations and argued that there is "anti-Christian" sentiment involved in Mulakkal's arrest, however, which has prompted unrest and protest from those supporting the nun. 
"It is a fake allegation. We are all with the bishop," the Rev. Peter Kavumpuram, a spokesman for the diocese, told CNN.
"There is an anti-Christian movement; people are trying to manipulate the truth," he added.
Vijay Sakhare, inspector general of police of Kochi Range, Kerala, insisted that there is enough evidence to charge Mulakkal, however.
The bishop is accused of having raped the 44-year-old nun, who wasn't named, on 13 occasions between 2014 and 2016. The woman has said that the alleged abuse occured while Mulakkal was staying in Kerala in a guest house belonging to the St. Francis Mission Home.
The charges against the bishop include rape, forced unnatural sex, criminal intimidation and illegal confinement. UCAnews.com reported that if convicted, Mulakkal could face life imprisonment.
Mulakkal, who was denied bail on Saturday, also pleaded his innocence.
"The allegations made by the nun are concocted and cooked up only to take vengeance against action taken by me," he argued.
The nun, who is a former superior general of the Missionaries of Jesus congregation, originally filed the complaint on June 27.
After months of criticism, four nuns from the Missionaries of Jesus staged a public protest on September 8 in Kerala's Kochi city, demanding justice for the nun. Women in Jalandhar also came out on the streets to speak out against the bishop and ask that he be held accountable for the alleged crime.
The Catholic Bishops' Conference of India has urged prayers for all involved in the case.
"It is sad moment for all of us. We pray for all involved: Bishop Franco, the nun concerned, the Diocese of Jalandhar and the congregation of Missionaries of Jesus," conference president Cardinal Oswald Gracias of Mumbai asked.
On Thursday, a day before Mulakkal's arrest, the Vatican moved to remove him from the administration of his diocese, and put in his place retired Auxiliary Bishop Angelo Rufino Gracias of Bombay.
Vatican officials explained that while Mulakkal continues to be the bishop of the diocese, the administrative capacities will be carried out by Gracias. The Holy See said that it will continue to monitor the situation.
NDTV noted that the bishop was sent to 14 days judicial custody on Monday. The diocese leader was ordained as priest in 1990, and was promoted to bishop back in 2013.