Catholic Charities of Buffalo Ends Adoption, Foster Services to Avoid Placing Kids With Gay Couples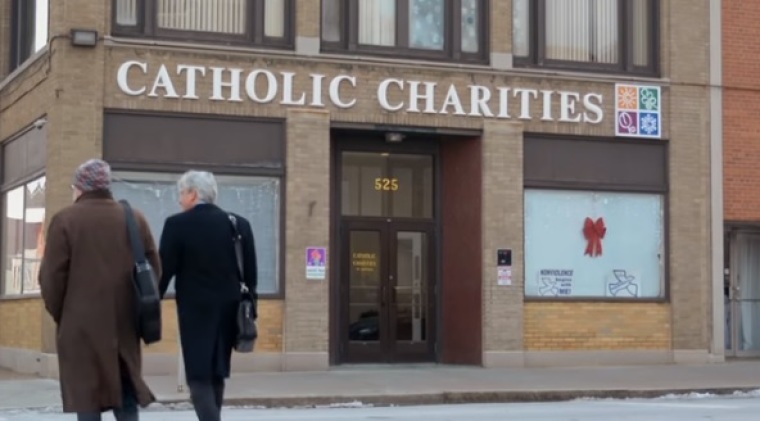 Catholic Charities of Buffalo will no longer provide foster care and adoption services to new clients because a New York state law would force it to violate Catholic teachings on homosexuality and marriage.
The organization, which serves people of need across Western New York, announced Thursday that it has become the latest Catholic Charities branch to halt adoption and foster services because of conflicts with state and local LGBT discrimination protections.
The entity will continue to serve its existing foster families but will not accept new applications until its contract with Erie County Department of Social Services expires in March 2019.
The move comes weeks after a same-sex couple submitted an application with Catholic Charities to become adoptive or foster parents, according to a news release. The charity doesn't place children with same-sex couples because it follows Catholic teachings that dictate that marriage is between only one man and one woman.
However, discrimination on the basis of sexual orientation is prohibited under the state's Sexual Orientation Non-Discrimination Act.
"It is with deep sadness we acknowledge that the legacy of the high quality, exceptional services which our staff provides to children and families through foster care and adoption will be lost," Catholic Charities CEO Dennis C. Walczyk said in a statement.
Walczyk said that charity is working with the New York Office of Children and Family Services and the Erie County Department of Social Services to ensure a "smooth transition" for foster care children and parents affiliated with Catholic Charities as well as those who have applied to be foster or adoptive parents.
Currently affiliated with Catholic Charities of Buffalo are 34 children in care at 24 foster homes. There are a total of 55 certified foster homes affiliated with the charity. Additionally, the charity facilitates about five adoptions per year with most of those adoptions involving foster care children.
Although the New York Sexual Orientation Non-Discrimination Act has been the law since 2003, Diocesan Director Sister Mary McCarrick was asked during a Thursday news conference why the organization is just now halting its foster and adoption services. She explained that the application by the same-sex couple put the charity in a "incontrovertible controversy."
"We were in a incontrovertible controversy between what the state is expecting — that we would be without prejudice — foster and adopt with couples that are same sex, and the Catholic Church teaching this is not a marital couple, and that a child is better served to be with a man and a woman who are married," McCarrick said, according to WGRZ.
Catholic Charities of Buffalo follows in the footsteps of Catholic Charities in Boston, Illinois, San Francisco and Washington, D.C., that all have shuttered their foster and adoption services over the last 15 years over similar objections to policies pertaining to same-sex couples.
Other Christian-based adoption agencies have been forced to capitulate their policies or take legal action.
In Philadelphia, Bethany Christian Services and Catholic Social Services were informed this year that they must change their policies on same-sex couples in order to continue contracting with the city.
While Catholic Social Services filed a lawsuit and has refused to change its policy, Bethany Christian Services of Greater Delaware Valley opted to alter its policy to be in compliance with city discrimination law.
In Texas, a lesbian couple filed a lawsuit against Catholic Charities of Fort Worth in February after they were turned away in their attempt to be foster parents to refugee children.
The couple, represented by the LGBT legal group Lambda Legal, also listed the U.S. Department of Health and Human Services in the lawsuit.
Religious freedom advocates and adoption advocates have warned about the implication of forcing religious adoption agencies to close down.
"To eliminate faith-based agencies from the field of service over ideology, to take away their licenses, which is happening in states, to prevent them from entering into contracts to provide these services for public entities ..., it is going to end up with seeing fewer resources for children in foster care and children will go unadopted," National Council for Adoption President Chuck Johnson said during a Heritage Foundation panel discussion earlier this year. "Again, I can't imagine that we would be good with that if it is not necessary."
An group of religious leaders and political activists that included the Southern Baptist Convention's Ethics & Religious Liberty Commission President Russell Moore and the Family Research Council's Tony Perkins has called on Congress to enact legislation that would protect child welfare agencies that have policies blocking same-sex couples from adopting children. 
The bill is known as the Child Welfare Provider Inclusion Act.
"The Inclusion Act prevents the federal government and states that receive federal funds for child welfare services from excluding adoption and foster care agencies because of their beliefs about what is best for each child," the letter reads. "The Inclusion Act keeps kids first because it empowers a larger number of child welfare providers to recruit and train more loving families that can provide loving homes for more vulnerable children."