Catholic College RA Threatened With Rape on Campus for Promoting Biblical Marriage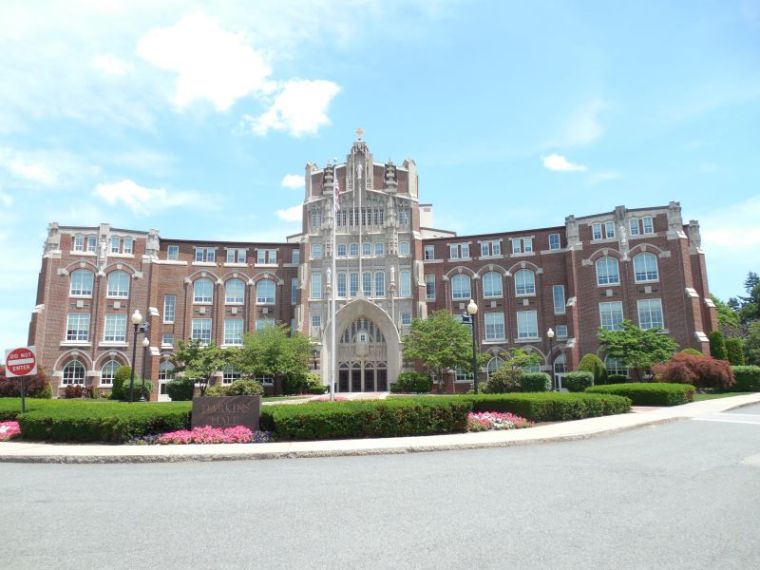 A resident adviser at a Catholic college in Rhode Island needed to be escorted from his own dorm room for safety precautions earlier this month after he reportedly faced threats from his peers for posting a bulletin promoting the traditional Catholic teaching of marriage.
Senior Michael Smalanskas, who serves as a resident adviser at Providence College, did not realize the full extent of the backlash he would later face after he posted a bulletin highlighting the importance of marriage being a union between a man and a woman in his dorm building on March 1.
The Ocean State Current reports that Smalanskas' bulletin included various cutouts that pounded home ideas such as "marriage should be reinforced, not redesigned," and that traditional marriage is "the way God intended it."
The bulletin also included a quote from Pope Francis that states: "We must reaffirm the right of children to grow up in a family with a father and a mother." The bulletin also quoted Jesus from Mark 10:8: "and the two shall become one flesh."
Although the bulletin's promotion of biblical marriage falls in line with traditional Catholic teachings on the subject, other resident advisors (considered to be employees of the school) took offense to Smalanskas' posting.
"After posting the board, I immediately became a target," Smalanskas told the news arm of the Rhode Island Center for Freedom & Prosperity. "The board was vandalized, groups were congregating outside my room and I was being attacked on social media."
Smalanskas told Life Site News that as soon as he posted the bulletin, he began receiving harassing text messages. He added that other resident advisors began keying into his building afterhours and destroyed the bulletin.
"I am an employee of the college, and these are other employees of the college behaving this way," he explained.
As fellow resident advisors gathered outside his dorm room, Smalanskas explained that campus security became concerned for his safety. Although he had gone to bed, he was woken up 30 minutes later by a knock on his door by campus police who moved him across campus "as a precaution."
Smalanskas explained that he was sent via "squad car" to another dorm on campus for the night.
"I couldn't even go brush my teeth for several nights without facing a mob in my hallway," Smalanskas explained.
In addition, Smalanskas said several of his co-workers and other students called for him to be fired as a resident adviser and petitioned the school's president for a policy change to ensure that "this sort of thing will never happen again."
"They're really asking for a safe space from Catholicism here," he said.
On March 14, Smalanskas was contacted by campus security and informed of a threatening cartoon that had been found in the bathroom of his dorm building.
The cartoon depicted Smalanskas getting raped by a man who says, "Mike, what did I say about putting your sign up?"
A spokesman for the college told The Christian Post that the school is investigating the matter but won't provide further comment until its investigation has been completed.
Smalanskas told Life Site News that the bulletin board was not meant as an "act of aggression" and added that there had been a "pro-lesbian" bulletin posted by a female student for the whole month of February.
"But nobody was rioting outside the girl's door," Smalanskas said. "There's a tremendous double standard when it comes to Catholic teaching or conservative views."
Smalanskas said he met with his faculty adviser James Keating, Vice President of Student Affairs Kristine Goodwin, Vice President of Mission and Ministry Fr. R. Gabriel Pivarnik and the school's attorney to address the matter on March 12, two days before the cartoon was found in the bathroom.
The student called on the school's leadership to denounce the "malicious acts" and "hatred," to publicly affirm the Catholic teaching on marriage and to tell students that free speech will be protected on campus.
"It was horrifying to sit there with the vice president of mission and ministry and ask him to affirm the college's mission and to hear him say he won't," Smalanskas said.
Smalanskas believes that the cartoon incident might not have happened if school leadership had spoken out about the incident.
Thirteen Providence College faculty members have spoken out in Smalanskas' defense through an op-ed published by The Ocean State Current.
"The bulletin board posted by Michael Smalanskas faithfully and thoughtfully represents the teaching of the Catholic Church on marriage," the op-ed reads. "We reject the notion that the Catholic Church's teaching on marriage, or its teaching on homosexuality, is bigoted or homophobic, or that these teachings present a threat to the wellbeing of homosexual persons."
The professors argued that the Catholic church's teachings on marriage are "rooted in two millennia of reflection on the Gospel and on human nature and aim at the flourishing of all persons."
The faculty called on Providence College to "state clearly and publicly that both the content of the bulletin board that Michael Smalanskas posted and his posting of it are consistent with the Catholic mission of the college."
In a tweet, Bishop of Providence Thomas Tobin argued that "those who teach or study at a Catholic school should accept the stated identity and mission of the school."
"Otherwise, why are they there?" Tobin, who was contacted by Smalanskas in a letter, tweeted. "There are lots of other good options."
In 2016, Anthony Esolen, a former Providence English professor, warned that a leftist "totalitarian diversity cult" was overtaking campus. The "diversity cult," he said, won't allow a Catholic professor at an ostensibly Catholic college to defend the Catholic Church's views on sex and marriage, he complained.