Catholic Dioceses in Texas to Release Names of All Clergy With 'Credible' Abuse Allegations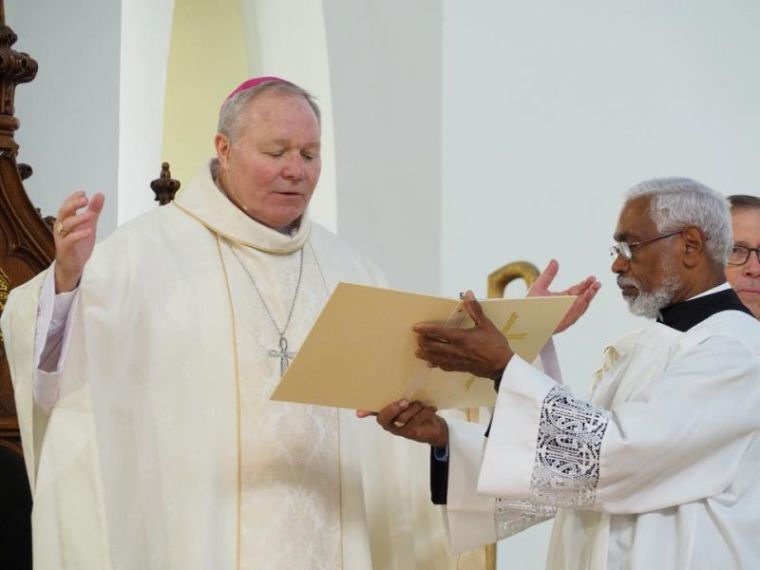 In a new effort to keep children safe from sexual abuse, all 15 Catholic dioceses in Texas are expected to publish the names of clergy who've faced credible accusations of sexually abusing minors as far back as 1950, the church announced Wednesday.
"Opening our files to outside investigators and releasing the names is something I have been considering for some time," said Bishop Edward J. Burns of the Diocese of Dallas at a news conference. "Since I believe it is the right thing to do, the Diocese of Dallas has had outside investigators, a team made up of former FBI, state troopers and other experts in law enforcement, examining our files since February, and they still have work to do."
While there are no current priests named on the list, Burns said some names that will be revealed might surprise folks.
"You are going to see some of those names repeated," he said. "I think there will be some names that will be a surprise to people."
In addition to their desire to take steps toward protecting children from sexual abuse, Burns and bishops from 14 other Catholic dioceses in Texas and the Ordinariate of the Chair of St. Peter decided on Sept. 30 to name the accused priests to promote healing and a restoration of trust in the Catholic Church. All dioceses are also expected to publish their list of names by Jan. 31, 2019.
"My brother bishops and I recognize that this type of transparency and accountability is what the Catholic faithful want and need," he said.
"My brother bishops and I hope this action can be a step that leads to healing for all those who have been harmed by members of the Church. I add my sincere sorrow for the pain that has been caused for victims and the Catholic faithful," he said.
The registry of accused clergy comes as states grapple with major sex abuse scandals involving Catholic priests. A grand jury report in Pennsylvania this summer found abuse of more than 1,000 victims by more than 300 priests over a period of 70 years. Attorneys general in a half-dozen states announced they would launch similar investigations into sex abuse by Catholic priests in the weeks that followed that report.
Texas is home to some 8.5 million Catholics and 1,320 Catholic parishes. A spokeswoman for the Texas attorney general's office told the Texas Tribune that they will provide assistance to any district attorney who asks for help investigation religious organizations where children might be in danger.
"If a district attorney's office requests our help with an investigation into any religious organization where the safety of children is at risk, we will gladly and immediately assist," the spokeswoman said.
Bishop Michael Olson of the Fort Worth Diocese told Fox4 he started publishing the names of credibly accused priests on their website 11 years ago to help protect victims and had been lobbying other dioceses to do it.
"That it would assist people in healing who's been hurt, that they've been heard," Olson said. "And also if there was anyone else out there who had been hurt to encourage them to come forward and get assistance and care."
In an open letter to the church Wednesday he apologized to victims of clergy sexual abuse.
"As the Bishop of Fort Worth, I maintain a zero-tolerance policy for sexual abuse of minors by clergy because ministry in the Church is a grace from God that carries with it sober responsibility, not a right to be claimed by anyone as an entitlement. Rather, it involves a covenantal trust established through our baptism as members of the Church founded by Christ. I offer each and every person who is the victim of sexual abuse by clergy of our diocese, or by any clergy anywhere, my most sincere apology for evil that befell you and my commitment to prevent any such act to be perpetrated against anybody else," he wrote.